2021 Safari Survey Results
We had an astonishing response to the survey from our clients and followers across our social media channels and on our website. Over 3000 people have completed the survey.
There were responses from around the globe and it has given us an amazing insight into the travel attitudes in the middle of the Covid-19 pandemic. This information, for us as a tour operator, is hugely valuable and as promised we are going to share our findings with you.
Regional Responses to the Covid-19 Safari Survey
Below is a graph to show the percentage of responses from the different continents. As expected we did not get much response from South America or Asia as we do not have too many followers or clients from these regions. Presumably due to our content being in English. We are assuming that the majority of respondents from Africa are in South Africa.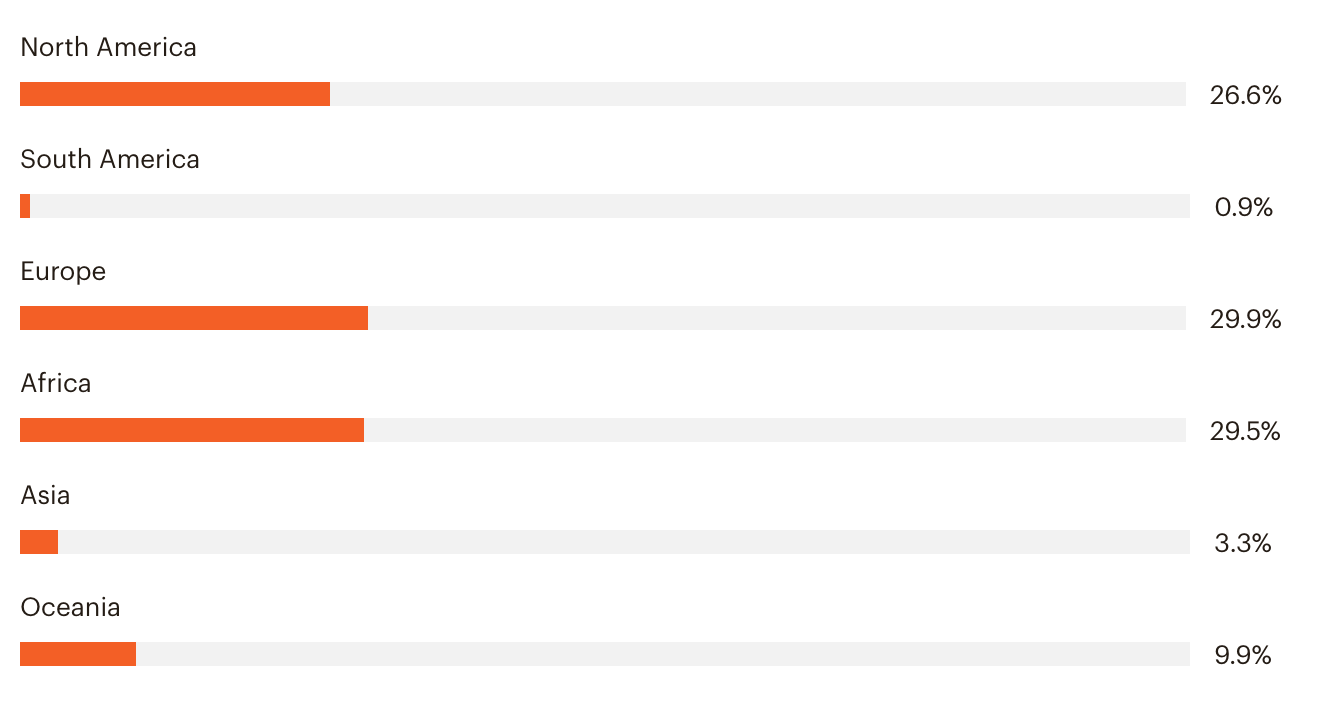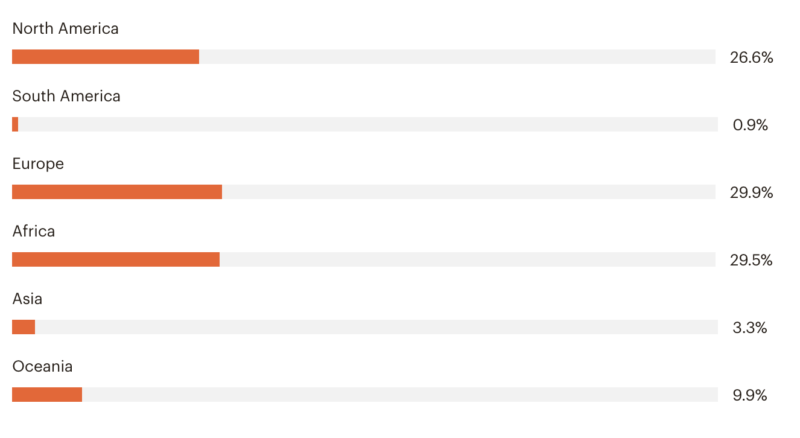 As expected most of our respondents were from the English speaking (as a primary or secondary language) parts of the world as that is where the majority of our clients come from. This is mainly due to the fact that seeing as teach wildlife photography in English (and German and Afrikaans too). Clients who speak at least basic conversational English gravitate to us.
Most Popular Safari Destinations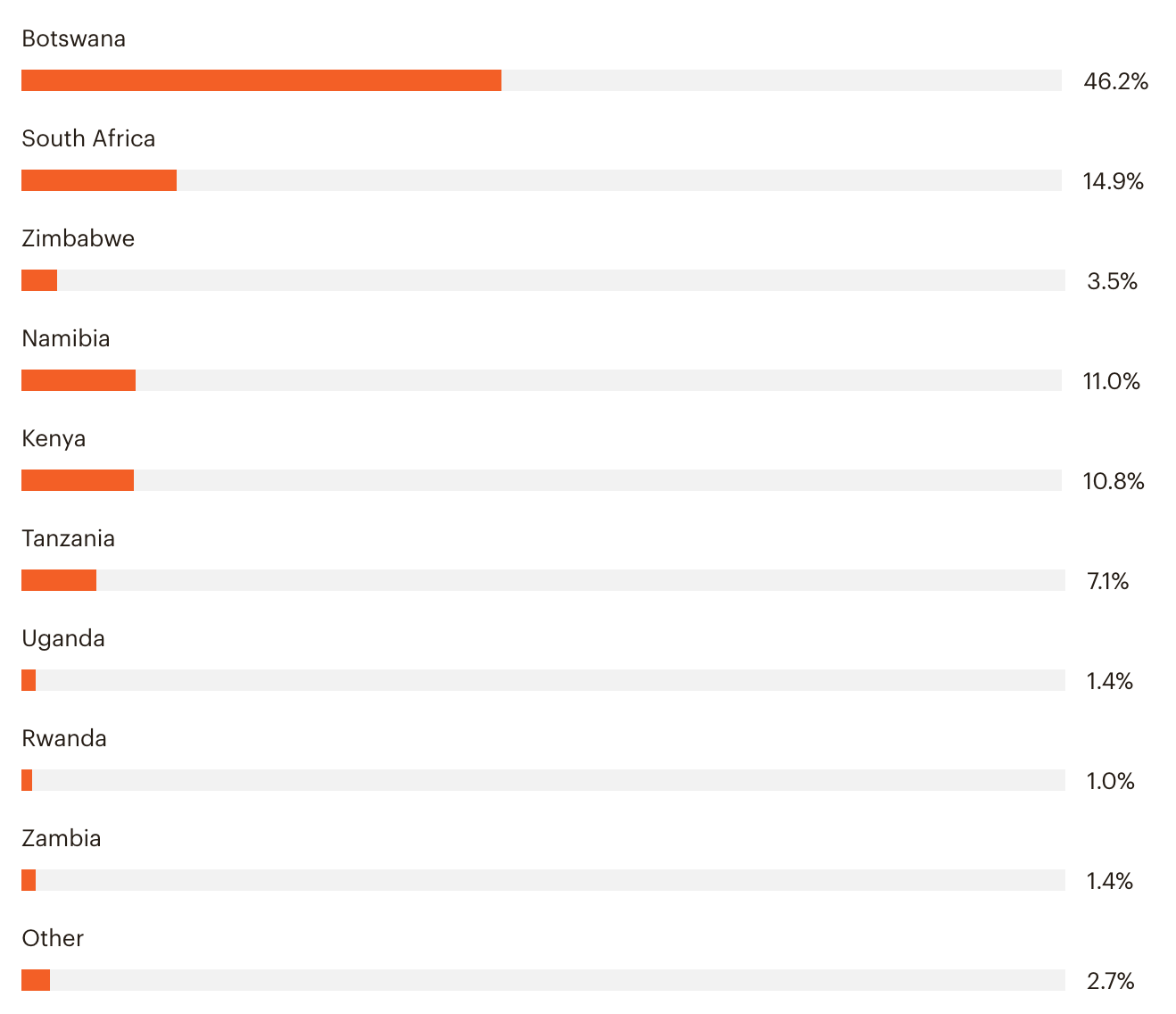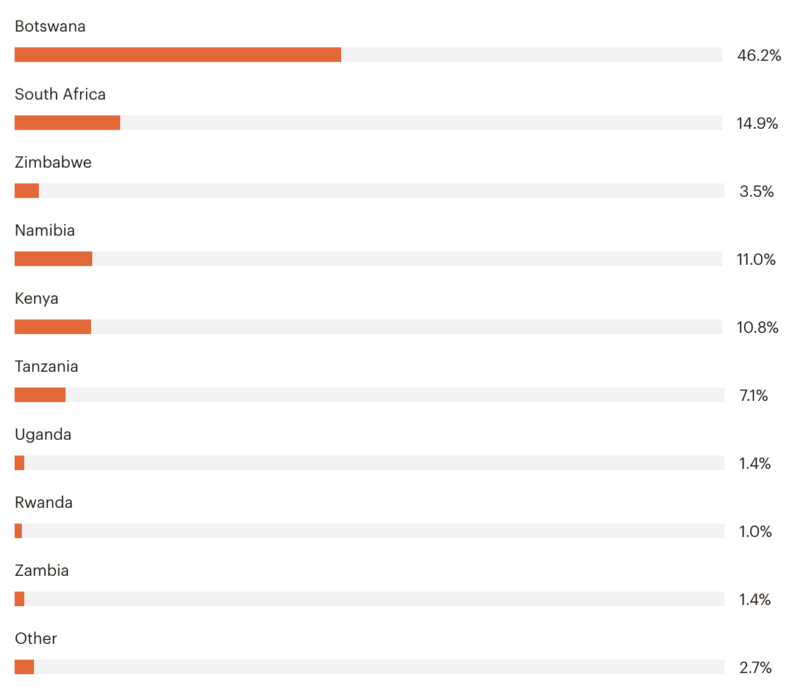 There are plenty of assumptions that we could make from this result and here are a few of ours:
Botswana was always going to be a contender for most popular as it is our home safari country. It's very popular with our clients and followers to enjoy their wildlife viewing and photography.

Botswana could also be a contender for most popular with it being a very low-density safari destination as is Namibia. We have seen other surveys where South Africa emerged as the most popular. We wonder though if negative press regarding Covid-19 related public health issues had an impact on its ranking at the time of the survey.

It is surprising that Rwanda and Uganda didn't far any better as they have been doing a drive to promote heavily discounted gorilla trekking permits in the last couple of months.
"Other" destinations included Madagascar, All of them, any of them and then a few for Antarctica and some very remote and obscure destinations. There were also a few more Sambia answers which would of course count towards improving the Zambia score
Who is most keen for a Covid-19 Vaccine?
This was very encouraging. It shows that 69% of our respondents who would be very keen (5) or somewhat keen (4) to take a vaccine if it is offered in the next three months. I am sure that had we not introduced a time constraint of three months this percentage would have been higher. Perhaps the "let's wait and see if there are any side effects" contingent skewed this.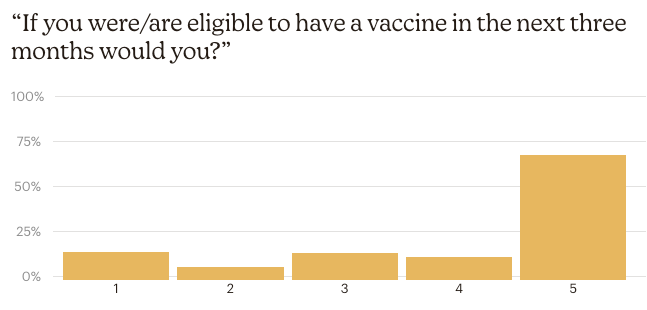 1 = No Way  5 = As soon as possible  Average across all respondents = 3.9
We then broke it down by region we had some interesting results. Again this is a ballpark figure subject to anomalies. Some countries in Europe, like France, for example, have a far greater reluctance to take the vaccine than say people in the UK which could sway the results.
For interest's sake, I have listed the continents below in order of acceptance of the vaccine as per the questions above. The percentage represents the number of respondents who chose 4 or 5 as their answer.
| | |
| --- | --- |
| Continent | Percentage who chose answer 4 or 5  |
| North America | 78% |
| Europe | 73% |
| Oceania | 73% |
| Average for all continents | 69% |
| Asia | 66% |
| Africa | 54% |
| South America | 48% |
We only had 28 responses out of the 3000 from South America and 98 from Asia as neither have many people on our email database. 
The attitude to vaccines in Africa (and specifically Southern Africa where we operate mostly) is surprising as generally Covid-19 vaccines are welcomed on the continent. They are a regular occurrence through early life. My suspicion is that we have only recently (after the survey was conducted) been told by President Cyril Ramaphosa about the planned vaccine roll out for South Africa. They are part of the Covax programme which has purchased a range of several vaccine candidate. 
Botswana has a very small population (2.5M people) and could easily achieve herd immunity very quickly. It has the potential to emerge as one of the first countries to achieve that globally. The country has ordered and paid for nearly 1Million doses of the vaccine through Covax (presumably the Oxford/AstraZeneca one due to cold chain limitations).
Who will you be travelling with on your next safari?
We are pleased to see that this is a pretty similar breakdown when we compare it to the check-ins at The Pangolin Chobe Hotel for 2019.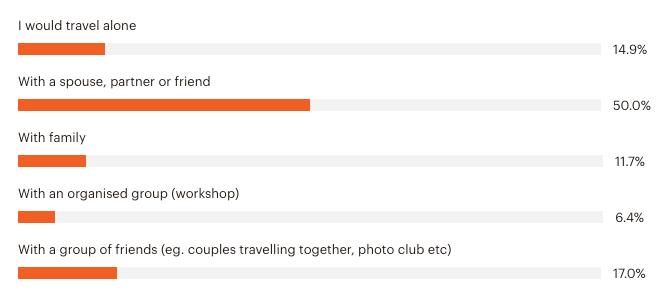 Our assumption is through that we will see more groups of friends or small family travelling together in "bubbles". Smaller camps and exclusive use destinations like The Pangolin Voyager houseboat will be in high demand.
Other influencing factors from our respondents
Our followers and clients are a highly engaged bunch of people. Therefore it was no surprise that even though this last question was optional nearly everyone added something. Going through the 2000+ responses has been enlightening and often incredibly up-lifting.
I have chosen a selection of comments which I think encapsulate the range of factors that were submitted.
"The Vaccine first and foremost and preventative practices in the place to which I am travelling." – Terry from Africa
"I feel safe to travel as soon as possible. It's the airlines and countries that make it difficult. I also would love to go to any country you listed. I love Africa!" – Jean from N.America
"Not sure how travel costs will change post-COVID-19. If airline travel becomes too expansive it may impact on the destination of choice. Also from Australia & with strict borders at the moment if I had to quarantine on return this would impact my travel options." Carolyn from Oceania
"Travel insurance covering Covid related risks" – Mike from Africa
"We're confident that the safari experience would be great, and with typical small numbers on game drives, it honestly seems as like the best option possible for holiday at this point. The main issues we're facing are with air travel and the issues around potential quarantines. – Eric in Asia
"The lack of trust in the chaotic decision patter of EU rulers!" – Bruno in Europe
Conclusion
Can I draw an overall definitive conclusion when there are still so many unknowns? Not really. This is a global issue with each region having its own struggles and victories.
What I do know though is there is a huge pent up demand for travel and as soon as people, individually feel it safe to travel they will do so. Personally, in late 2020 I travelled from Greece to South Africa via Dubai and air travel was a surprisingly pleasant experience.
All of my fellow passengers were well behaved and courteous. The airports were empty meaning that we were able to get through the additional checks quickly and efficiently. That said the number of checks was wonderfully reassuring!
The governments of Southern Africa (and east Africa too) especially are working hard to roll out Covid-19 vaccines. In President Masisi of Botswana and President Ramaphosa of South Africa, we have two excellent leaders determined to pull their respective countries through this.
Botswana Specifically
In Botswana, the government has been incredibly supportive throughout 2020 and is now busy rolling our strict protocols to help preventing Covid-19 spread among the population. Kasane and Maun we have several PCR testing stations. The charter airlines are also organising pre-departure Covid tests in the Okavango Delta with the results available when you are passing through the international airport. A unique solution to a unique problem.
The National Parks will be filled with socially distanced game viewers. Our boats will be operated at limited capacity. The staff at the hotel will be temperature checked and sanitised throughout the day. We have our very own "Covid-19 Disease Control and Prevention Officer" Dan Jenner (who previous clients will definitely remember). He is in charge of adopting all the prescribed precautions issued by the government for operators of safari tours and some additional ones specific to what we do. We have a working document here.
Rest assured that the health care of our clients is our primary concern followed closely by our desire to make sure you have the best wildlife photography experience possible! Feel free to see our Covid-19 FAQs for more information.
Sign up for all our Photo Safari Updates