Covid 19 Travel Survey Results pt2
Once again we had an excellent response to the survey with nearly 1000 of our clients and social media followers taking the time to complete the Covid 19 Travel Survey. The information that we will now share with you is not only hugely encouraging but also enlightening. The general consensus among the respondents is that you can't wait for international travel and tourism to begin again and getting vaccinated is route #1 back to normality. This research on travel sentiment will be the last on this particular subject and once again thank you to everyone who took part.
Which region is most keen to go on safari again?
We didn't ask this question the first time around on the older survey (which you can see here). When we asked vaccines were just being approved and the majority of people were in various stages of lockdown.
When we looked at the percentage of respondents who feel confident to take a safari before the end of 2022 there are some interesting anomalies based on the travel and tourism regions where our international visitors are based.
65% of North Americans and Europeans would take a safari this or next year rising to nearly 90% of people based in Africa (predominantly South Africa). This is, we assume because travelers from our continent will not have to take a long haul flight. Not surprisingly respondents from Australia and New Zealand are less optimistic with only 39% hopeful of being able to go on a safari before 2023.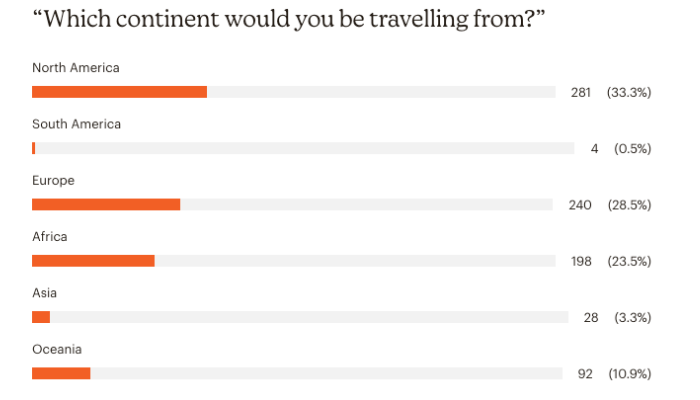 As expected most of our respondents are from the English speaking parts of the world. This is mainly due to the fact that seeing as teach wildlife photography in English (and German and Afrikaans too). Clients who speak at least basic conversational English gravitate to us.
Most Popular Safari Destinations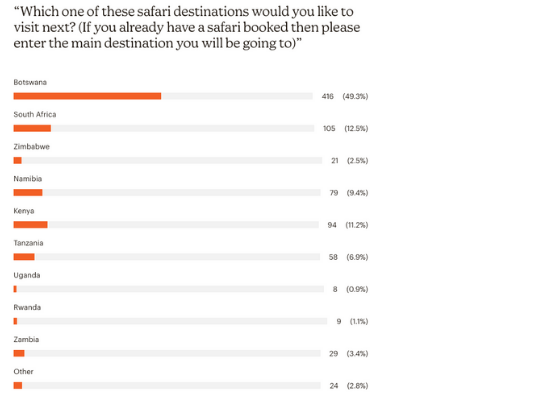 Botswana emerged top again with a remarkably similar spread across the other countries. As we assumed before this is also probably because we are based in Botswana. Another reason for its popularity is perhaps because of its reputation as a sparsely populated and well-managed country with a penchant for not appealing to the mass tourism markets – and fantastic national parks.
Antarctica was a consistent presence in the "other" section which will be encouraging for the expedition cruise industry. Guts and the team are heading there in November 2022 with the trip (first scheduled in 2020 sold out with a waiting list.
How many people have travelled by air already this year?
Bearing in mind that local, domestic and international flights are only really resuming now this is an encouraging statistic. 35% of respondents have taken a flight this year already. The remainder we assume are people who just didn't have anywhere to fly to!
When we break this down by region 50% of respondents from North America have travelled by air with the rest of the regions less so at around 35%. U.S Travel was definitely the first to bounce back from our perspective.
We are seeing more and more airlines resurfacing and putting schedules back into effect. Travel industry research suggests that near-normal levels of air travel pre-pandemic will return only in a few years. Locally our favourite airline Airlink has come back with a bang soaking up regional business in South Africa and also adding a few new interesting routes. They are back to flying our clients between Kasane and Johannesburg and have managed to do so with relatively few passengers. Kudos to them!

Coronavirus vaccine uptake among our clientele.
Around the world, there is a reported vaccine hesitancy percentage ranging from around (30% USA, Australia), 20% (France, Japan) and around 13% (UK).
Our clients however easily buck that trend with around 95-97% of respondents saying that they have had or are waiting for full vaccination.
This is hugely encouraging for all concerned. We do not want to get into a vaccine debate in the post but the numbers above speak for themselves. If you want to travel and regain some freedom from this horrible disease you need to get vaccinated. More and more airlines are declaring that they will not carry the unvaccinated and several of the wildlife photographers who travel to us with their guests have made it a mandatory condition of travel.
Research is showing that although the Delta variant can infect the vaccinated it will most likely result in a less severe infection (certainly as regards hospitalisation and threat to life) as well as reducing the time that the virus remains transmissible within the host. vaccines are unequivocally good for the recipient and those around them. Thus we are delighted that our guests share this sentiment.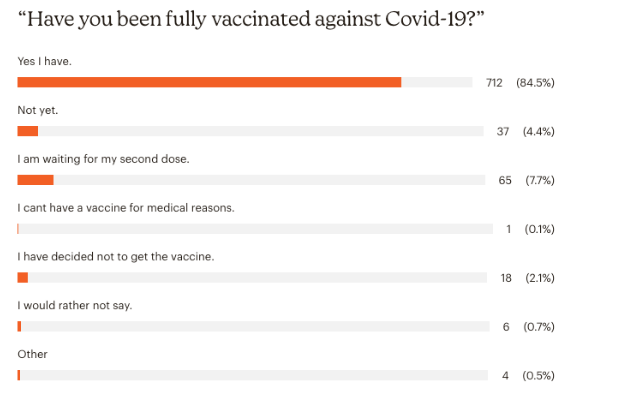 Other areas of concern for travellers
When we asked what other factors would influence a decision to travel the overwhelming attitude as to whether or not to travel was the perceived inconvenience of PCR tests along the way. Speaking from personal experience having travelled a lot last year I really do think that the pros of travelling now far outweigh the cons.
Yes, you may well need to do the off PCR test and you may decide to reduce the number of borders that you need to cross on your itinerary. That is a small price to pay for being able to be on safari like you probably never will again (and probably for a price you will never see again!).
Most destinations (like the Chobe) have testing stations all set up and reliably so as we will have to test for the foreseeable future. I do believe though that in the not too distant future people who are double vaccinated won't have to do so and will be free to travel. PCR tests aren't so bad anyway and the cost is negligible in the bigger picture.
Quarantine restrictions however are more of a concern. It's unreasonable to have to quarantine after a safari when you are double jabbed and that is much more of a deal-breaker. This unfortunately is no longer a scientific decision but rather a political one….but that means it won't last that much longer. Our litmus test for change on this is the increased frequency of flights being scheduled between countries deemed to be high risk and their source markets for international visitors. Airlines are hard-wired into the decision-makers through their lobbyists…they know policy change is coming!
Conclusion
The biggest takeaway from this survey is the overwhelming attitude and confidence that our guests have in the covid 19 vaccines. When e asked at the beginning of the year whether they (if offered) a vaccine would take it around 70% of respondents said they would do so happily. At this time we knew the reported efficacy rates but there was still some hesitancy. Combined with such pent up demand for travel this has seen attitudes to vaccines shift to almost total acceptance.
We understand that some people are unable to be vaccinated for medical reasons and that must be awful.
When we asked whether people would get the vaccine at the start of the year 14% said "No way". This has shifted and now (down to 3-4%) and long may it continue to do so.
We have had a really good year, all things considered, the Pangolin Chobe Hotel has been pretty busy with guests enjoying The Chobe River pretty much to themselves. There were several occasions when our three boats were the only ones on the river. We see this continuing until the new year.
Wildlife photographers have always been a little less risk-averse than most normal safari-goers and the prospect of emptier national parks than normal has been a real drawcard!
If you are interested in travelling this year you can make the most of some fantastic last minute specials on our website which you can find here.
Thank you again to everyone who took this survey. the insights have been hugely encouraging and insightful! Feel free to see our Covid-19 FAQs for more information.

Sign up for all our Photo Safari Updates