Airports in Botswana
Last Update: 6 January 2023
Over the last few years, all three of Botswana's main airports have undergone complete rebuilds and are now very nice, spacious, clean (and thankfully in some months air-conditioned) travel hubs.
For anyone who might have travelled to Bots in years gone by arriving at any one of these places will be a welcome and comfortable surprise. That said they can sometimes be slow going through immigration and passport control on arrival so a top tip from us is to always try and reserve a seat close to the front of the plane to you can be at the head of the passport queue – and make sure you have a pen that works for the paperwork!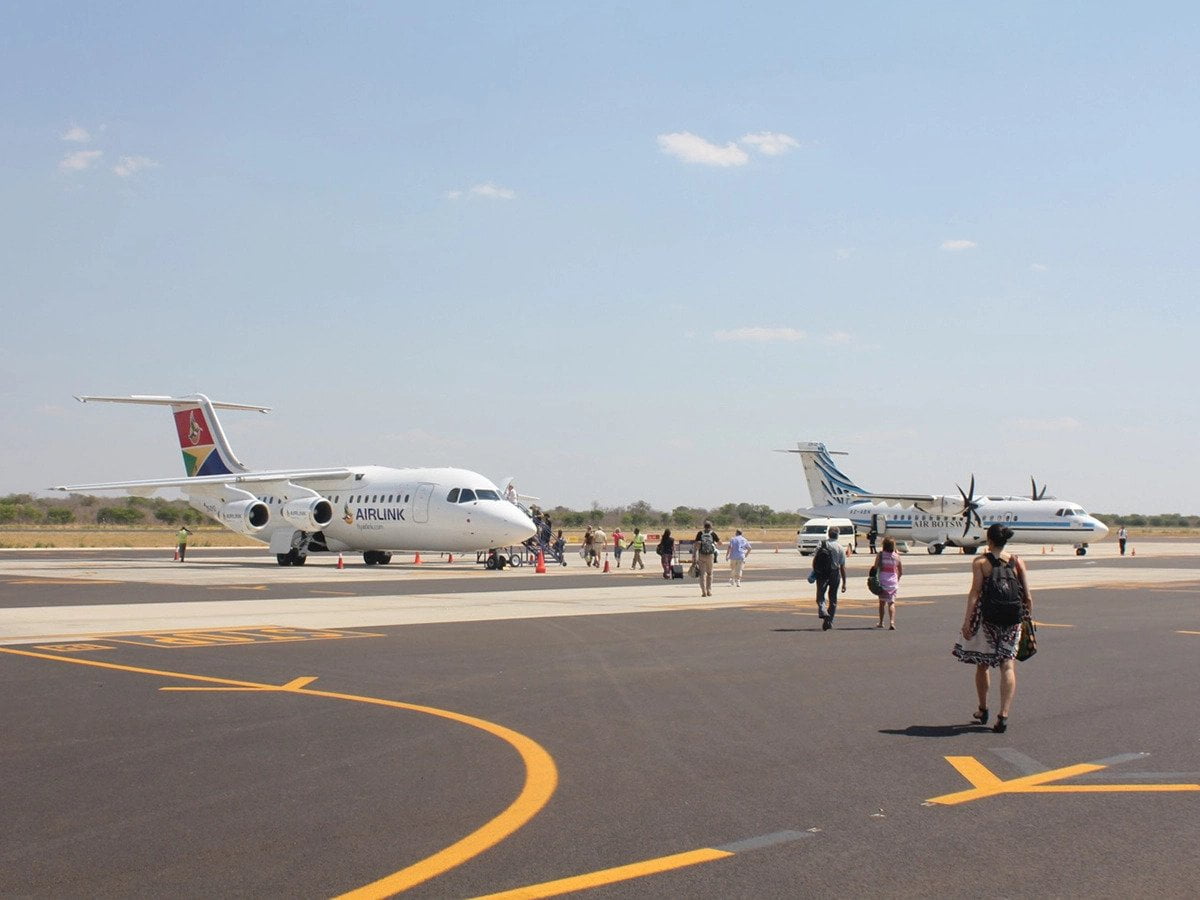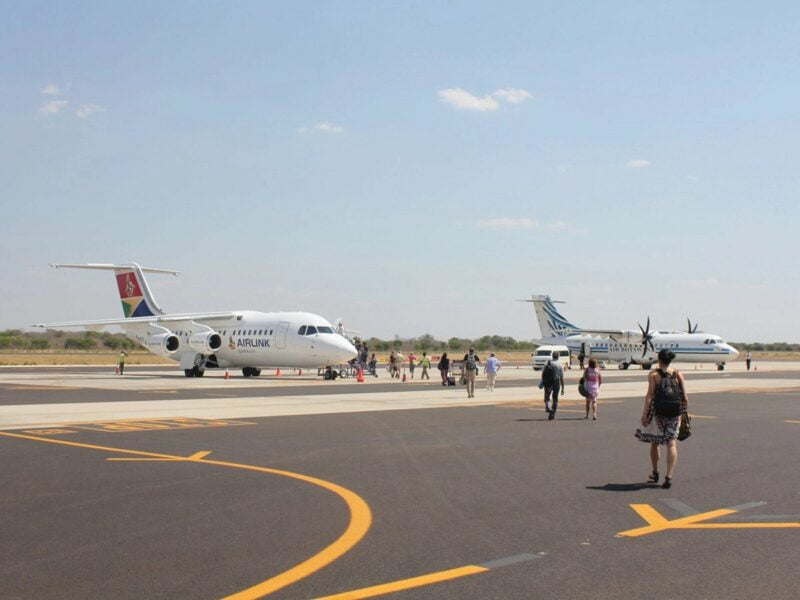 Both The Airlink and Air Botswana flights on the apron at Kasane International. 
Kasane International (BBK)
Kasane Airport is less than a mile from the Pangolin Chobe Hotel and is a great little airport. Most of our guests arrive from Johannesburg on the Airlink flight (which is usually more reliable and on time than the Air Botswana flight).
This airport is where you would also fly in and out of the Okavango Delta, or indeed other charter airline destinations like The Central Kalahari.
Most of our clients enter Botswana through Kasane and then fly back to Johannesburg again from Maun after spending time in other parts of Botswana. An additional bonus is that Airlink will allow you to book multiple legs like this but if you need more specific advice on your routing then please chat with one of our safari planners using the form at the bottom of this page.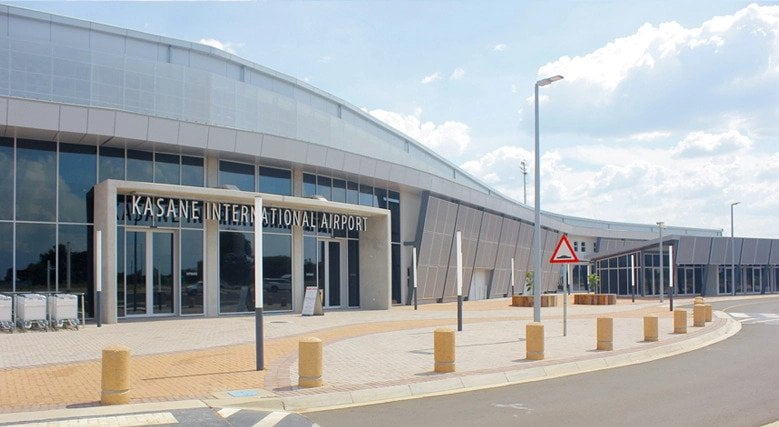 The exterior of the new Kasane International Airport – Gateway to the Chobe and 5 mins drive from the Pangolin Chobe Hotel
Maun International (MUB)
It is reported that during peak safari season Maun Airport sees more take-offs and landings than a major European airport hub. We have never spent a day counting to make an accurate assessment of this fact, but the airport can get very busy with small charter planes ferrying people around popular safari routes like The Okavango, Kalahari and other destinations.
Maun is also serviced by flights from Johannesburg on Airlink (preferred) as well as Air Botswana.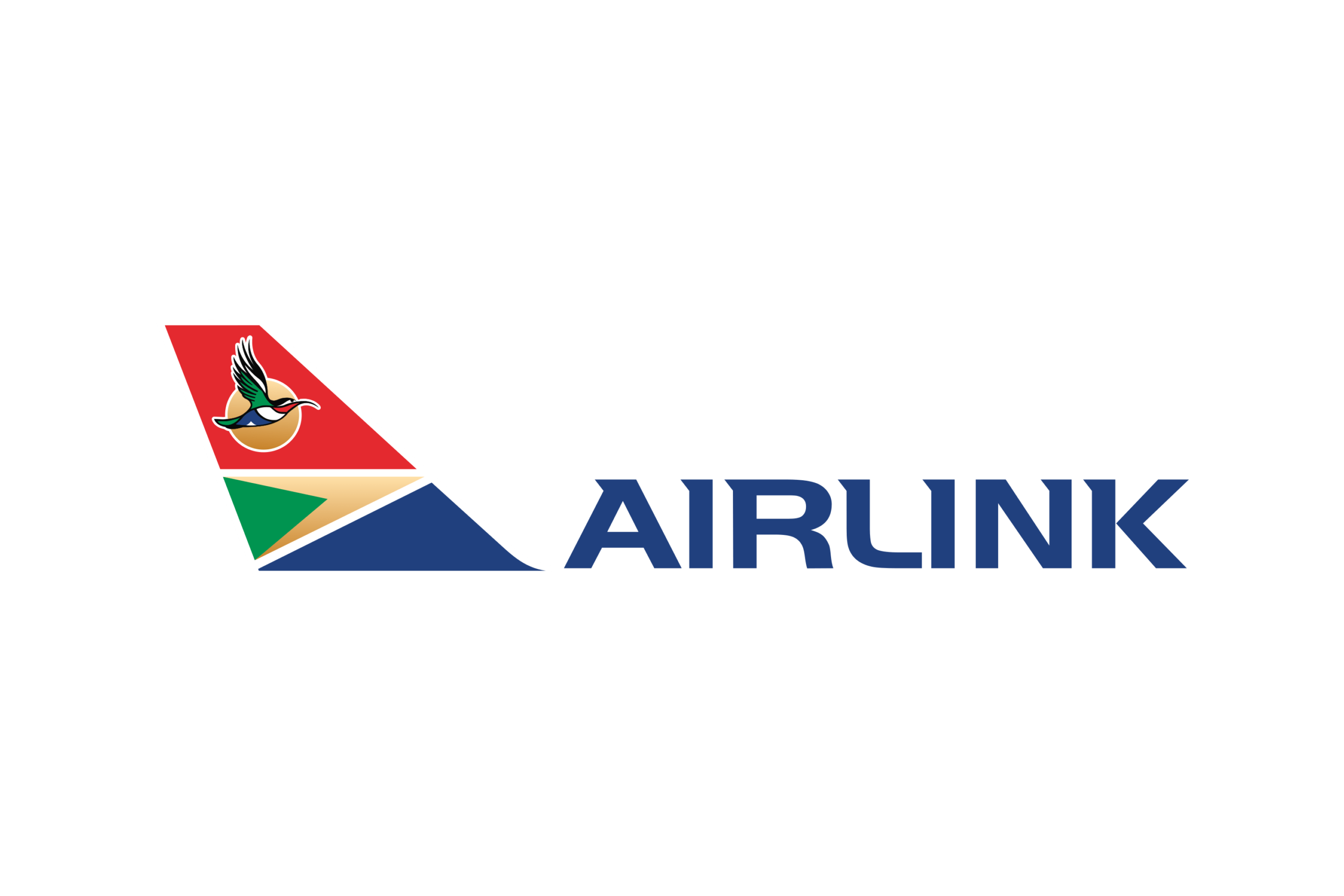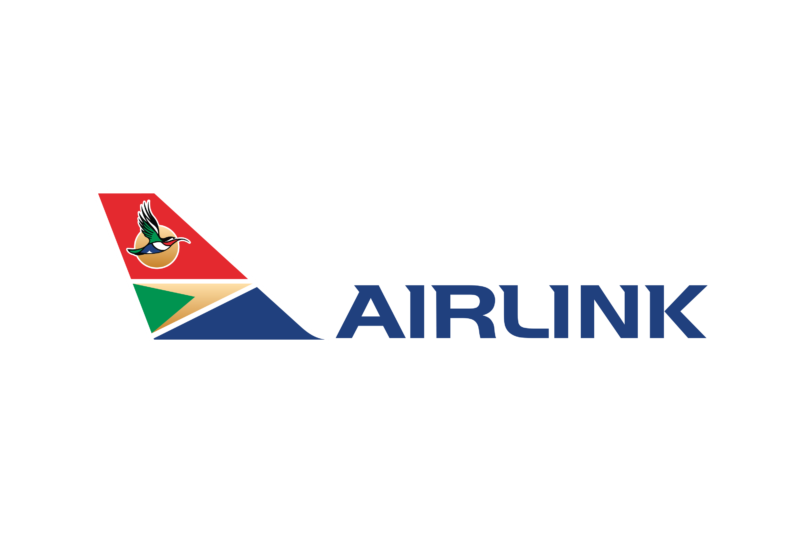 You can also fly direct from Maun to Cape Town on Airlink meaning you can wake up in the Okavango Delta and then enjoy a sundowner at the foot of Table Mountain effortlessly in one day. The flight from Maun to Cape Town is under three hours.
Lesser-known routings include charter flights to Victoria Falls and Windhoek in joining The Zimbabwe and Namibia safari circuits to Botswana – for those looking for a diverse multi-country safari experience. We would be happy to advise on an extension like this.
Gaborone

International (GBE)
Gaborone was the first airport in Botswana to get a makeover and it's an impressive building. It is more of a business hub with flights in from South Africa as well as Qatar Airways among others.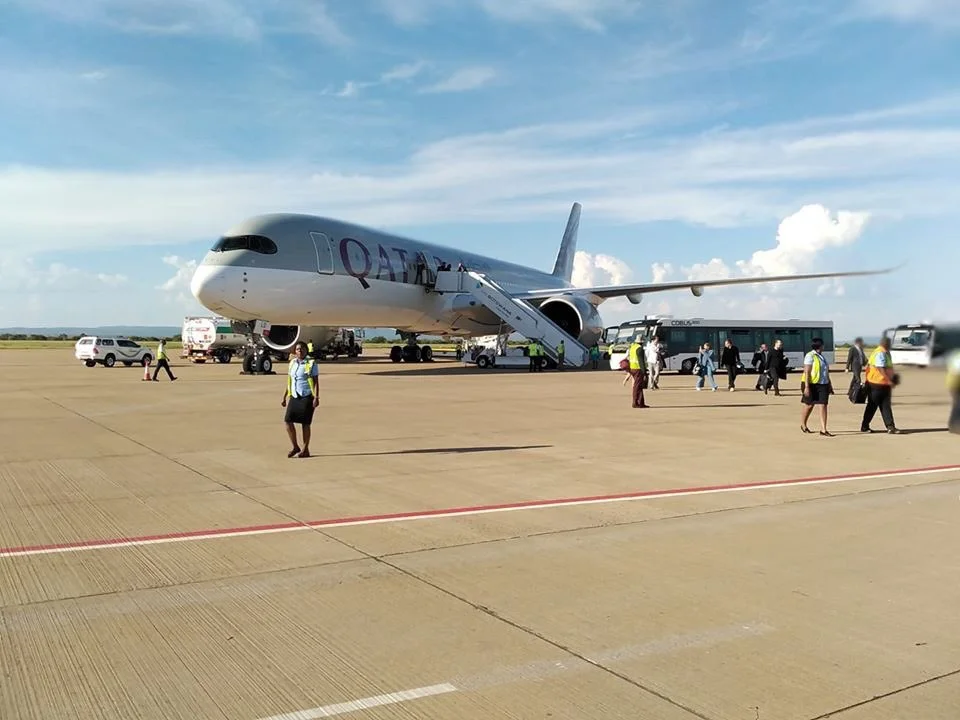 Qatar Airways flies to Gaborone International – Its more of a business route than a safari route though.
As Gaborone is right in the south of the country it is not as convenient an entry point as say Kasane or Maun as most of the flight schedules north mean you would have to overnight in Gabs (as it's known locally) and miss a day of safari. Qatar Airways does fly to Gaborone but it gets in late in the afternoon missing connections North. It's more of a business flight.
For this reason, we really don't recommend using Gaborone as an entry or exit point for a Botswana photo safari.
One question we get asked all the time is "Which country is the Victoria Falls In?" Zimbabwe or Zambia. The simple answer is both! Think of it this way. When you are on the Zambian Side you are in Livingstone Town and when you are in Zimbabwe you are in Victoria Falls Town. They literally sit opposite each other across the Falls with a bridge acting as "no man's land between the borders".
There are various flight options on different days to get to both and then you can either transfer across to The Chobe, Botswana (approx. 2 hours by road from either side) or add on a night or two to enjoy the Victoria Falls and all the activities that are on offer there. Again our safari planners can suggest places to stay on either side.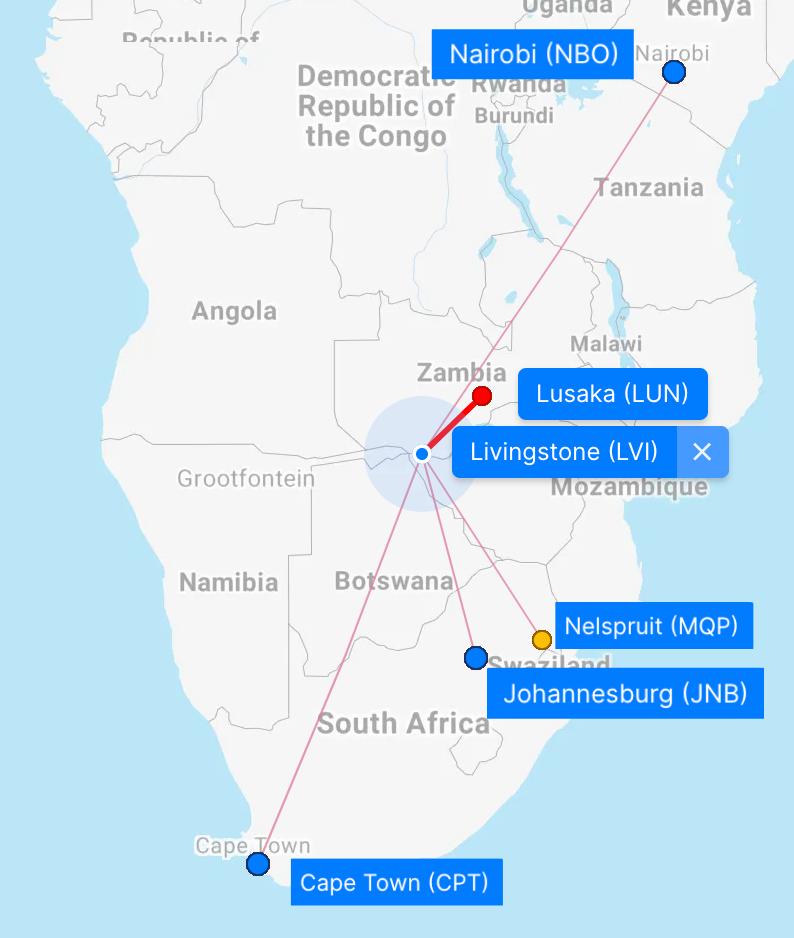 Flights to Victoria Falls Airport, Zimbabwe
For such a small airport Victoria Falls is quite the international travel hub – as you might expect being of the seven natural wonders of the world! The airport itself is a few kilometres outside of "Vic Falls" Town.
Victoria Falls Airport is serviced daily with flights from Johannesburg.
Victoria Falls Airport is well served by several commercial airlines from Johannesburg in South Africa on airlines such as South African Airways, Airlink (again) as well as the local Zimbabwean airline Fastjet. We suggest that if you are using Johannesburg as your hub then book yourself on the same ticket right through to Victoria Falls and resist the temptation to book the flights separately.
Alternative hubs to consider when choosing a flight to Victoria Falls are Nairobi (Kenya Airways) and Addis Ababa (Ethiopian) both of which are excellent modern airlines.


Both Nairobi and Addis Ababa are well connected to Europe and North America and you should not dismiss these as options…especially Nairobi which I will explain why in more detail below.
For clients flying from Europe another route to consider is the seasonal Eurowings Flight which goes from Frankfurt to Windhoek (Namibia) and then on to Victoria Falls on the way back north.
Lastly Victoria Falls International is also where you would catch a charter flight to Mana Pools. You could drive there but the road is not great, and you won't see that much on the way.
Flights to Livingstone Airport, Zambia
Livingstone (named after the explorer David Livingstone of course) sits opposite Victoria Falls on the Zambian Side. As the crow flies Livingstone and Victoria Falls airports are very close and they also share some routing options too which can be confusing.
Kenya Airways for example seems to alternate the days that it uses either Victoria Falls or Livingstone as its destination from Nairobi. If you are struggling to find flights to either one on a certain day then shift your dates by a day either way and see if it offers the one you want. We have links to some great sites below to help with searches like this.
There are flights from Livingstone to Johannesburg almost daily and if you combine South Luangwa with Botswana then you would fly from Livingstone to Mfuwe via Lusaka (Zambia's capital) to get there on ProFlight.
Another iconic photo safari that links nicely with Livingstone is The Kruger National Park and Sabi Sands in South Africa. Airlink has a service that flies straight from Livingstone to Nelspruit (MQP) and from there you can get a charter flight or road transfer to your camp of choice… we have some favourites we can recommend!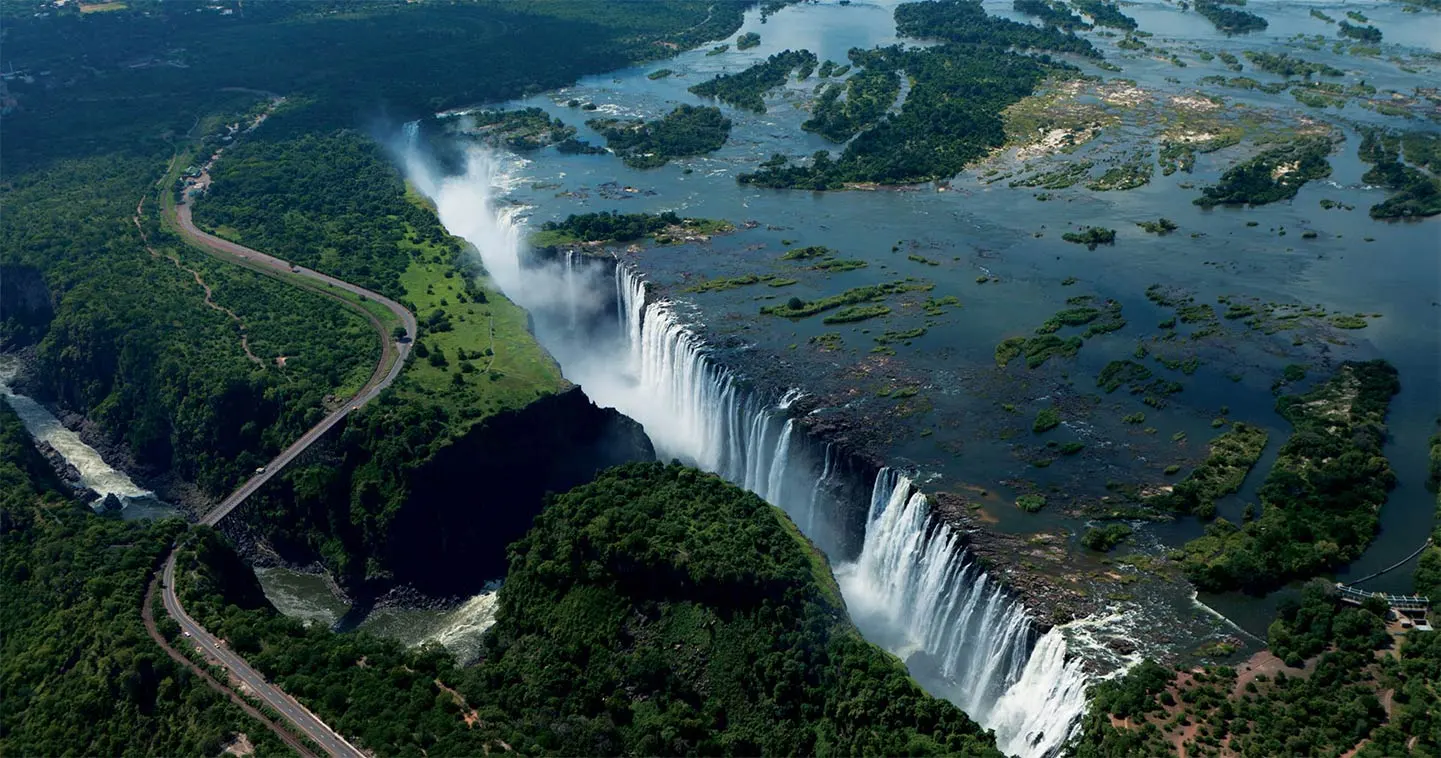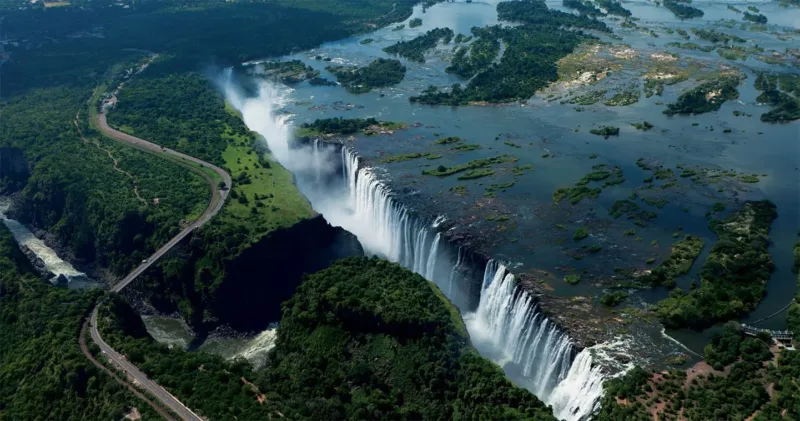 Lastly, you should really consider Kenya Airways.
Almost every day Kenya Airways flies from Nairobi in the morning, stops off in Livingstone or Victoria Falls and after an hour on the tarmac heads down to Cape Town. This means it works as an efficient way to combine East Africa with Botswana as well as Cape Town. You can use it almost like a bus service and get on and off at the stops as you go along.
Nairobi has excellent connections to the rest of the world so if you are in the mood for the quintessential safari experience you could combine The Masai Mara, Victoria Falls, The Chobe and Cape Town. Add in a couple of short charter flights and you can add the Okavango Delta and The Kalahari too!
On the way back up north you would leave Cape Town, stop briefly in Livingstone/Victoria Falls (no need to disembark) and then land back in Nairobi in time for your international connection home.
We use Kenya Airways a lot and we think they are great and very underrated.
When we are planning flights we like to use the following website:

Google Flights – https://www.google.com/travel/flights/search
Tip: When you make your initial search look for the Date Grid to the top right of the results. This will show you date combinations that could save you lots of money if you shift your arrival/departure by a day or two…..more money to spend on a safari!


Flight Connections: https://www.flightconnections.com/
Tip: We are really enjoying Flight Connections and love the map that helps to visualise the routing options. Google flights is easier to find prices (and potential savings, but this works well to figure out options before looking at prices.
Useful links for flight planning
Come and visit us on an adventure of a lifetime
Type: Bespoke Photo Safari
Where: Botswana, Zimbabwe
When: All year round
Duration: 11 Days
Price from: USD6,995

Type: Bespoke Photo Safari
Where: Zimbabwe, Botswana
When: All year round
Duration: 9 Days
Price from: USD5,950

Type: Bespoke Photo Safari
Where: Zimbabwe, Botswana, South Africa
When: All year round
Duration: 12 Days
Price from: USD7,950

Have questions about flights to Botswana?
Ask us below!!