Our
Photo Safari

Packages
We present our photo safari packages to several top wildlife photography destinations. We offer photographic safaris to suit all budgets and wildlife photographic abilities. We have set departures hosted by our resident wildlife photographers as well as sample itineraries that can be customized to suit your specific wildlife photography goals.
Our photo safari planners are on hand to help you choose the right photo safari for you so please feel free to reach out and arrange a free photo safari consultation with them using the contact button at the top of this page.
Hosted Photo Safaris
Hosted Photo Safaris start on specific days of the year and are led throughout by one of our Pangolin Photo Hosts. There is a workshop element to these safaris with the intention of making you a better wildlife photographer by the end of the safari.
Type: Hosted Photo Safari
Where: The Chobe
When: All Year
Duration: 7 Days
Price from: USD3,250

Type: Hosted Photo Safari
Where: Botswana
When: All year round
Duration: 8 Days
Price from: USD7,950

Type: Hosted Photo Safari
Where: Kenya
When: September 2023 & 2024
Duration: 8 Days
Price from: USD7,950

Bespoke Photo Safaris
Bespoke Photo safaris are fully customisable to your requirements and wildlife photography ambitions. You should see these safaris as suggested itineraries and the first steps to building your perfect photo safari. They can start and end on any day of the year.
Type: Bespoke Photo Safari
Where: Zim, Botswana, S. Africa
When: All year round
Duration: 14 Days
Price from: USD7,500

Type: Bespoke Photo Safari
Where: Botswana, Zimbabwe
When: All year round
Duration: 11 Days
Price from: USD6,995

Type: Bespoke Photo Safari
Where: Zimbabwe, Botswana, South Africa
When: All year round
Duration: 12 Days
Price from: USD7,950

As you probably know The Chobe is our home base and where the Pangolin Chobe Hotel and Pangolin Voyager houseboat are located. We also work with several top lodge owners throughout Botswana as well as the rest of Southern and East Africa.
Along with The Chobe, we like to combine time in the Okavango Delta as well as the Kalahari for a well-rounded photographic safari experience. Across the border, in South Africa, we are big fans of Madikwe which is great for seeing some species like rhinos and brown hyenas that we rarely see in Botswana.
Once a year we travel to Kenya's Masai Mara where we host our Great Migration photographic safari around September and October.
Other than those we often build photographic safaris to Mana Pools, South Luangwa, and The Serengeti National Park. Not to mention the mountains of Rwanda and Uganda for gorilla trekking and not forgetting The Kruger National Park as well as the neighbouring reserves of Timbavati and Sabi Sands.
We do also venture further away from Africa and have organized photo trips to Antarctica, The Galapagos Islands as well as parts of Central America like Costa Rica. We're always excited to try something new so if you have a special request, send us a mail and let's see what we can do.
Pangolin photographic safaris – All you need to know
Photographic safaris are an evolution of the standard safari offering driven mainly by the accessibility of camera gear and the advent of digital wildlife photography. On a photo safari, you can expect fewer people on a safari vehicle or boat on the photo tours. You will normally be accompanied by a wildlife photographer who will help develop your wildlife photography skills and photographic knowledge.
On some photo safaris, you will be provided with a camera to use should you not have your own. Unlike standard non-photo safaris, you will also be teamed up with fellow wildlife photography enthusiasts which means that you will be able to take your time photographing wildlife without feeling like others on the safari vehicle are getting bored.
Here is a video of our 10 days photography safari in The Chobe, Okavango Delta and Central Kalahari
As a rule on our photographic safaris, we work on multiple of four photographic safari clients. Our custom-built photo boats on the Chobe River take eight people whereas the safari vehicles we use in the Okavango Delta, for example, take four.
In a group photo safari, visiting multiple destinations, there will be a maximum of eight guests to one photographic safari host. This is the optimum balance between the attention and tuition you can expect to receive while also keeping the price of the photographic safaris at an affordable level. Should you wish to book a private photo safari experience with a photo host and a group of under eight participants we will be happy to do that for you on a photographic safari itinerary of your design.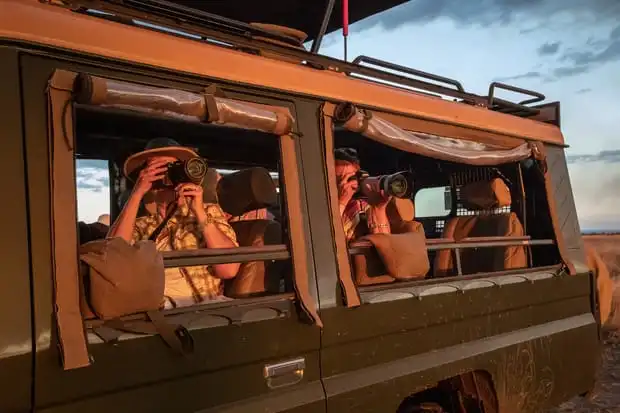 Everyone was a beginner once and everyone still has lots to learn in wildlife photography….no matter how good they think they are! We have many clients on our photographic safaris who are new to wildlife photography. We find though that by spending time in the company of a professional wildlife photography guide in the best classroom in the world (the African Bush) you will very soon be a competent and skilled wildlife photographer yourself.
We also host very experienced clients, who have been on many photographic safaris, and they will not only improve their skills during their African safari with us but also thoroughly enjoy wildlife photography being in the company of other enthusiasts all there for the same reason. Check out this article on photography safaris for beginners and visit our YouTube channel for more tutorials.
During your photographic safaris at The Pangolin Chobe Hotel and on the hosted photographic safaris there will be editing sessions in between the game drives. these are more akin to image review sessions as a group rather than sessions to learn to edit. We do have a free online Adobe Lightroom course for beginners created by Janine that we encourage you to complete before coming on safari should you wish to make the most of these sessions.
One additional thing to consider is to make sure that your editing program of choice is updated to the latest version and compatible with your camera. Internet bandwidth is limited on safari and large software updates are problematic.
We welcome non-photographers on all our photo tours. We have to remember that first and foremost this is a wildlife experience whether you are travelling with camera equipment or not. If your photo safari itinerary includes the Pangolin Chobe Hotel or is one of our hosted workshops we will happily supply the accompanying non-photographer with a camera and lens free of charge to give it a go.
It is often the case that non-photographers very quickly get into taking photos and before you know it they are browsing websites for camera bodies and lenses to buy!
This is a question that we got asked a lot. The cost of photographic safaris is very much dependent on when you want to travel, where you want to visit for photographing wildlife, and what level of luxury you would like on your African safari.
In recent years many African safari operators have been in a race to out-compete each other with more and more frivolous luxuries. We believe that this is missing the point of an African safari completely. The safari needs to be all about the African wildlife and not about the thread count of the sheets you're sleeping on.
All of our photography vacation packages are hosted at safari lodges and camps that favour the wildlife experience above everything. Of course, we all want to be comfortable but our guests are more than happy with a comfy bed, hot water on tap, delicious home-cooked food, and plenty of wildlife photography opportunities!
We also realize that many of our clients are travelling alone so we have made every effort to reduce the costs of the single supplements on their photo tours. That being said,  with most of the external camps we use being smaller, this is sometimes unavoidable especially in the busier seasons from June to October.
We are lucky to have some of the best wildlife professional photographers in the business working for us in Botswana. We call them the Pangolin Photo Hosts.
There are however only five of them on permanent staff so if you would like to be accompanied by them throughout your safari then we suggest you join one of our hosted workshops like The Best of Chobe, The Chobe, Delta and Kalahari Safari or the Wildebeest Migration Safari.
If you are staying at the Pangolin Chobe Hotel you will be accompanied by one of our professional photographer hosts on all your activities. During your stay, they will work on your photography skills with you. Spending a few days in the Chobe with the photo hosts will get you up to speed well enough to be confident enough to travel onwards on your own to more destinations. Trust us!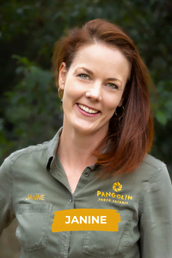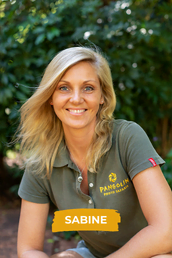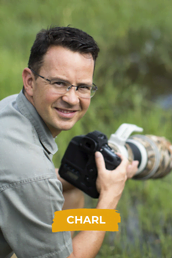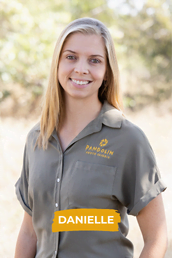 We believe that Africa is worth visiting throughout the year. When you should travel is very much dependent on what you would like to see and photograph. For example, if you're into photographing baby animals then a great time is just after the rains have arrived towards the end of the year. if you would like to photograph as many bird species as possible then January to March is a great time when the migratory bird species are in residence.
Many people wonder why there are different pricing seasons for safaris and this is due to the misconception that photographic safaris should only be taken during the dry season (April to October) which causes a peak in demand and a subsequent price increase.
We find that actually visiting outside of these seasons (especially when you are travelling alone) can be far better value for money with often better wildlife photography opportunities. Please check out this article we wrote about the different seasons in Botswana.
We do not rent camera bodies and lenses for our photographic safaris BUT we will supply you with gear free of charge at the Pangolin Chobe Hotel and at a few of our hosted workshops. The gear we supply is mid-level DSLR bodies like the Canon 90D and the Canon 7D Mk II as well as lenses like the Sigma 150-500 and canon 100-400 MkII.
What about tripods?
In all honesty, we find that there are never enough opportunities to use a tripod on photographic safaris to warrant taking up the extra baggage allowance. On our open vehicles, we have plenty of bean bags and our specially designed chairs on the photo boats have the perfect gimbal mounts for those long lenses.
Here is a video of our gimbal mounts on our photo boats:
Enquire now