The Central Kalahari
A GUIDE FOR PHOTOGRAPHERS
The Central Kalahari Game Reserve (CKGR) is huge. Bigger than Switzerland it is over 50,000km2 which makes it the second-largest national park in Africa after Selous in Tanzania.
With such a huge space to cover and with vegetation naturally sparse we spend our time at the fantastic Dinaka private reserve which borders the Central Kalahari Game Reserve and is under the curatorship of safari legends Ker and Downey Botswana.
Getting an image of a majestic Black Maned Lion in the Central Kalahari is always a special moment but it tends to be the slightly smaller residents that generate the more interesting shots.
Favourites of all of the photo hosts are the black-backed jackals that have currently claimed the area around the Dinaka photo hide. These bold little canines just can't keep still and chase anything that moves. We have even seen them attempt to take down a fully grown Kudu…without success!
Cheetah hunting in the open is another highlight that can be enjoyed here as well as the occasional visit from several traversing packs of wild dog.
Dinaka also offers up an opportunity to join some local San Bushmen on a walk to learn more about their hunter-gatherer skills, techniques and bushcraft.
There are some very interesting opportunities at sunrise and sunset for images taken I the more open and dusty areas where the larger plains game gather, especially those emotive backlit shots in a softer light.
Photo Safari Activities in the Kalahari
Game Drives
Dinaka has excellent game viewers with a policy of no more than four guests per vehicle and bean bag rests on every seat.
Being a private reserve we are able to off-road and do night drives which increased the chances of coming across some of the more elusive nocturnal species like Aardwolf, Aardvark, Brown Hyena and if we are very lucky Pangolin.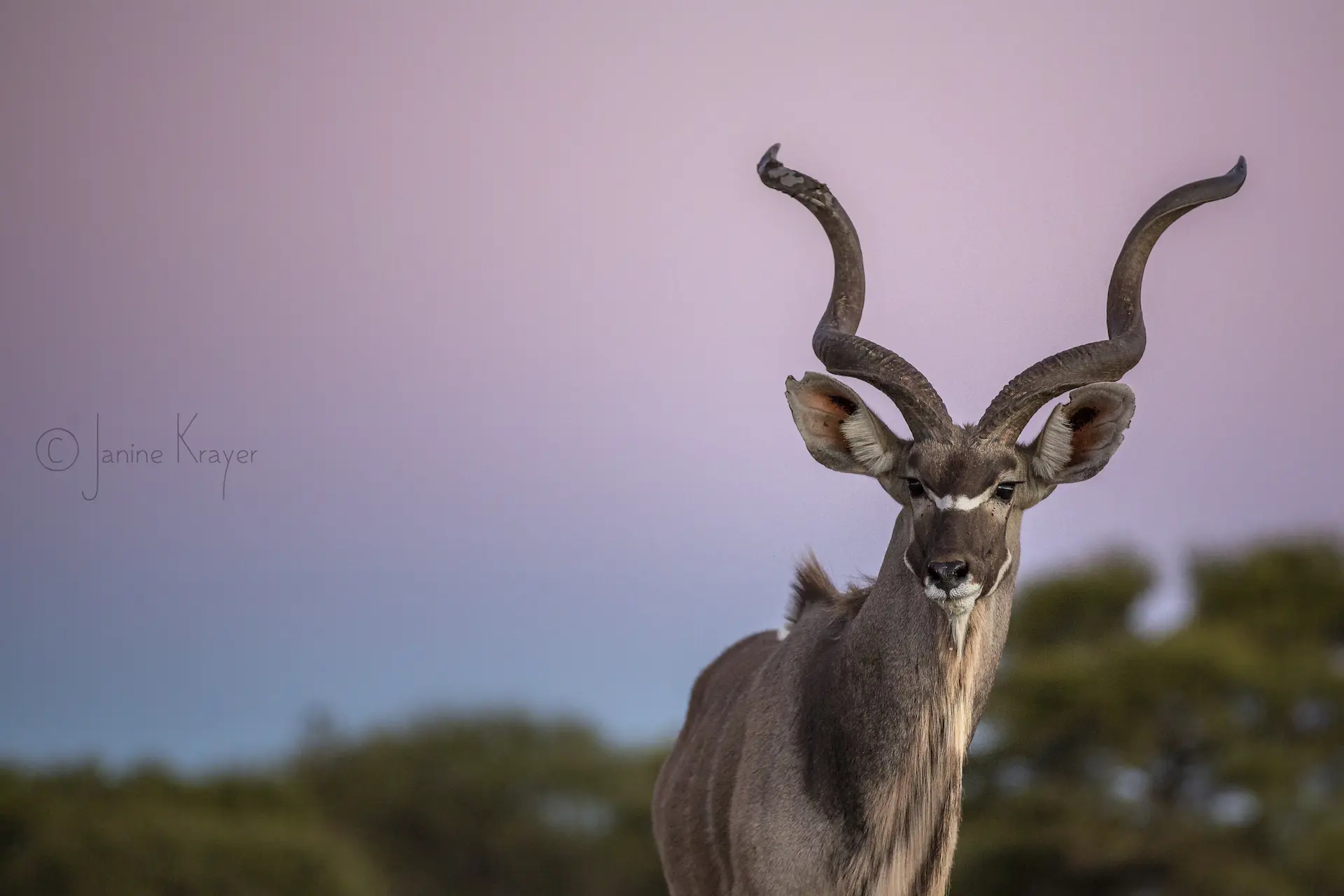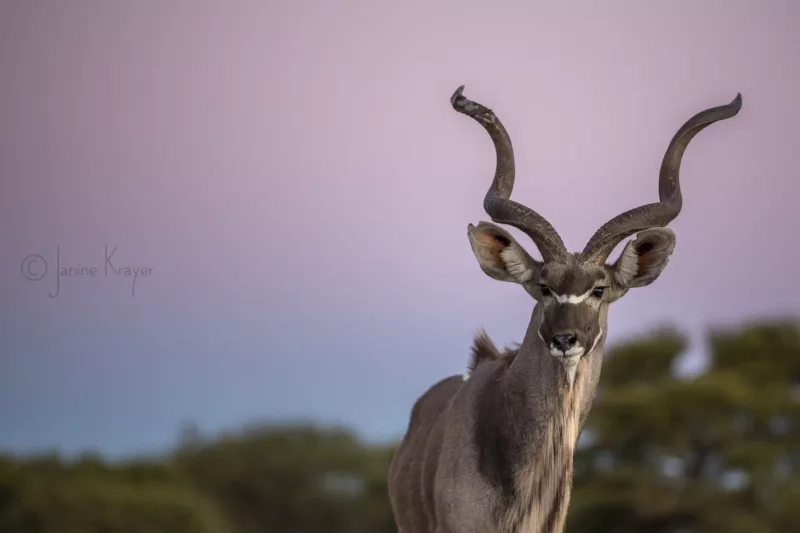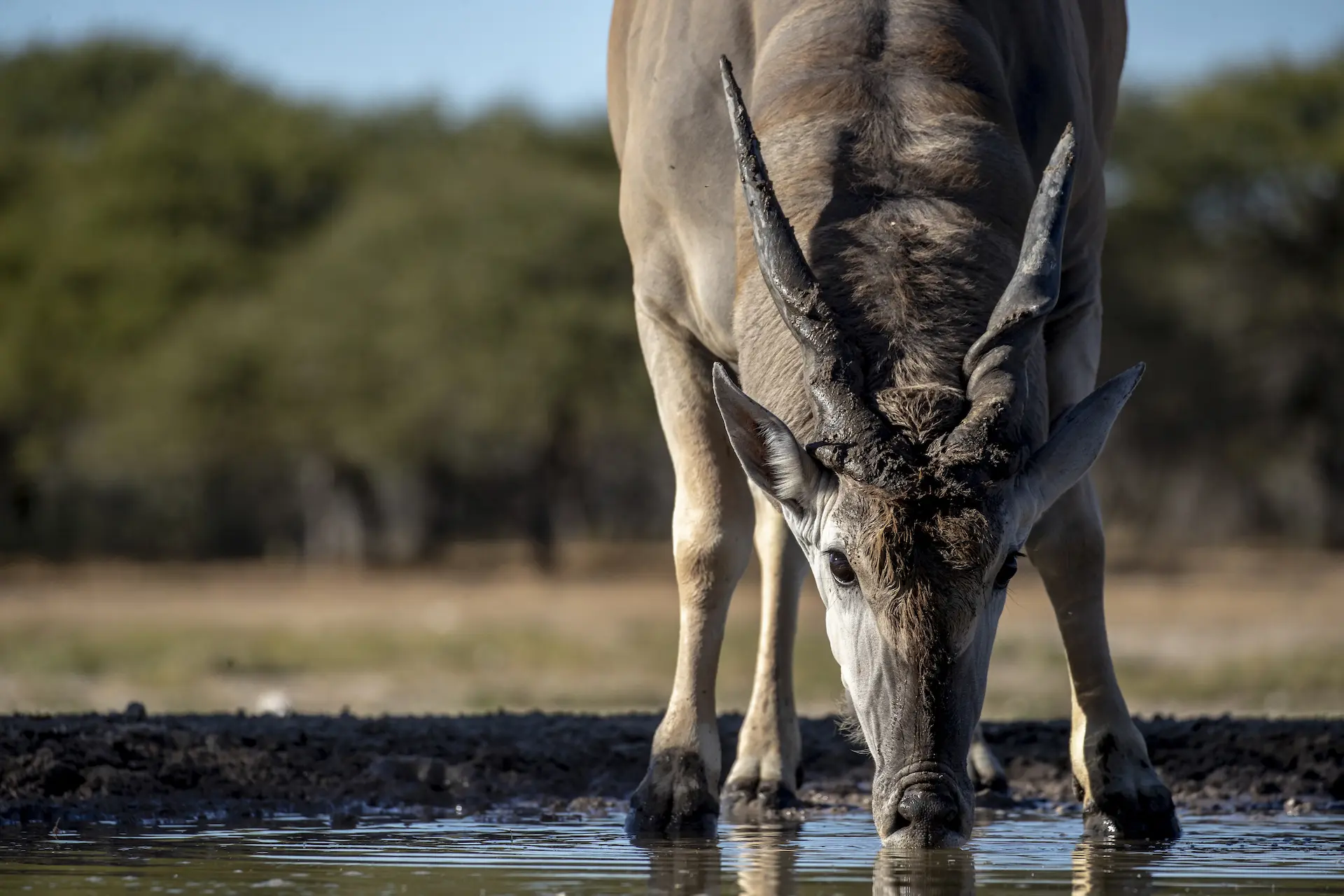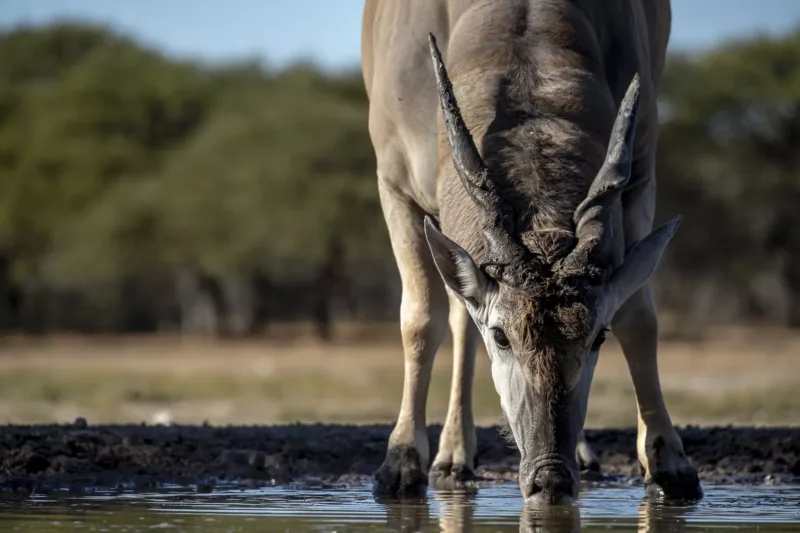 The Dinaka Hide
The hide at Dinaka is built "bunker style" right next to one of a handful of waterholes on the reserve. With the Kalahari being so dry it really does lend itself to hide photography and we have had some great sightings here.
The hide takes 8-9 photographers at a time. There are bean bag mounts inside and is a great opportunity to photograph from water level with subjects drinking from the other side of the waterhole.
Bushman Walk
The San bushman have lived (and survived) in this rather inhospitable area for thousands of years and its a true honour to join them on a walk to learn about how they forage and hunt for their food.
You will learn where to find water from hidden tubers as well as build rudimentary hunting traps for birds like guinea fowl. It is a fascinating and enchanting experience.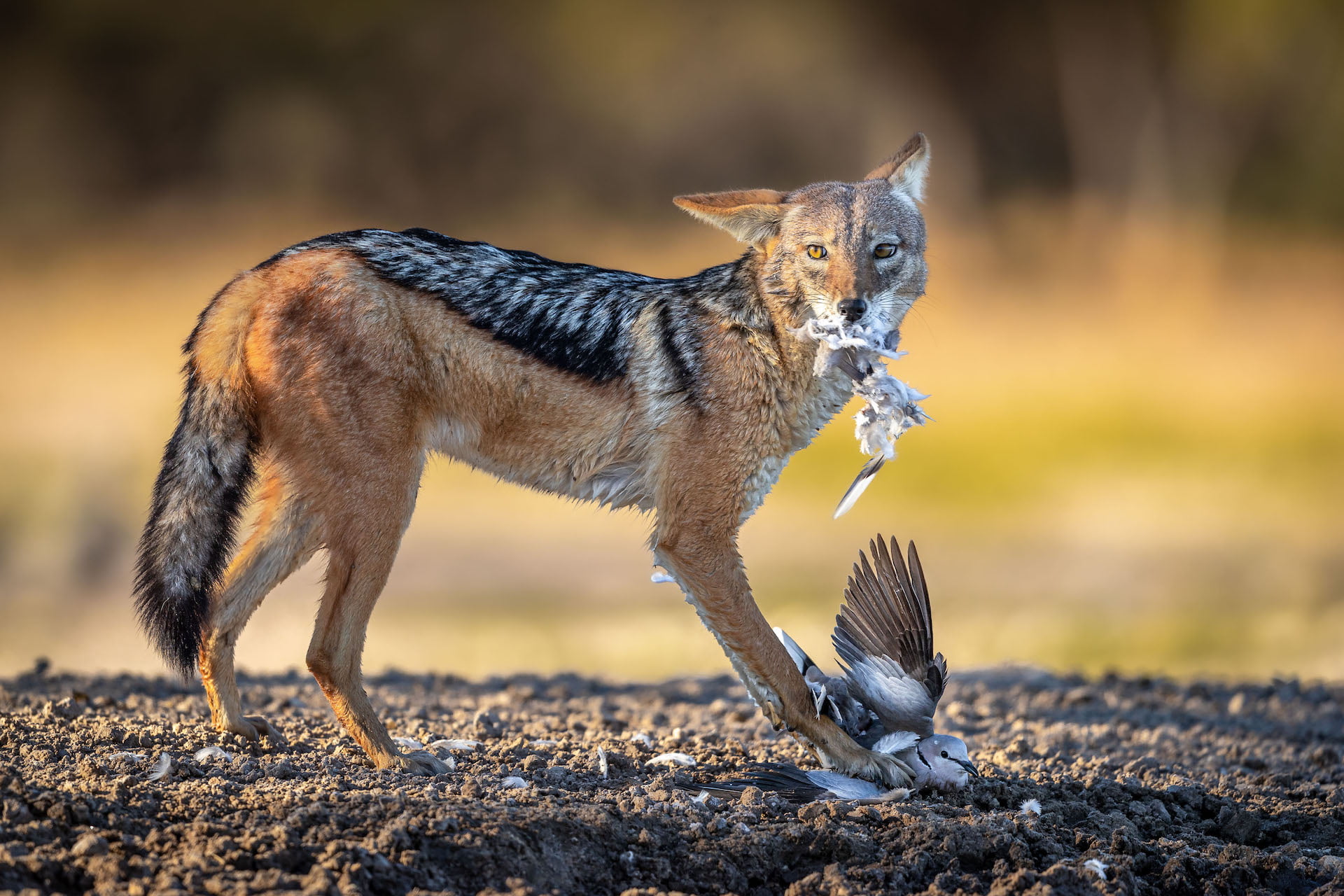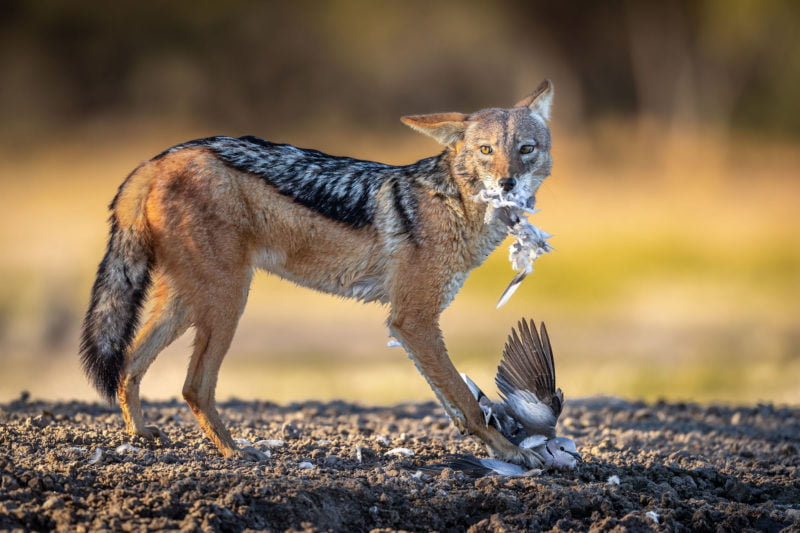 More Info
The reason we chose to visit the Kalahari on our multi-destination African safaris is for the variety of photographic subject matter that you don't see in the rest of the country. It is a very different ecosystem to the wetlands of the Okavango Delta and the resident species reflect that.
The Kalahari is famous form its black-maned lions as well as a healthy population of Cheetah. The more charismatic smaller predators like Bat Eared Foxes, Brown Hyena and Honey Badgers enjoy this environment and it is is also prime territory for insectivores like Aardwolf, Aardvark and of course Pangolins.
The plains game is also different with springbok replacing impala and plenty of the largest antelope in Africa – the Eland.
Despite the obvious lack of trees and dense foliage, Dinaka has over 200 bird species including Kori Bustard, Crimson Breasted Shrike, Pale Chanting Goshawk and Ostrich.
The Kalahari desert is a very dry place with annual rainfall at between 150 – 700mm per annum. The land is predominantly sandy with vast open plains, ancient river beds and salt pans. Dinaka itself is a much more manageable smaller size that is fenced. The reserve comprises areas of wide-open grasslands, patches of forest and a handful of waterholes which are pumped with underground water via solar pumps.
As with everywhere in Botswana, The Kalahari is very flat with the highest point being the Dinaka viewing deck at a height of around 10m.
With it being a desert it can have extreme temperatures in either direction of the thermometer in the height of Summer and Winter.
Air
Charter flights from the Delta take less than two hours into the airstrip at Dinaka. From Maun its less than an hour.
Land
You can drive from Maun to Dinaka and it will take around 3-4 hours but we suggest taking the charter flight to save time but also to watch the vegetation change from the air as you fly from an expanse of wetlands into the desert.
As we mentioned earlier the temperatures in the Kalahari vary from one extreme to the other. The advantage of it being so dry however is there is very little concern over excessive rainfall. In fact when there is some rainfall the reserve comes alive almost instantaneously with shoots of green everywhere.
There really is no bad time to be in The Kalahari just make sure that you pack something for cold weather as well as something light for the day time.
We have several packages that end in the Central Kalahari at Dinaka. The hosted and scheduled 10-day safari – Chobe, Delta and Kalahari as well as a package with no set departure dates called The Best of Botswana.
Our safaris in the Kalahari
Type: Hosted Photo Safari
Where: Botswana, Namibia
When: Set Departures
Duration: 10 Days
Price from: USD9,750

Type: Bespoke Photo Safari
Where: Botswana, Zimbabwe
When: All year round
Duration: 11 Days
Price from: USD6,995