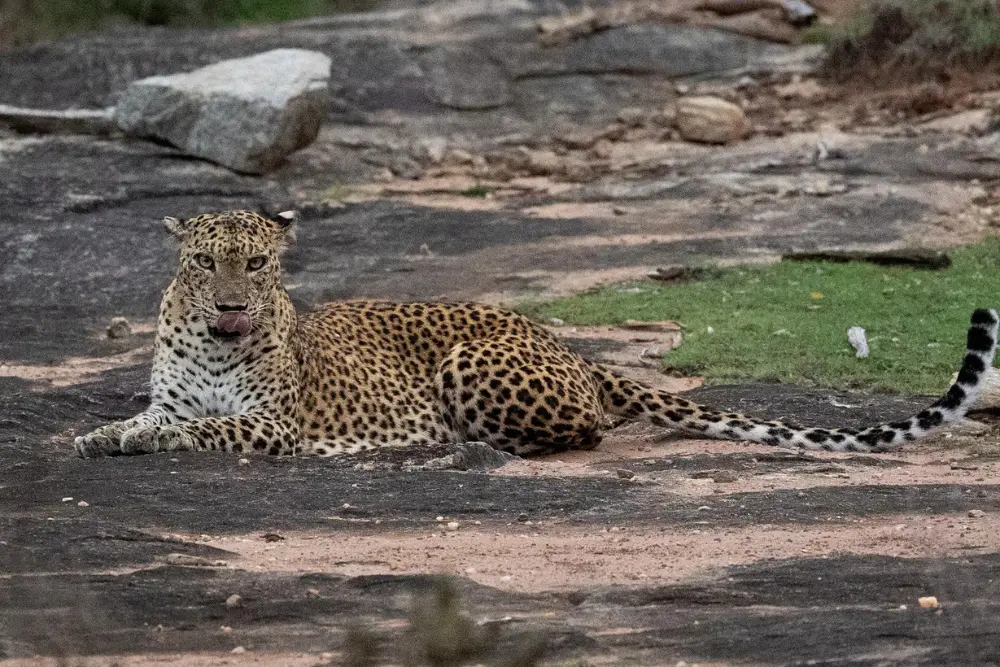 One of many Leopard sightings © Toby Jermyn

As wildlife photographers, we tend to think of destinations based on what we have heard the place is "good for". In this case, I heard that Sri Lanka was "good for" leopards. Let me tell you, however, that Sri Lanka is so much more than that, although leopards are an obvious highlight!
If you are looking for a destination that will scratch your wildlife photography "itch" as well as provide a diverse travelling experience with ancient cities, fascinating cultural experiences, amazing food, spectacular scenery, and great value for money, then Sri Lanka is definitely somewhere you should be considering..
The Beauty and Wonders of Sri Lanka
Sri Lanka (which literally means The Resplendent Isle) is an extraordinary destination, and in this article, I am going to give you my thoughts and impressions, share some images, dispel some myths, and finally impart some information on when and where I think you should go…and how we can help you get started with the planning.
The holiday that my partner Claire and I took was perfectly organised by a local Sri Lankan ground handler and wildlife photographer who contacted me during the COVID hiatus. Making good on my promise to visit his home was a big moment for me personally, after those challenging years.
I will be more than happy to introduce you to him if you are keen to do your own Sri Lankan safari.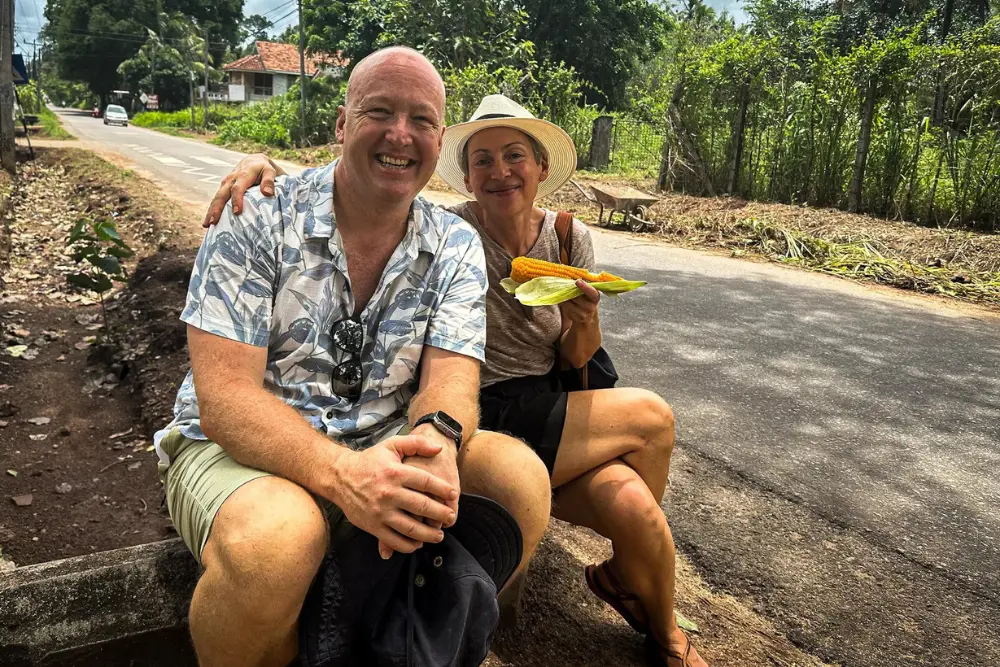 Claire and I enjoying a roadside snack © Toby Jermyn
How to get to Sri Lanka
Sri Lanka is well-served as a destination, and we got there via Dubai, but I know there are lots of direct flights from plenty of major international airports.
Bandaranaike International Airport is just north of Colombo and is a very modern and clean airport. When we arrived, we hit a snag with our arrival visa (Claire had somehow managed to enter her birth date wrong!). Instead of it being an issue, the immigration officer got up from his desk, escorted us over to his supervisor to clarify that we could simply reapply, helped us do so, and then took us back to stamp us into the country. Amazing for us..quite annoying for the people behind us in the queue..but was the first taste of the unbelievable hospitality that the Sri Lankan people showed us throughout our three-week trip.
Sri Lankan Hospitality
Sri Lanka has had a torrid time of late with civil wars, terrorist activity, tsunamis, and then economic woes, and yet all the people we met were hugely positive about their country and optimistic. There are very few places that I have travelled where I have felt more welcome. I felt very safe throughout the trip. Even vendors at curio stalls will respect the fact that you might not be in the mood to make a purchase, wish you a good day, and leave you alone. This is a great sales tactic, and as I was so taken aback by this approach, I then felt compelled to buy loads of stuff I really didn't need—willingly!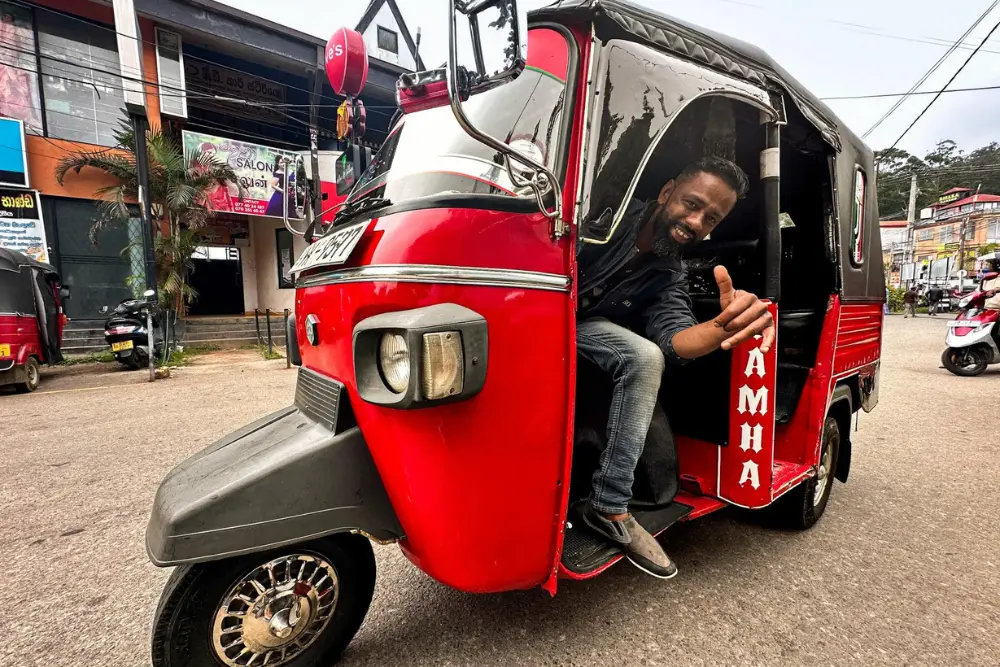 Super friendly Tuktuk driver © Toby Jermyn
I could write another entire blog post about the food in Sri Lanka, which is some of the best in the world. The cuisine is obviously very "curry-focused," but in my experience, it is never overly hot (in spice terms) but rather more flavourful. The fresh produce in Sri Lanka is amazing, and you definitely need to visit a local market on your trip (great photo opps too) with piles of spices, dried fish, brightly coloured fruit and veg and people who generally don't mind having a photo taken.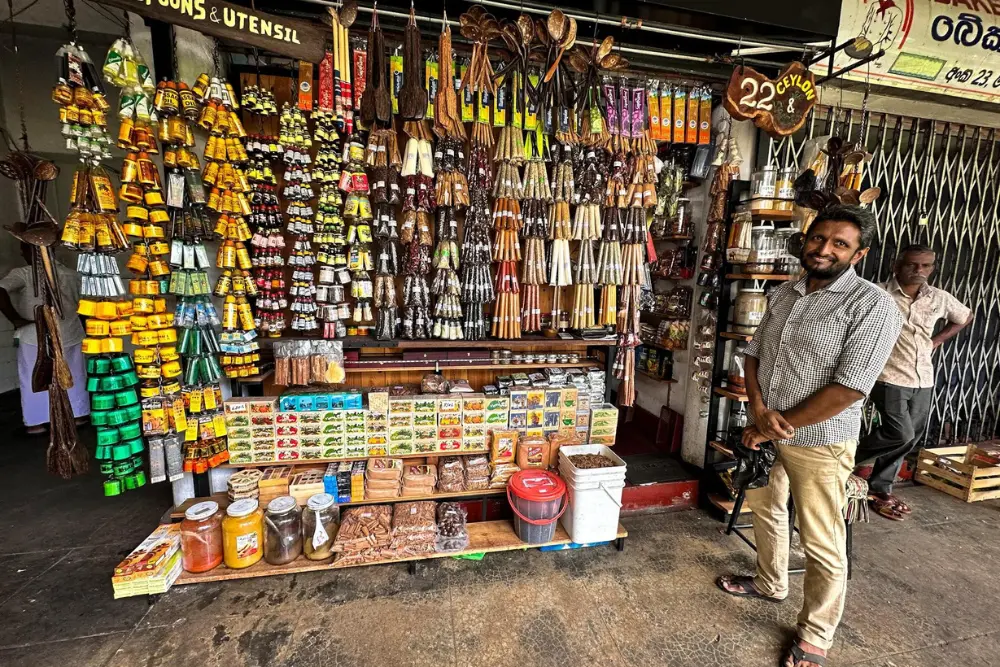 Spice merchant in Kandy © Toby Jermyn
I am a keen amateur chef and enjoyed several cooking classes and demos on my trip. I have attempted some of the dishes at home with reasonable success using the spices I bought in the markets!
Travelling around Sri Lanka
In Sri Lanka, they say that they "share the road," and that's pretty accurate. With cars, buses, tuk-tuks, motorbikes, pedestrians, animals, and the odd peacock (more on them later) all occupying every part of the road, I wouldn't recommend doing a self-drive tour of Sri Lanka. It's chaotic, to say the least.
We were lucky to be paired up with one of Sri Lanka's top naturalist guides, Wicky, for the duration of our private tour, and his understanding of the road (and its unique rules) left us feeling very safe indeed and allowed us more time to admire the ever-changing scenery from the comfort of our SUV.
Wicky has been guiding in Sri Lanka for over 30 years and is a bit of a legend. He is an exceptional birder (a real bonus as Sri Lanka is a birder's paradise!) and was an absolute joy to travel with. His passion for his country shone through at every moment, and I can honestly say he was one of the best guides I have ever had the fortune of travelling with.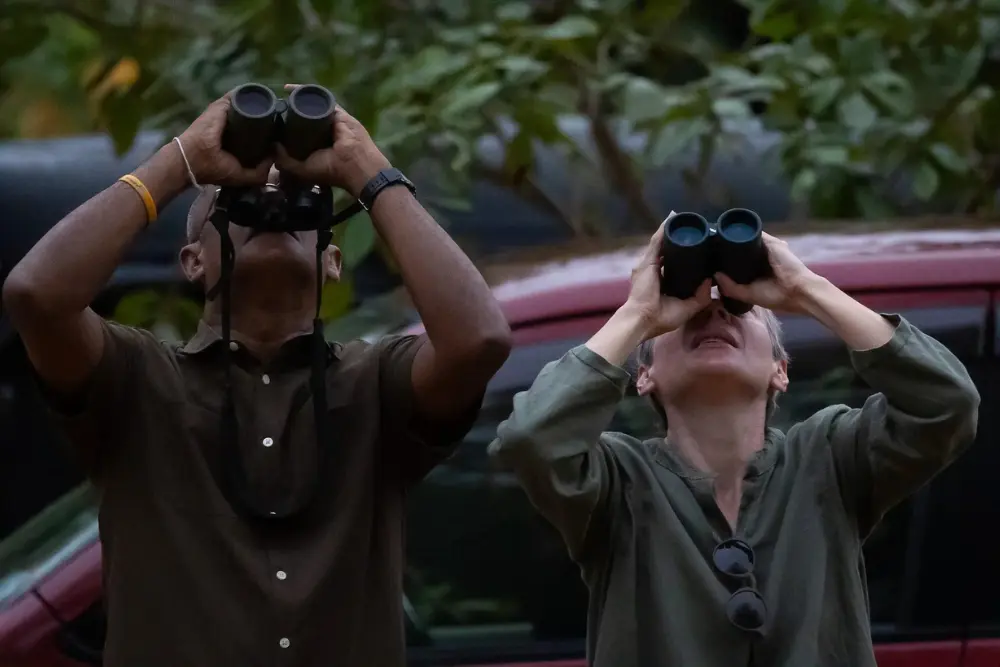 Claire and Wicky birding © Toby Jermyn
Shaped like a teardrop, the island of Sri Lanka measures about 255 miles (415 km) from north to south and about 135 miles (220 km) from east to west. Getting around, however, is rarely in a straight line, but that only adds to the charm. We never travelled more than 3–4 hours in any one day and had several days in the same location during our three-week tour.
Sri Lanka's Wildlife
Mammals of Sri Lanka
As I mentioned earlier, the Sri Lankan leopard (Panthera pardus kotiya) is probably the most famous large mammal associated with Sri Lanka, but I was really interested to also see the lesser-known sloth bear and wild boar, along with the Indian elephants, and I am delighted to say that all these boxes were ticked on numerous occasions. There are several deer species, the largest being the Sri Lankan Sambar Deer, plus spotted deer, barking deer, and hog deer.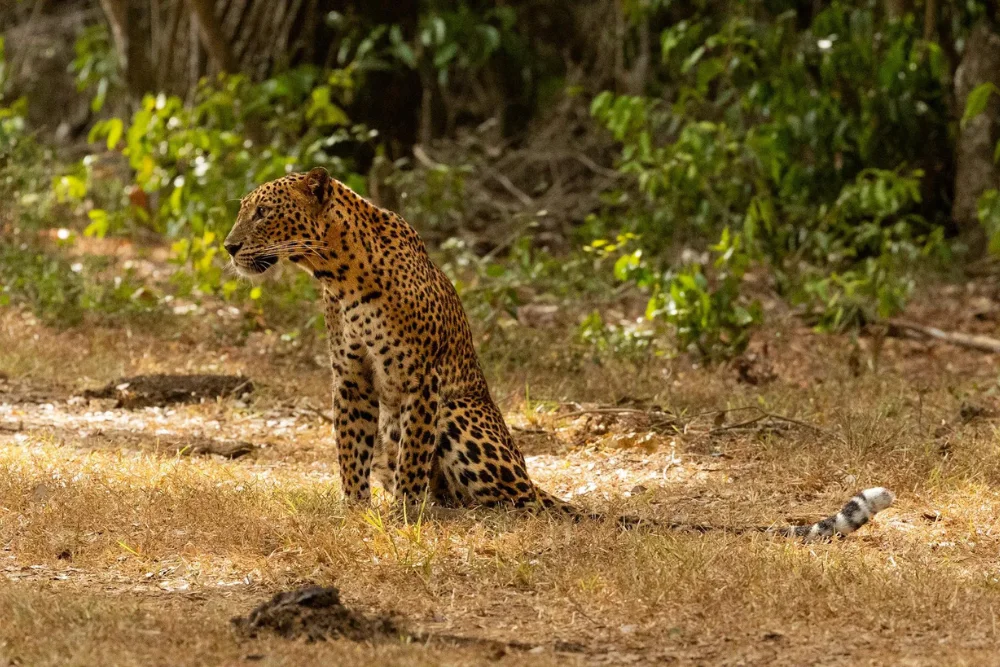 Sri Lankan Leopard in Wilpattu © Toby Jermyn
The sloth bears were probably the most challenging to photograph, as they are generally quite shy and reclusive and will most probably gallop off into the thick woodland when they sense or see you. We did have a good sighting in Wilpattu National Park while it was drinking at a lake in the late afternoon, but other than that, other sloth bear sightings were fleeting. The leopards were more relaxed, and we had some great sightings in the different Sri Lankan national parks we visited.
The most fascinating part of seeing Sri Lankan elephants was watching their behaviour, especially when they interacted with each other. To me, they seemed much more affectionate with each other than their African cousins. Easy to understand when you realise that only around 7-8% of Sri Lanka's male elephant population have tusks—less risk of poking each other in the eye, I suppose!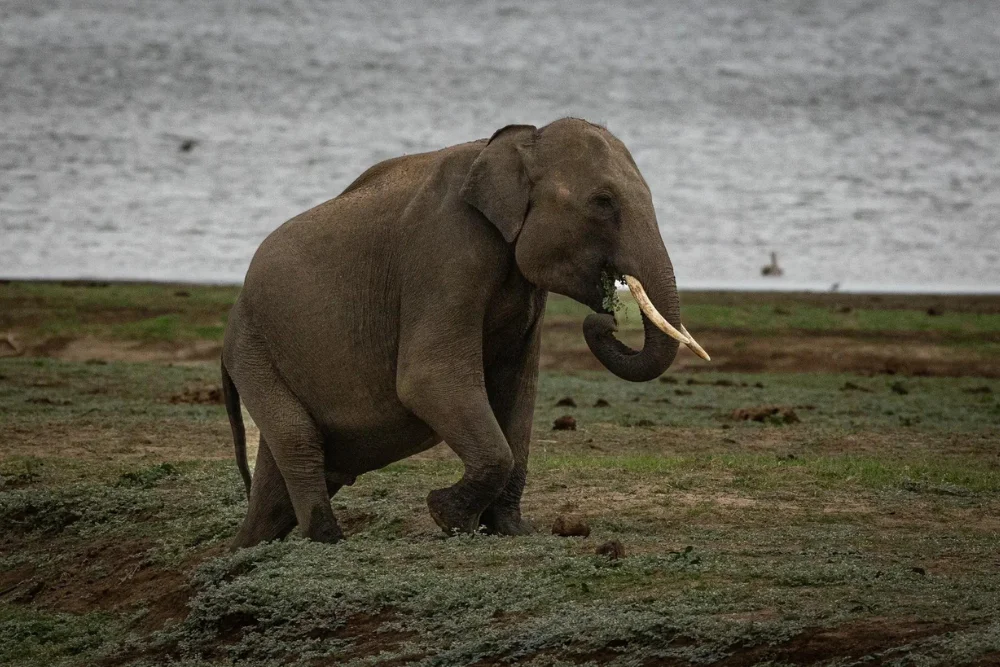 Tusked Sri Lankan elephant © Toby Jermyn
There are several monkey species that are fun to see and photograph, as they are always doing something. There were plenty of Toque Macaques, Grey Langurs, and the rarer variations of Purple Leaf Monkeys, whose look and features vary depending on where in Sri Lanka you see them.
Sri Lanka is a great place for whale watching, with resident Blue Whales and several operators leading trips out to sea to get a glimpse of these behemoths as well as Sperm Whales. Sadly, on the day that we were due to go, the weather turned against us, and it was deemed unsafe to go to sea. What an excellent excuse to return to Sri Lanka one day!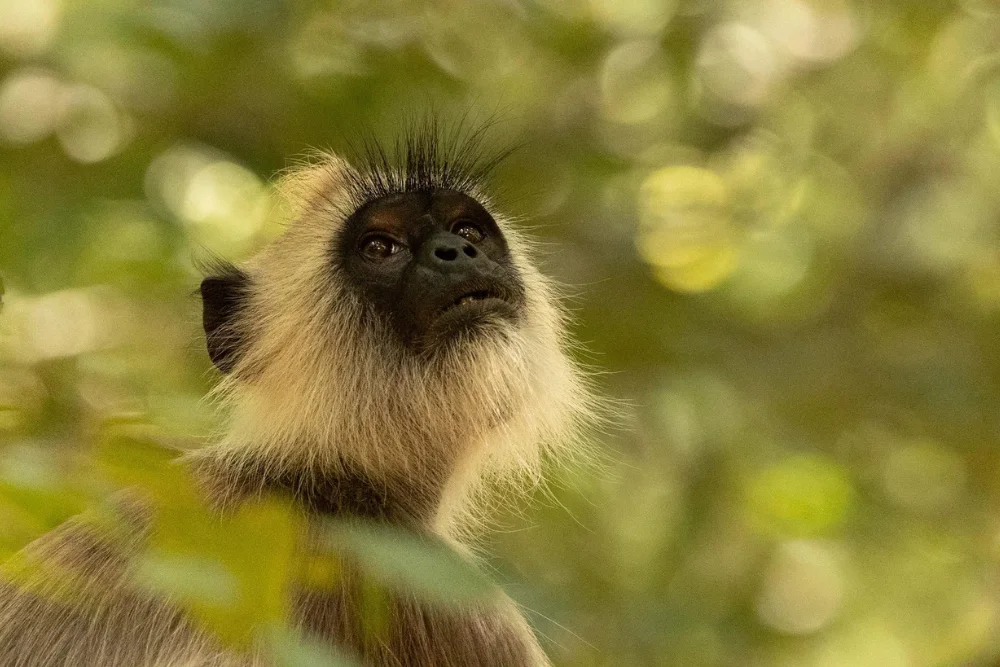 Grey Langur in Wilpattu © Toby Jermyn
Birdlife in Sri Lanka
Sri Lanka is a bird-watching paradise and is home to 34 endemic species. The total number of bird species recorded on the island is 492, of which 219 are breeding residents. We saw most of the endemics during our time there, including the beautiful Blue Magpie, Crimson-Backed Flameback (from a distance), Green Pigeons, Sri Lanka Grey Hornbill, and Claire's new "spirit animal" (and national bird of Sri Lanka), the Jungle Fowl. Whenever we saw a jungle fowl shortly afterwards, we saw something amazing!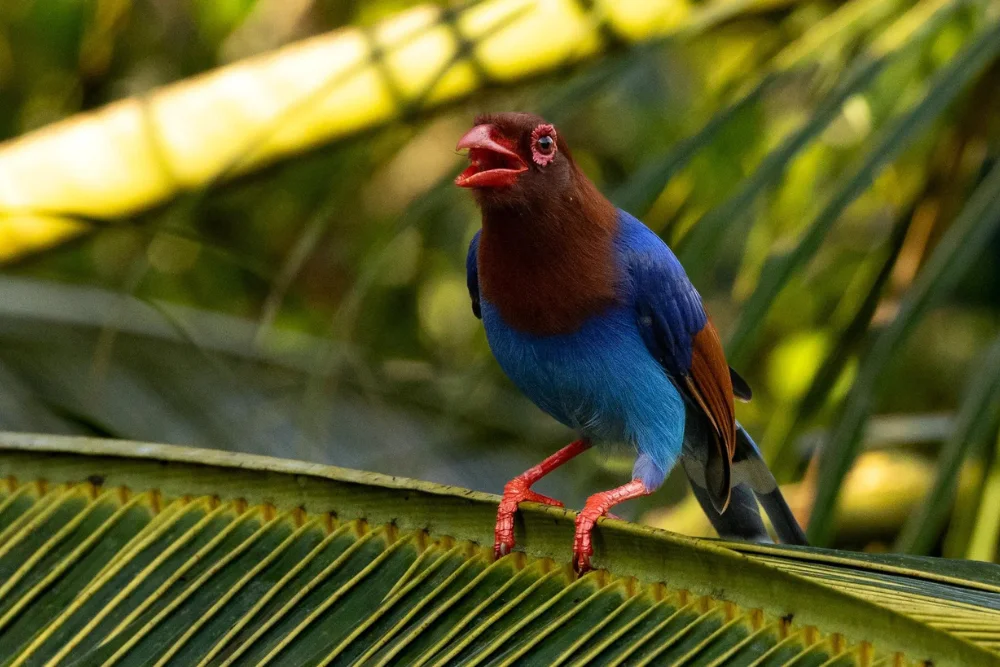 Sri Lankan Blue Magpie © Toby Jermyn
Growing up in the UK I used to go to Holland Park in West London, where there were a few resident peacocks, and I was always amazed at how exotic they were when compared to the drab UK birds. I am not ashamed to tell you that when I saw my first wild peacock strolling across a paddy field (on day two), it was rather an exciting moment. By the end of the trip, though, I had probably seen hundreds—they are like Guinea Fowl in the Chobe!!! They are (and will always be) an exotic species to me, and I thoroughly enjoyed photographing them posing in trees and, on a couple of occasions, putting on the most sublime displays in the hope of attracting a mate.
Sri Lanka has several large raptor species, and I was amazed at just how relaxed they were. On numerous occasions, we had very large birds of prey posing on branches a few metres away from us, seemingly unfazed by our presence. We saw and photographed plenty of Grey-Headed Fish Eagles, Brahminy Kites, Crested Serpent Eagles, and Black Eagles.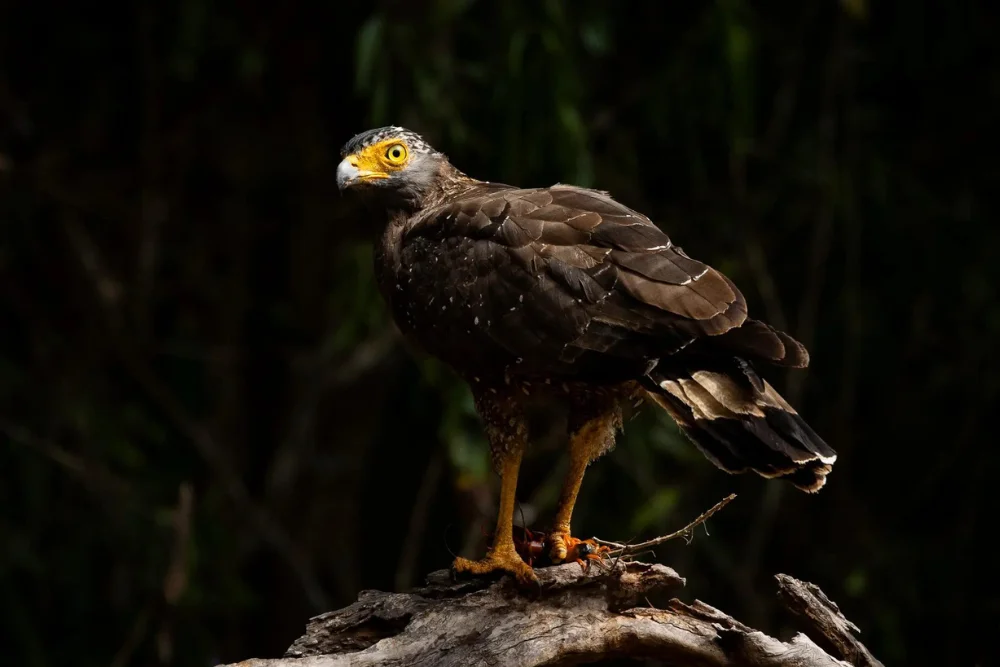 Crested Serpent Eagle © Toby Jermyn
Finally, one of my favourite birding moments was watching a flock of Hanging Parrots devour fruit from a Rambutan tree in a tropical downpour. I was photographing from the comfort of the wrap-around terrace of a beautiful old bungalow in the rainforest of Sinharaja while drinking freshly brewed Sri Lankan tea with fresh coconut and palm honey pancakes…heaven!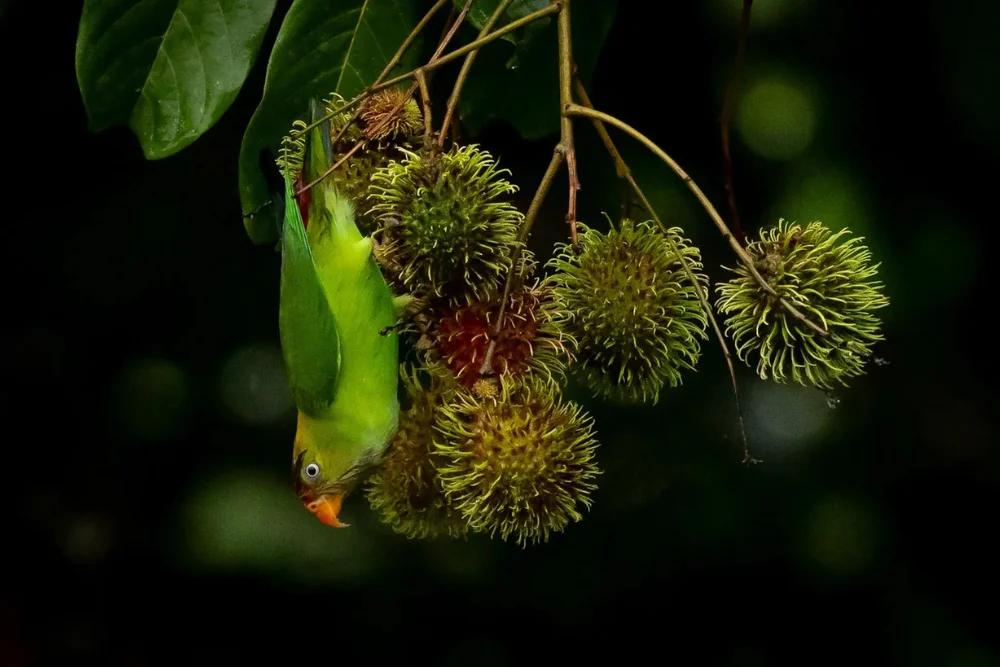 Hanging parrot in a Rambutan tree © Toby Jermyn
Small Stuff, People and Landscapes
In between photographing the mammals and birds, plenty of other opportunities present themselves. Lots of brightly coloured reptiles and insects can keep you entertained in the gardens of the hotels and lodges during the day, and when you head into the mountains to see the tea plantations and rain forests, the landscapes are truly epic.
I found that when I was in a town or village, I would take photos with my phone rather than with my R6. This had the advantage of being less intrusive and easier to work with, and I found that people were all too happy to have their pictures taken with or without you using a phone. I have an iPhone 14 Pro, and it takes amazing images and is certainly less cumbersome than a camera around my neck. It takes great video too and have you tried the long exposure function on waterfalls? It works really rather well!
Stupa in the landscape © Toby Jermyn
I was never worried about my camera or phone being snatched out of my hands as I might in other countries. There appeared to be very little crime, and we were always escorted by Wicky, who was happy to explain to the people that we met who we were and where we came from. Smiles abound everywhere. Tourists are very welcome in Sri Lanka.
Sri Lanka's National Parks
During our trip, we visited several national parks, and I will give you a brief account of each of them in this section. The national parks are really well-run, and the guides are generally well-behaved and courteous with each other at sightings. Because we used a ground handler who is himself a wildlife photographer, we tended to get the best driver guides in each park who had a better-than-average understanding of what a photographer needs as far as positioning, light, and photogenic subject matter is concerned.
You are limited to the roads in the national parks—no off-roading here—but the animals in general are quite relaxed, and there are plenty of waterholes strategically positioned along the roadsides at regular intervals. The national parks are open from sunrise to sunset, and they are quite strict about leaving the park at or just after sunset.
Most of the parks we visited (with the exception of Horton Plains in the highlands and the rain forest of Sinharaja) are coastal, which makes for a very diverse ecosystem, and as a result, you get a real mix of animal and bird life too. For those of us who are used to going on safari inland, it's quite a novelty to be watching a herd of water buffalo wallow in a shallow lake with a beach in the background and a container ship passing by on the horizon!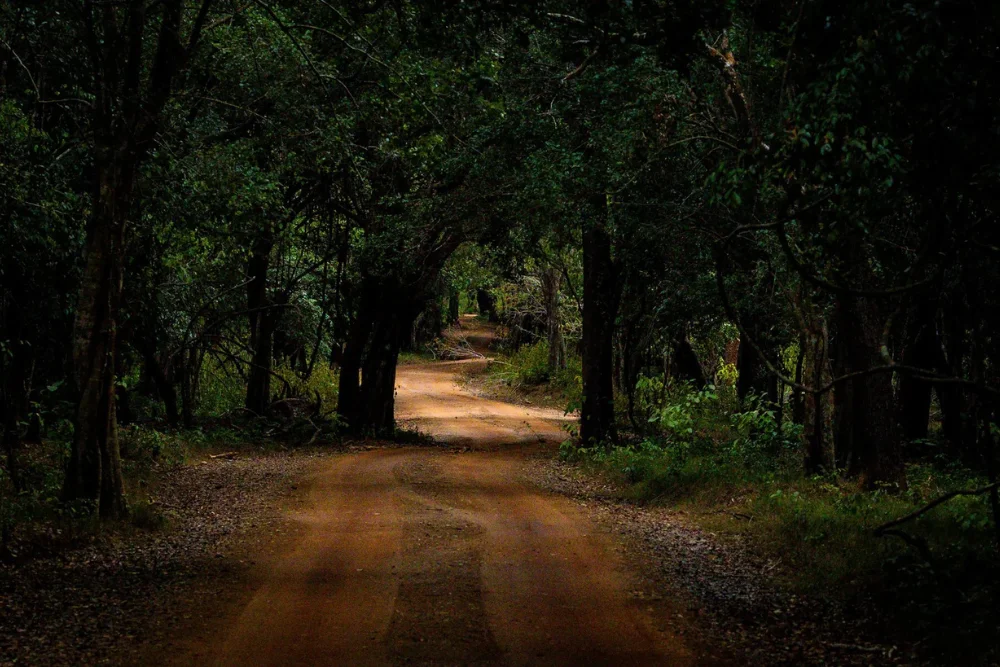 Wilpattu National Park road © Toby Jermyn
Wilpattu National Park
Wilpattu National Park is the most northerly of the national parks that we visited and has only been reopened for the last 10 years following the end of the civil war. On that note, people often mistakenly think that there are tigers in Sri Lanka, considering that one side of the conflict, the LTTE, was informally called the Tamil Tigers. Sadly, no tigers, but with the tiger reserves of India only a short flight away, you could, in theory, combine the two destinations. Food for thought!
Wilpattu was our first taste of a Sri Lankan national park, and we loved it. It's quieter than other parks in terms of vehicle numbers, and the guides have what appears to be the busiest text message group in the world, as they all help each other with sighting info and coordinate the sightings using sms. As a result, you get the feeling that everyone is working as a team. There isn't too much jostling at a sighting, and more often than not, our driver would present options based on the info he was receiving. "Leopard sighting 15 mins away in a thick bush, elephants feeding in the open a bit closer, or sloth bears on the move 10 minutes from here… what would you like?"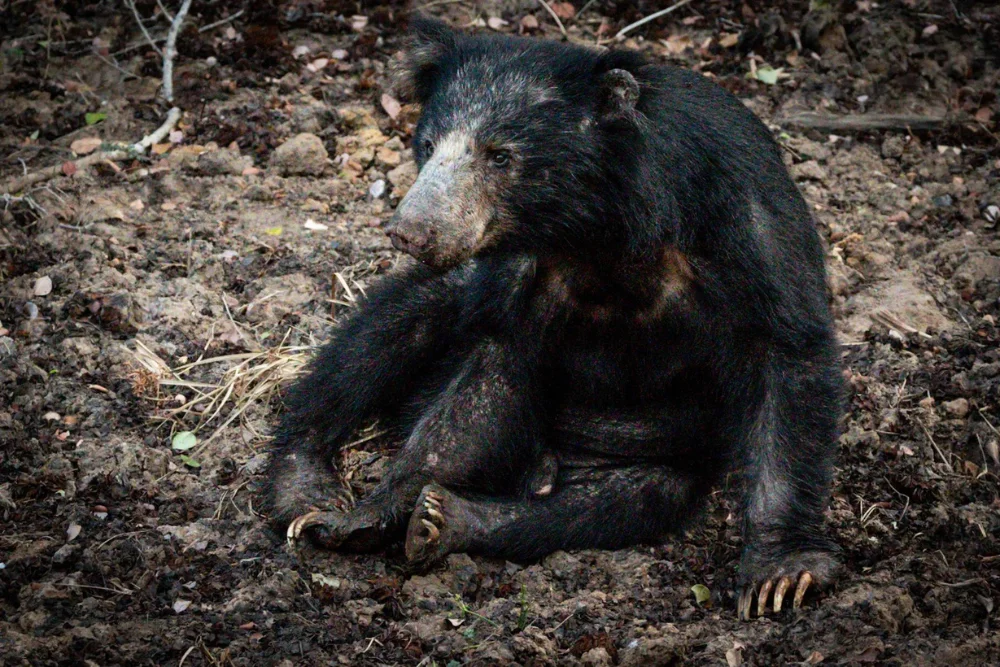 Sloth Bear in Wilpattu © Toby Jermyn
Most of Wilpattu National Park is forested, and as you drive along these stunning, rusty brown tracks with the canopy reaching overhead. It's as if you are in some sort of long enchanting arboreal tunnel. This might worry some photographers, as we often crave the wide open spaces, but there is so much to see among the trees that taking images through the gaps actually adds to the charm of the photos you can get. I was also amazed at how relaxed the bird life was, and we got some great shots of raptors perched on tree branches a few meters away. I will discuss what camera gear I would recommend later, but needless to say, this is very much telephoto lens territory.
Being coastal, the roads do open up into very large salty lakes that team with water birds, and if you continue through the national park, you will eventually reach the cliff tops overlooking the Indian Ocean, which is rather special.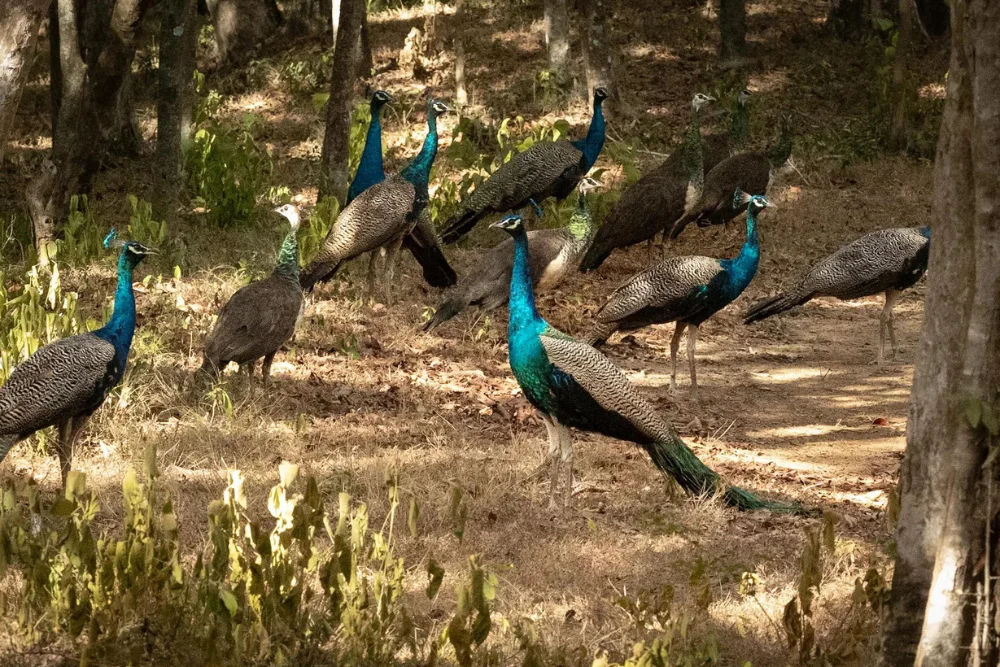 Peafowl in Wilpattu © Toby Jermyn
One activity we didn't have time for on our trip due to its tight schedule was taking a night drive in the surrounding fields and grasslands bordering the national park to see if you could spot the Rusty-Spotted Cat as well as other smaller nocturnal predators. Next time!
Minneriya National Park
Minneriya National Park was an unexpected little gem, not because of its most famous event, "The Gathering of the Elephants," where up to 300 Sri Lankan elephants can congregate during the months of July to September, but if you venture further into the park away from the lake, there are some charming woodlands, and we saw a very large pack of Golden Jackals chasing each other out in the open plains.
Elephants in Minneriya © Toby Jermyn
We spent an afternoon in Minneriya National Park on the way back from visiting Polonnaruwa, a stunning archaeological site (more on those later), and it was an interesting photo stop. One morning or afternoon would suffice, though.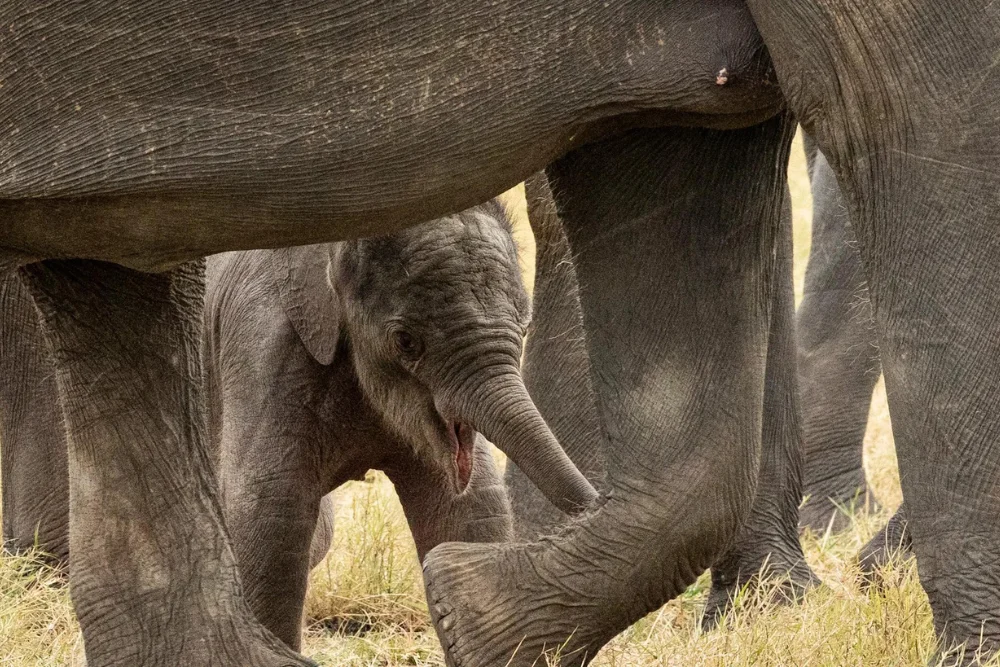 Baby Indian elephant © Toby Jermyn
Horton Plains National Park
Horton Plains National Park is situated at a considerable altitude (2,100–2,300 m above sea level) and is one of the few national parks in Sri Lanka where you are allowed to walk. There are no elephants or buffaloes here, but there is a sign of some elusive leopards (however, sightings of these creatures are infrequent).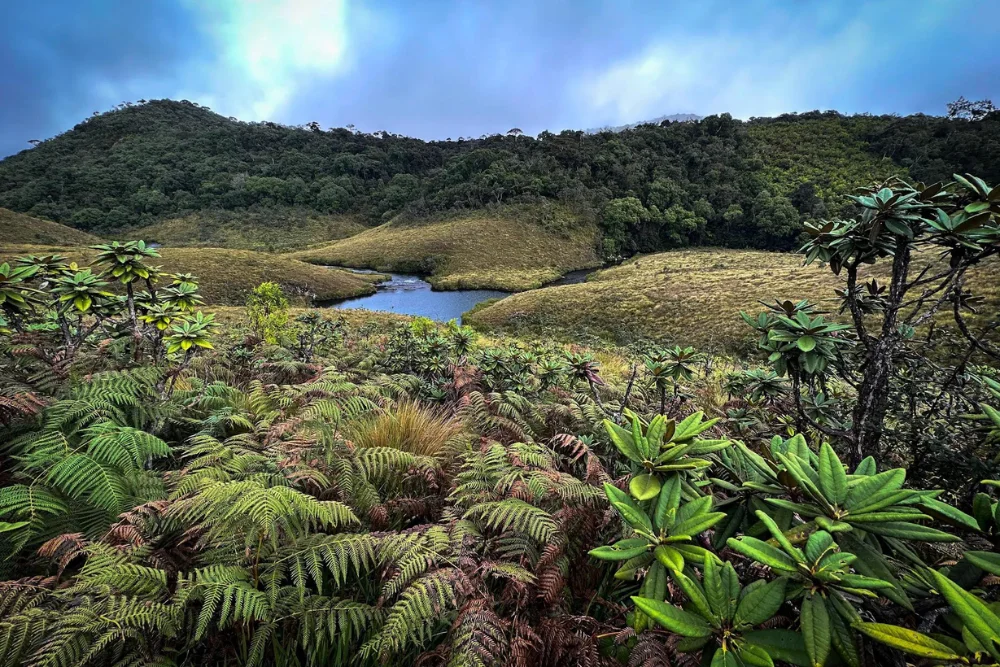 Horton Plain National Park © Toby Jermyn
When you arrive at Horton Plains and enter the park gate, the wardens will inspect your bags thoroughly and ask you to decant any plastic-wrapped food into paper bags that they provide. You can't even take in water in plastic bottles! This, we thought, was a wonderful idea, and it meant that we saw no plastic waste on our walk at all. All national parks around the world should take heed of what they have achieved at Horton Plains.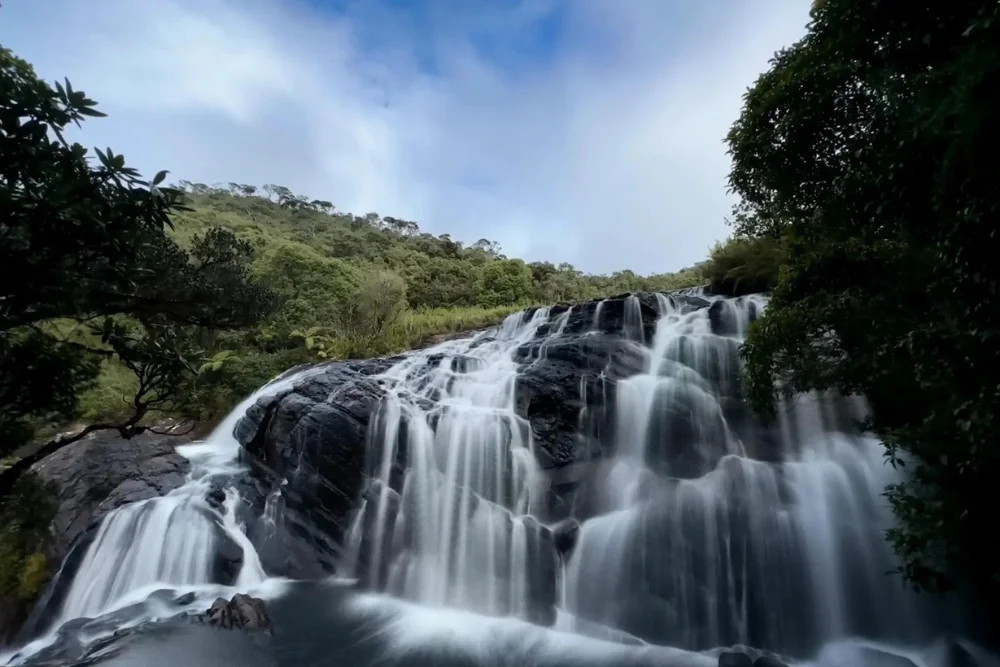 Baker's Falls in Horton Plains on an iPhone 14 Pro © Toby Jermyn
Walking in Horton Plains is wonderful. There is a well-marked trail that is easy enough for anyone with even half-decent levels of fitness. It takes you through beautiful open plains, cloud forests, and past amazing waterfalls, and finally reveals a spectacular vista at the aptly named World's End lookout. The walk takes about 3 hours and is about 9 kilometres (6 miles) long.
Along with plenty of birds, we saw a few Sambar Deer, and on the way out, we had great fun photographing a Rhino-Horned Lizard in a tree by the park gate. Close to where we found the lizard, we saw a tree with very distinct claw marks from a leopard, which means that although we didn't get any leopard sightings ourselves, maybe they had some decent human sightings during our time there instead!
World's End in Horton Plains © Toby Jermyn
Horton Plains sits just above the mountainous tea estates, so after our walk, we took time to visit a tea farm and processing factory to learn about all the different varietals and processing techniques. Most refreshing!
Kumana National Park
Kumana National Park is sometimes referred to as Yala East National Park and is situated to the south of the surfing town of Arugam Bay in the south east of the country. This park is off the main tourist route, and as a result, it gets rather fewer visitors. In fact, most of the other vehicles we saw in the morning were filled with bleary-eyed young surfers napping in between sightings. They were all gone by 10 a.m., leaving us with the park to explore pretty much to ourselves.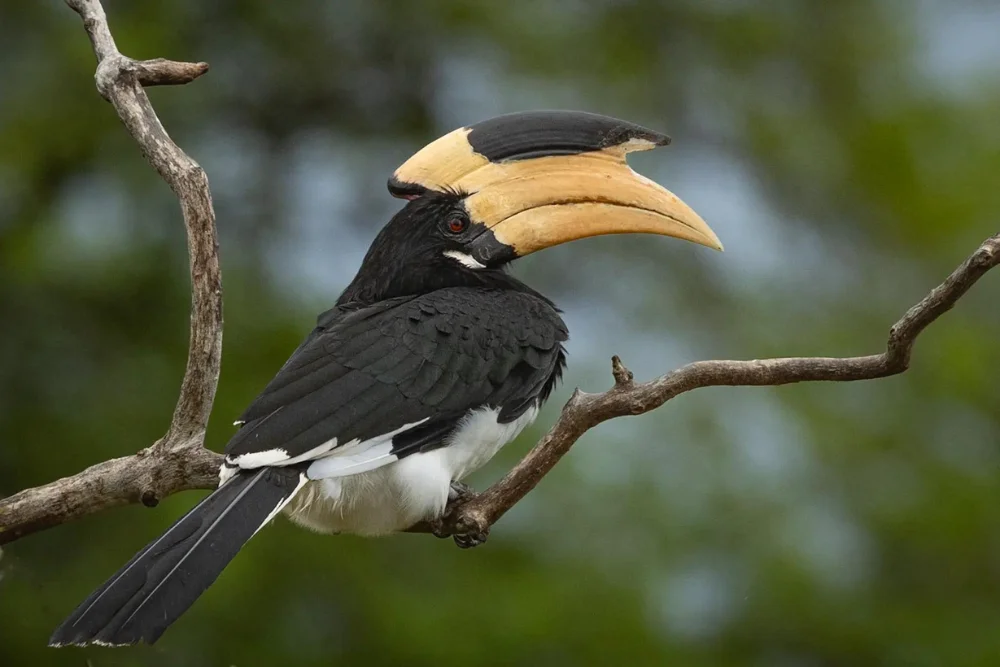 Malabar Pied Hornbill © Toby Jermyn
Kumana National Park is once again situated along the coast and is dotted with around 20 lagoons and tanks (artificial reservoirs), which means it is great for birdlife throughout the year. I got some of my favourite peacock images in Kumana from a couple of very obliging individuals perching on branches out in the open.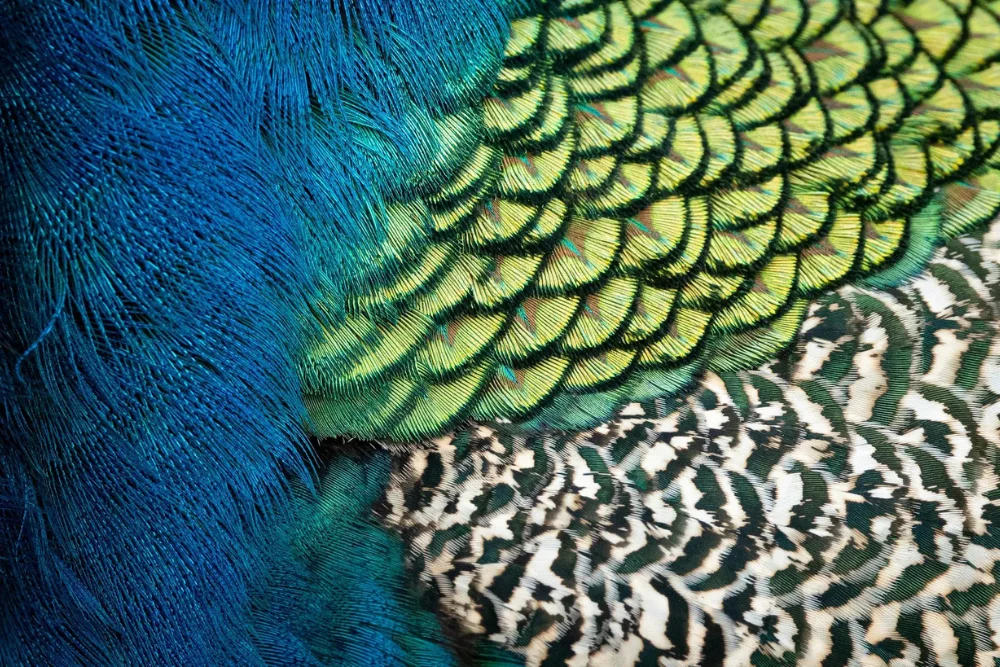 Peacock Feathers © Toby Jermyn
We also had some good sightings of the very large estuarine crocodiles, which are native to Sri Lanka. Readers from Australia will be familiar with these giant reptiles, which are more commonly called Saltwater Crocodiles.
Yala National Park
Yala National Park is divided into five blocks. Of these, Block 1 is by far the most popular and is bordered by several very large hotels and resorts, mainly around the southern gate at Kirinda. Most of the people who visit Yala National Park combine it with general sightseeing and beach holidays and will spend one or two days at the resorts and visiting the park for a morning or an afternoon in the hope of seeing an elephant or a leopard and getting a pic on their phones to share on their socials.
This is where Yala National Park gets its reputation for being a bit wild and unruly, with lots of vehicles fighting for access to a sighting, and this can sometimes be true.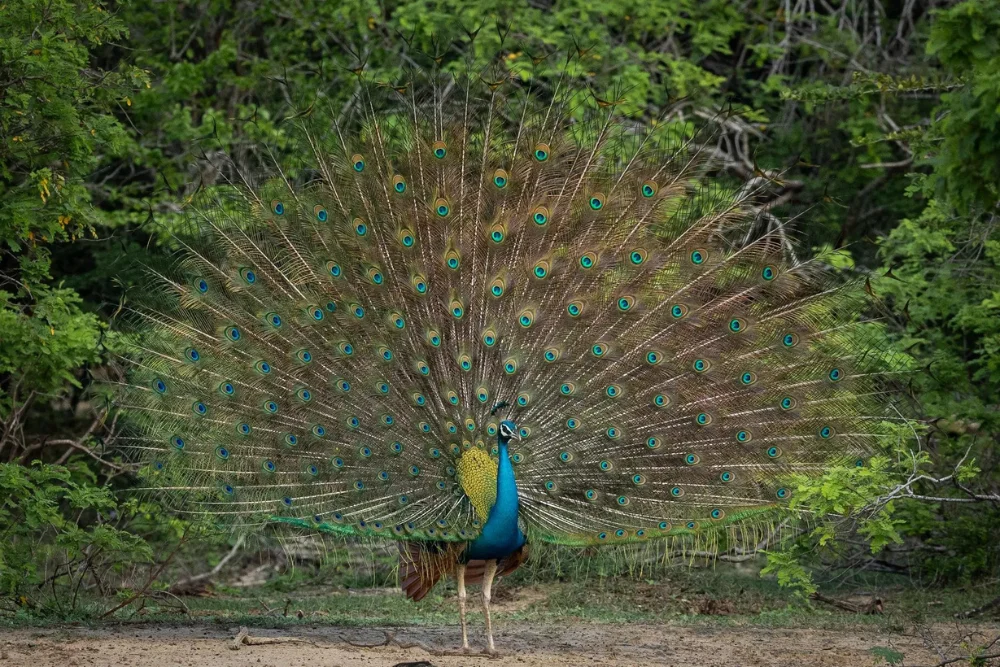 Peacock display in Yala © Toby Jermyn
We arrived at night in Kirinda, and the outgoing traffic coming past us was just safari jeep after safari jeep. It filled me with trepidation that this was going to be our reality the next day, especially after enjoying the relative exclusivity of some of the other parks mentioned previously. This was compounded by the fact that the online booking system, which gets you into the park quicker with less of a traffic jam, had crashed, so everyone would be entering the park at the same time through the same gate.
I am delighted to say, however, that due to Wicky's local knowledge, who has spent more time in Yala National Park than most, there is a very simple and easy way to enjoy this beautiful park without feeling like you are part of a "whacky safari race".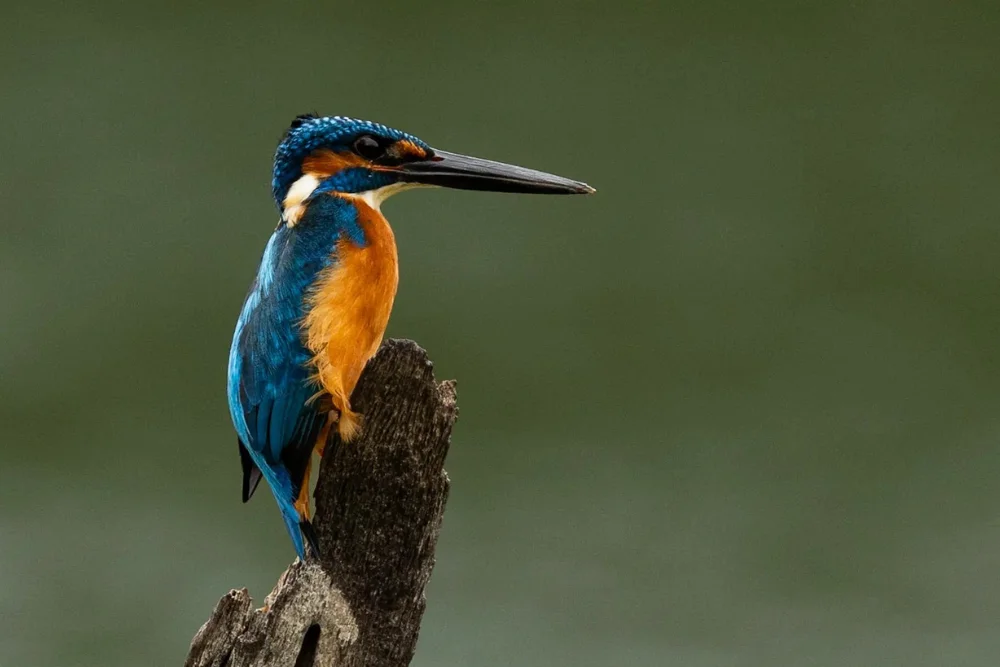 Common Kingfisher © Toby Jermyn
It turns out that most of the big hotels offer safaris in Yala National Park as a 3-hour activity in the morning, and they expect the jeeps to be back by 9 or 10 a.m. for breakfast. All of the vehicles from these large properties race up the one main track, hoping to spot a leopard or elephant to satisfy their guests, and then they turn around and are gone. This means that if you take the side roads when you get into the park, you have a very different experience and see very few cars, indeed, and certainly not after 9 or 10 a.m.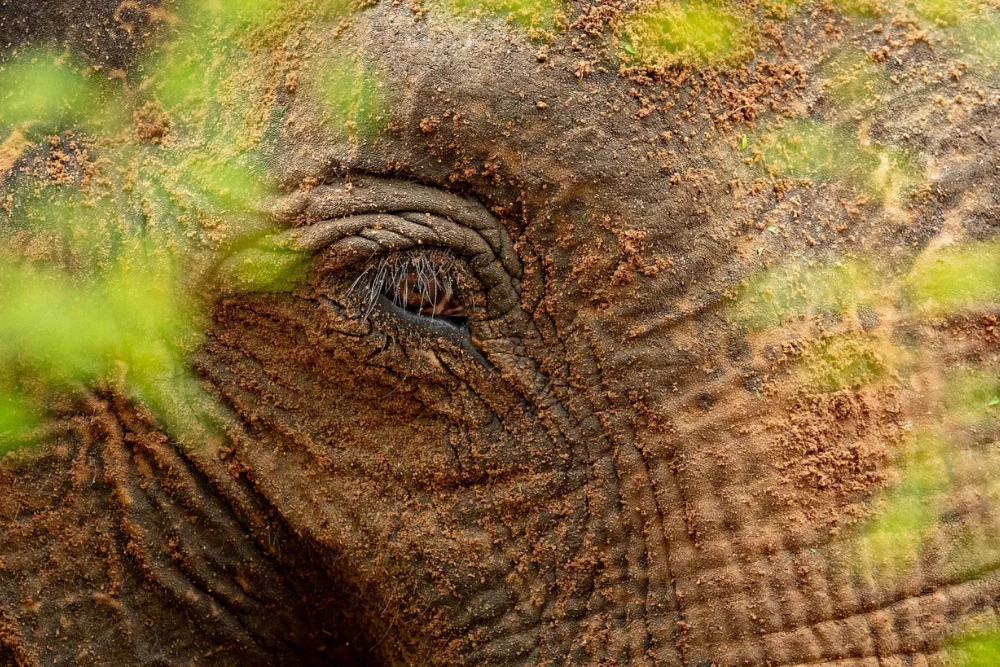 Sri Lankan Elephant © Toby Jermyn
Yala Block 1 is great. We had some lovely sightings, including a tree full of Asian Open-Billed Storks, which up until then had been a bit of a bogeybird for us. We saw some amazing mating displays from our friends, the peacocks, as well as some interesting water buffalo behaviours as they wallowed in thick, muddy pools. No leopards on this occasion, but that didn't matter as the day before we had visited what we think is the best part of Yala National Park—Block 5—where we had the best sighting of our whole Sri Lanka safari.
Yala Block 5
As I mentioned, there are 5 blocks in the national park. Block 2 sits between Kumana (Yala East) and Block 1, and you need a special permit to drive from one to the other. Blocks 3 and 4 are off-limits to tourists to give the animals some respite, and then there is the lesser-known Block 5, and it was amazing!
Block 5 is rather off the beaten track but still easy to get to and access. It's further away from the larger hotels and resorts, so they don't go there. There are some amazing lakes and tanks, including a huge dam full of dead trees, which are reminiscent of scenes in Lake Kariba, Zimbabwe.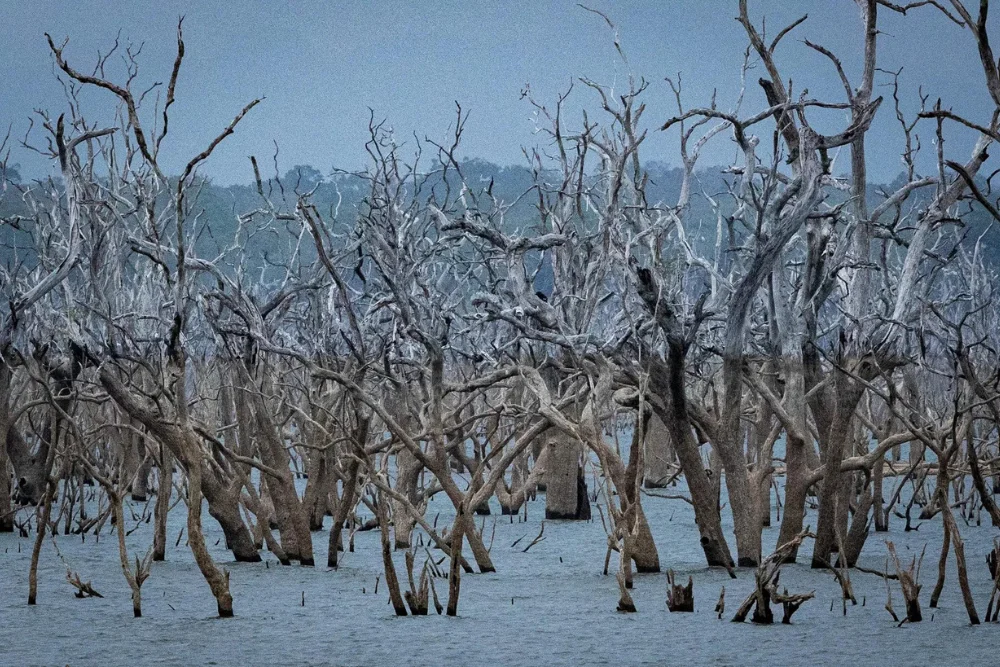 Dead trees in a man made dam © Toby Jermyn
The game viewing was excellent. We saw a sloth bear, who had more skittish disposition and scarpered when he saw us, but we had a fantastic leopard sighting all to ourselves for the best part of half an hour. The only other vehicles that we saw in Block 5 were filled with Sri Lankans, many of whom were "armed" with decent telephoto lenses—wildlife photography is big in Sri Lanka!
We really enjoyed Block 5, but that's not to say you should only visit this one part alone. There is a northern gate for Block 1, which is closer to Block 5, so if you are considering photo safaris in Sri Lanka, I would heartily recommend staying somewhere between these gates to get the best of both blocks. As to our driver guide in Yala (Blocks 1 and 5), he was the best of our whole trip. I have rarely experienced such boundless enthusiasm, knowledge, passion, and ability to spot wildlife, and he was a joy to be with. I am not going to give his name away here. I will leave it to our trusted Sri Lankan ground handler to see if he is available for your safari itinerary!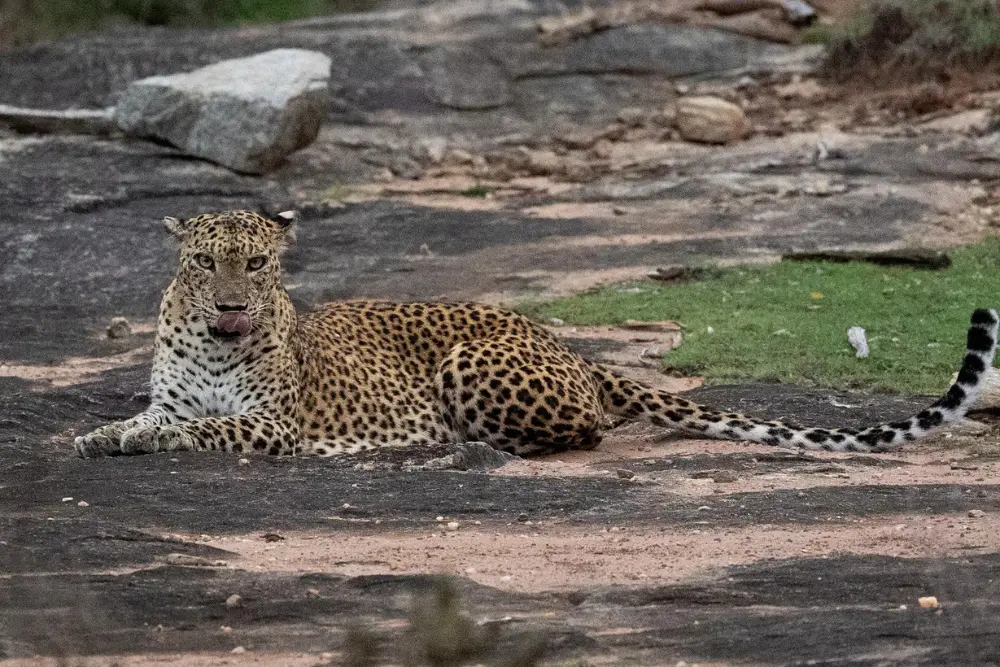 Leopard in Yala Block 5 © Toby Jermyn
Sinharaja Forest Reserve
Our last wildlife destination was the rainforest of Sinharaja, which is in the south-western corner of Sri Lanka. Again, this is very different terrain from the coastal national parks, and if you are an avid birder, then this is definitely somewhere you need to visit.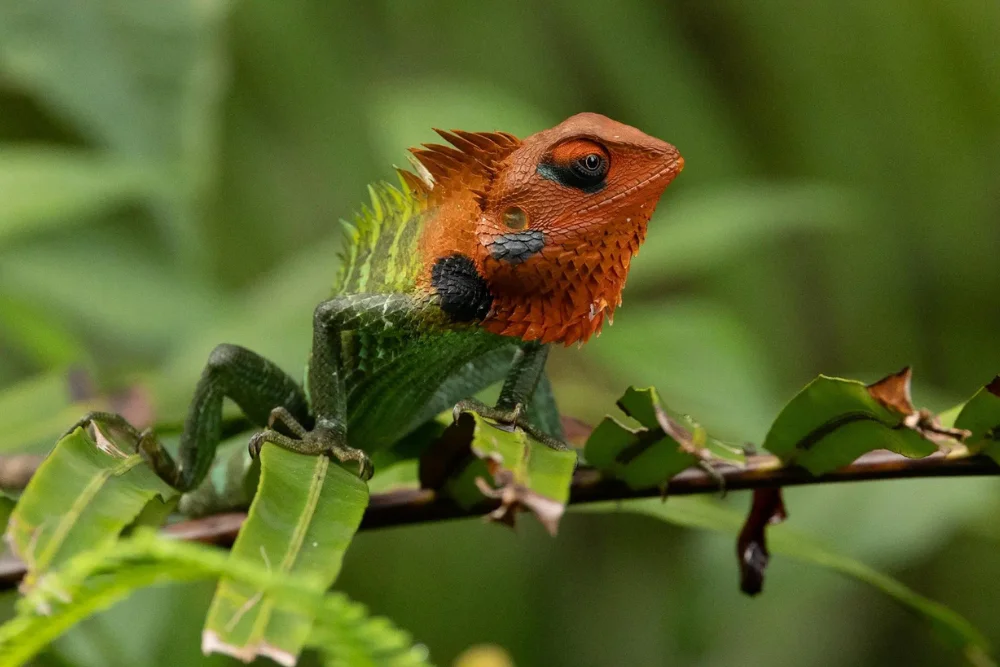 Male Common Green Forest Lizard © Toby Jermyn
As it isn't a national reserve, you are able to conduct most of your activities on foot, and the reserve itself has a very nice paved trail that makes the hike pretty easy. Photography is tricky, but there is plenty of birdlife around, including the stunning blue magpie. We saw our first venomous snake, a Green Pit Viper, sleeping in a tree at a very respectable distance, and our guide pointed out some extraordinary insects like the Blue Oak Leaf Butterfly.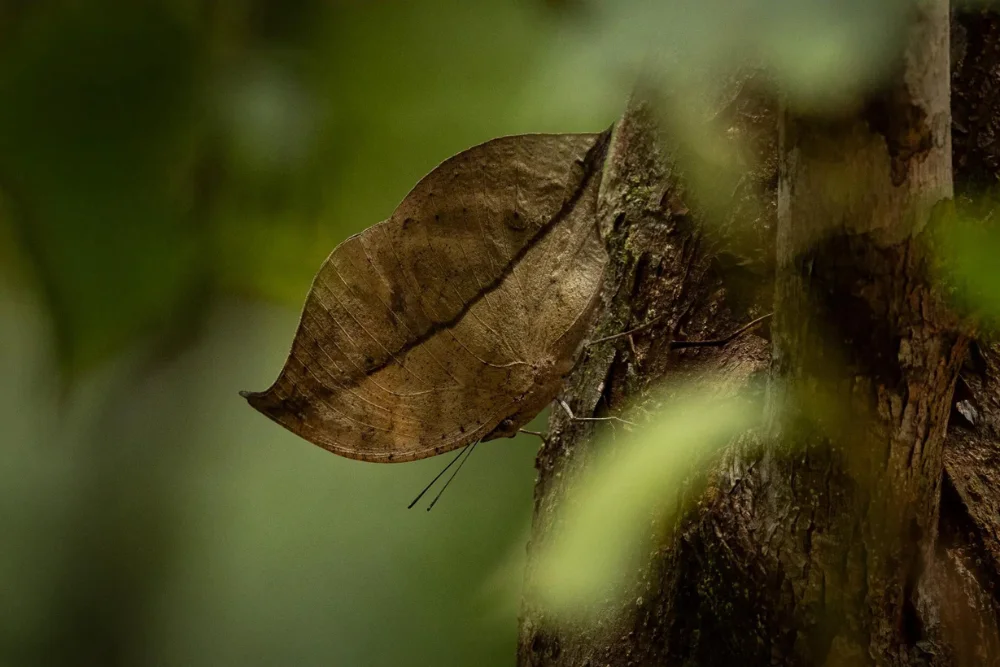 Blue Oak Leaf Butterfly © Toby Jermyn
Other highlights included Green-Billed Coucals, the aforementioned hanging parrots, a Frogmouth, and time spent watching a man scale a huge palm tree to tap its sap to make some palm honey, which I think ended up in our pancakes!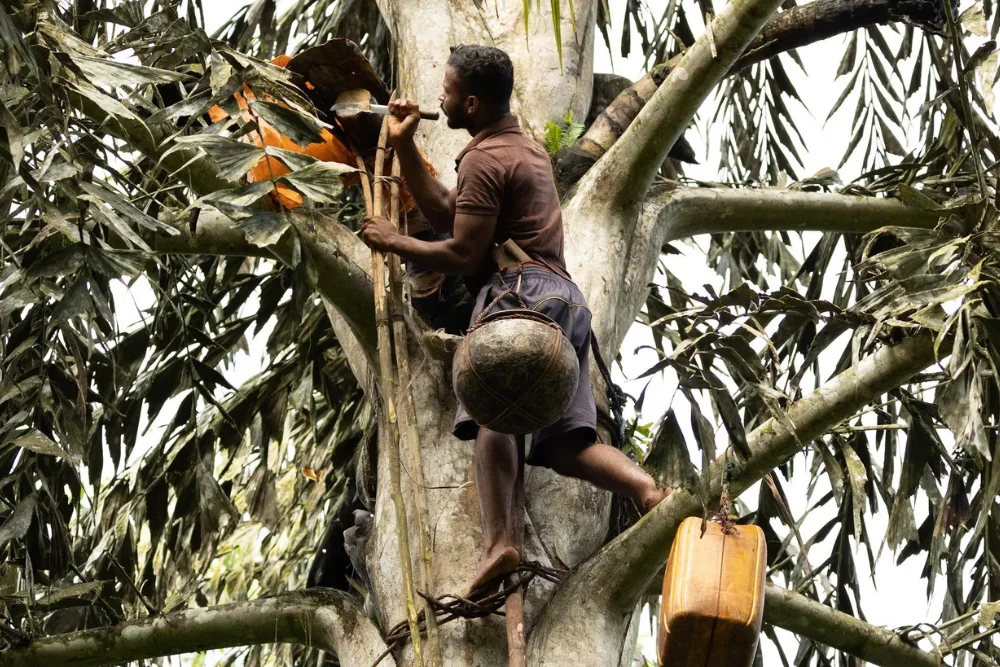 Man collecting Palm Sap © Toby Jermyn
Sinharaja was a lovely place to end our safari in Sri Lanka, especially as we stayed at one of our favourite hotels, Jansens Bungalow, which was charming.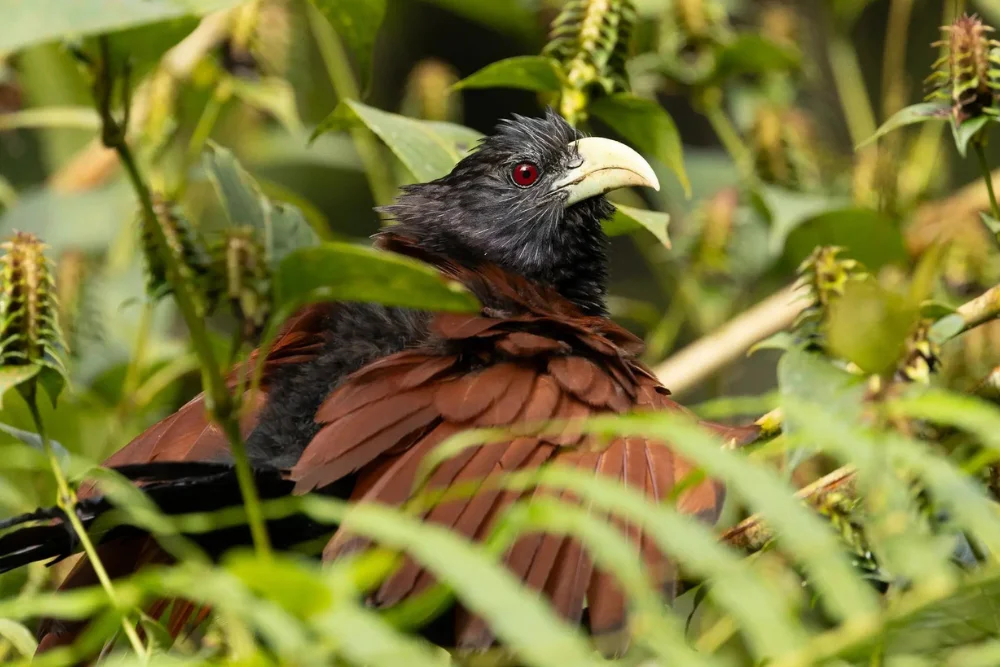 Green Billed Coucal © Toby Jermyn
Historical and religious sites in Sri Lanka
The most unexpected aspect of our time in Sri Lanka was the amazing historical, religious, and archaeological sites that are present throughout the country. Sri Lanka is predominantly Buddhist, and we visited plenty of active and historic temples during our time there.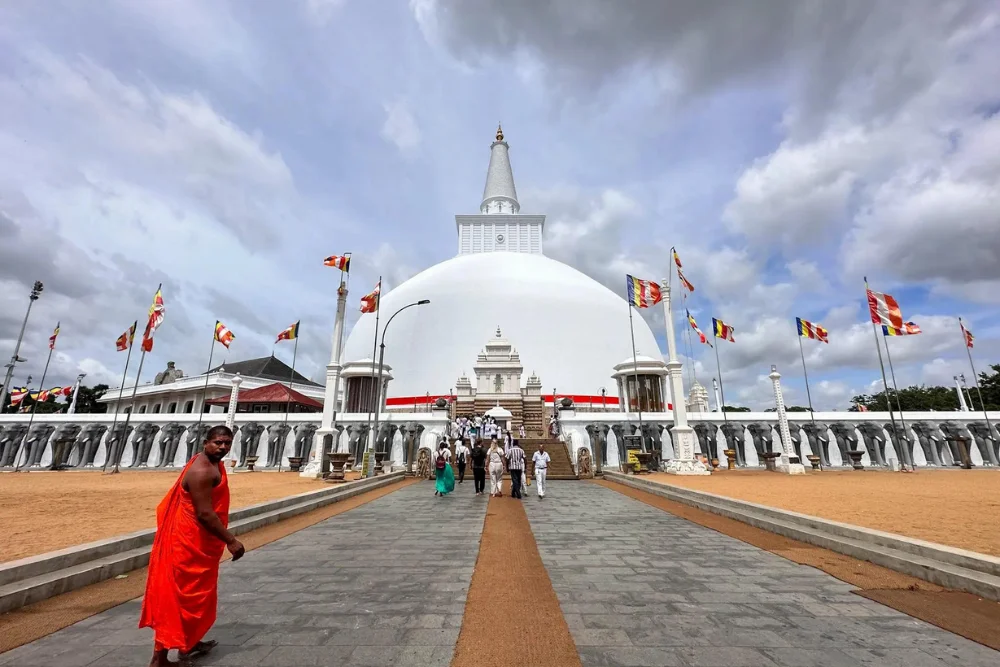 Buddhist Monk at Ruwanweliseya © Toby Jermyn
We followed the story and path of the Sacred Tooth Relic from Anuradhapura to its current resting place in Kandy. You are allowed to visit active Buddhist temples at most times of the year, but be mindful to dress appropriately and remember to always remove your shoes before entering.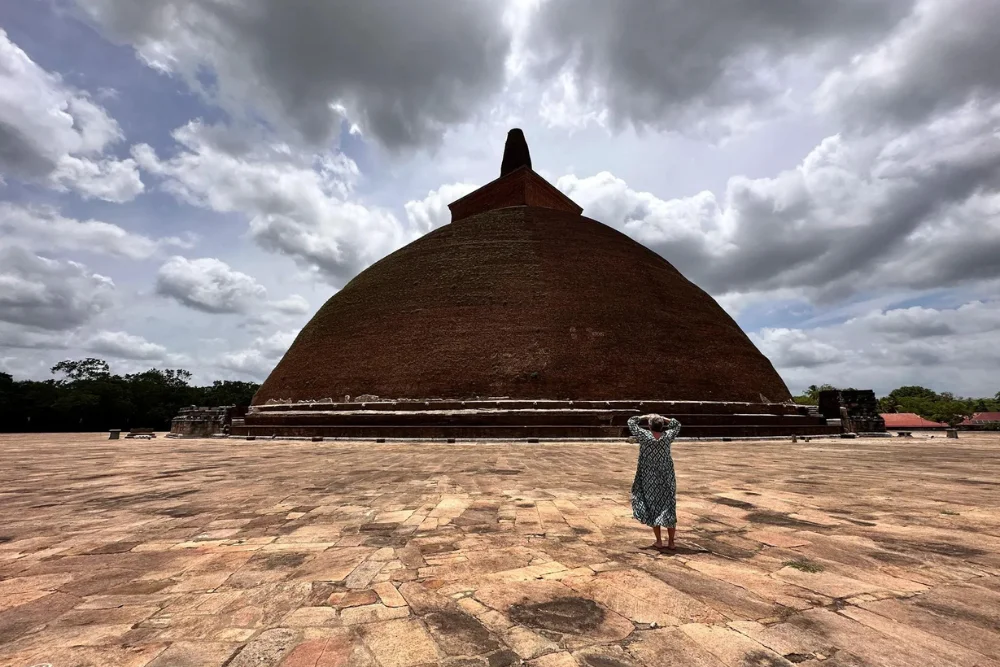 Claire at Jethawanaramaya Stupa © Toby Jermyn
This was a side of Sri Lanka that I had no idea about, and I found it to be absolutely fascinating. The most impressive places we visited were the ancient city of Polonnaruwa as well as, what is commonly referred to as the eighth wonder of the world—Sigiriya Rock Fortress. These are ruins of a 5th-century palace on top of a massive 200-metre-high rock surrounded by the remains of a network of gardens, reservoirs, and other structures. It's extraordinary.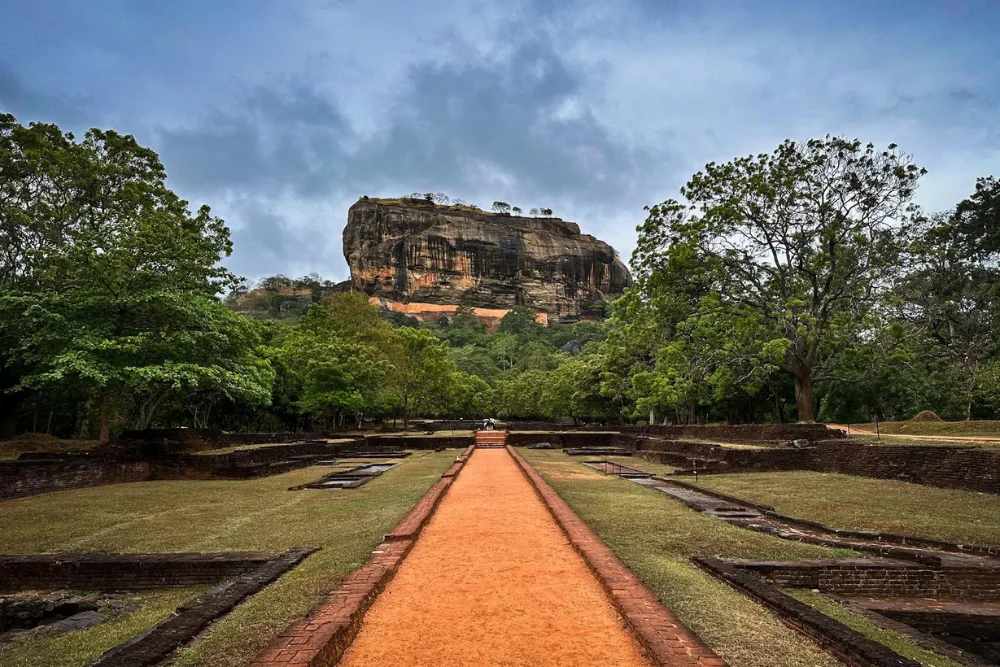 Sigiriya Rock Fortress © Toby Jermyn
Galle Fort is interesting to visit for a couple of hours, but it is a bit touristy. We did a walking tour of Colombo at the end of our trip with a passionate amateur historian, which was fascinating.
The history of Sri Lanka is rich. From the ancient kingdoms through the various occupations by the Portuguese, Dutch, and British and their impact on the way that Sri Lanka evolved as a country. I asked Wicky if there was much animosity towards the colonising countries (me being a Brit after all), and he said very diplomatically that it was much better to focus on the positives that came from those eras rather than the negatives. I think he was probably talking about the introduction of tea, mostly!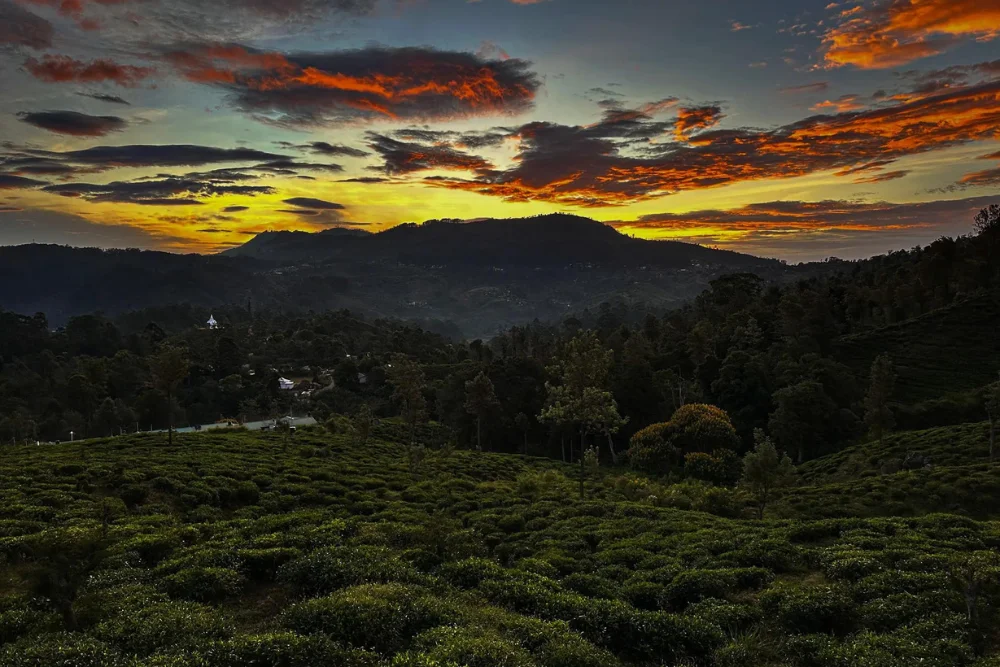 Tea plantation at dawn © Toby Jermyn
Camera choices for a Sri Lanka safari
I travelled with my Canon R6 and a 100-500mm RF lens, and I found it to be a very useful and versatile combination. I don't think that lugging a big prime lens around is a good idea. The Sri Lanka safari jeeps are normally single-cab pick-ups with slightly tiered seating at the back. There are some that have open cabs that can fold down the windscreen, but these are few and far between. This means that you are normally handholding rather than resting your lens on something. We had beanbags with us that I never really used.
The national parks are also quite wooded and enclosed, so you need the versatility of a telephoto rather than a fixed focal. I suppose a 400mm fixed might work, but anything above that, I think you might struggle.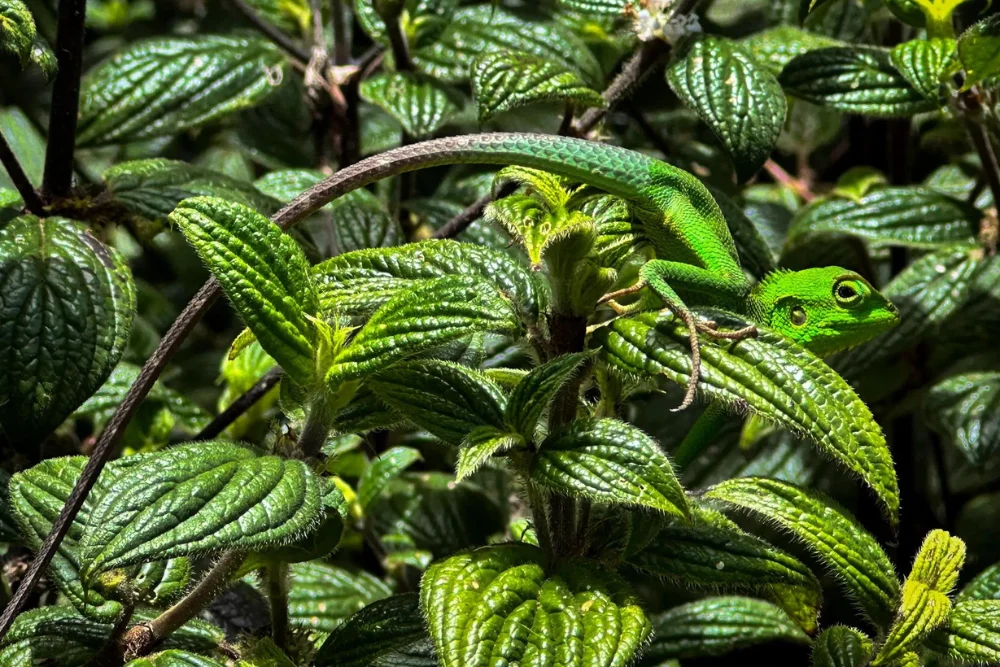 Black Lipped Lizard © Toby Jermyn
You could take a wider lens for landscapes and street photography, but to be honest, I found that my iPhone took excellent photos and was just so much easier to have with me instead of taking my R6 with another lens.
There are macro opportunities, but not as much as in Madagascar or Costa Rica for example, so it wouldn't be something I would bring.
I would suggest having a comfortable small camera backpack for when you go walking in places like Horton Plains and Sinharaja. Again, if you are bringing a big, heavy lens, then it is unlikely you will walk with it. With mirrorless systems being so much lighter, a decent camera body with a telephoto with a bit of reach will serve you well.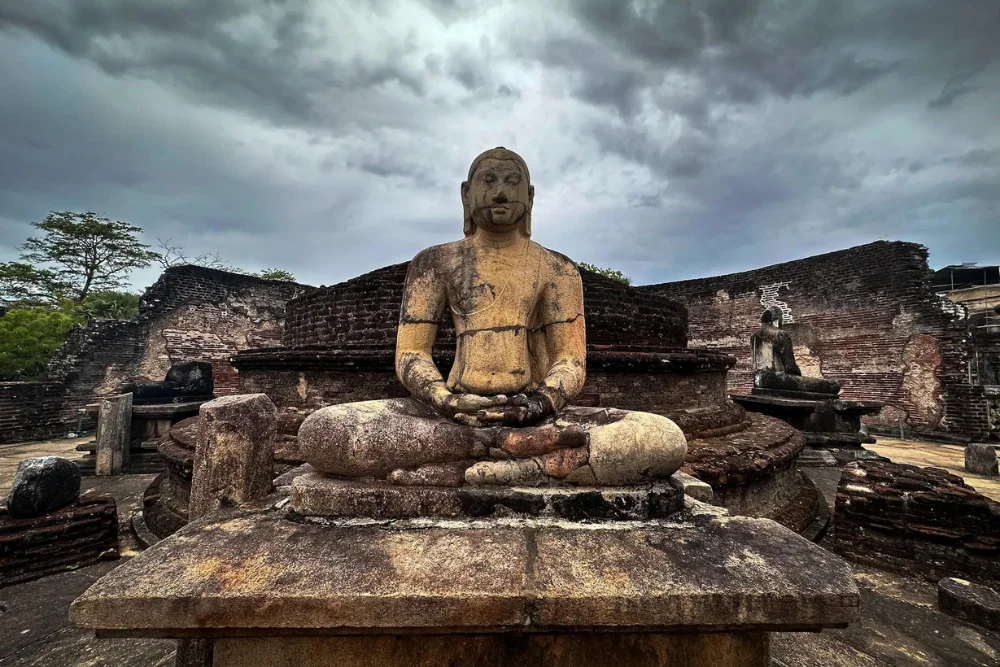 Watadage in Polonnaruwa © Toby Jermyn
As this was a holiday, I decided not to take my laptop, so I downloaded all of my images onto my iPad Pro and culled them as I went in Lightroom. This was a bit of a revelation for me, as I have always travelled with a laptop, but it worked really well. I did bring an external hard drive as a backup so that I could copy my "keepers" onto that drive.
What is the best time of year for a safari in Sri Lanka?
The question of when is the best time to go is always something that we get asked in Botswana, and it's easier to define the seasons there. Sri Lanka has an interesting set of seasons, meaning that you are likely to experience them all in one trip, especially when you cover most of the island.
The busiest tourist times are from November through March, and this is when the parks are at their busiest and the accommodation is more expensive.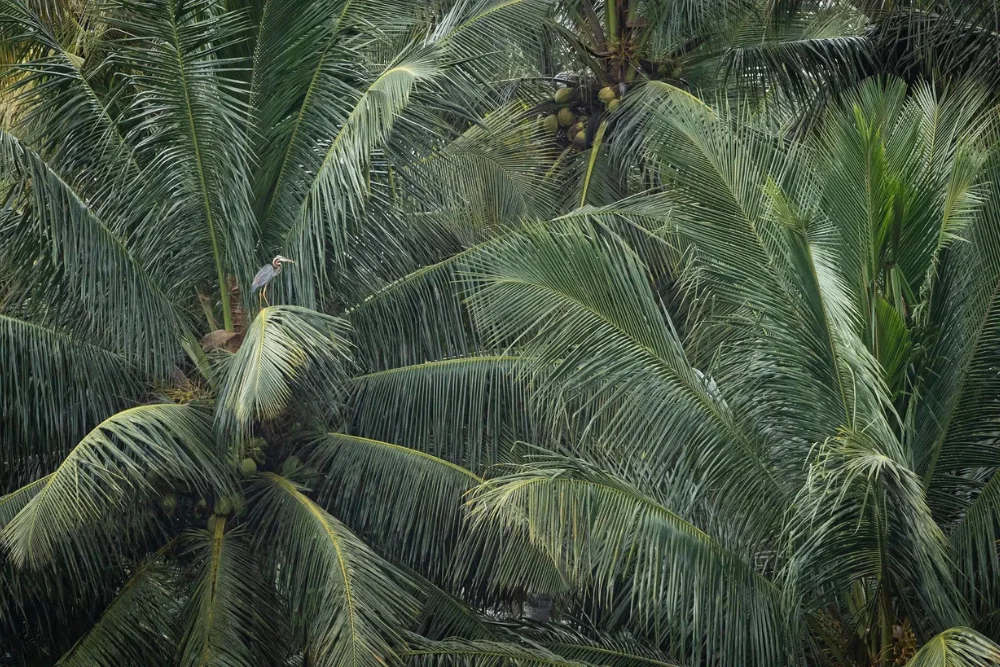 Grey Heron in palm trees © Toby Jermyn
I like to travel out of peak season, and I would rather have a bit more rain with fewer people around. We travelled in September, and it was glorious. Yes, there were rainy days, but it's beautiful, thunderous tropical warm rain—not drizzle—and it disappears as fast as it arrives. We never lost a day on safari because of the rain.
I would say that April to May and June to October will be the sweet spots for safaris in Sri Lanka.
Accommodation in Sri Lanka
We stayed at some stunning places during our travels, but it must be said that everywhere we stayed, we were greeted warmly and made to feel an incredible welcome. The food across the board was exceptional. Claire and I like to stay at small, family-owned hotels and guest houses, with the odd bit of luxury thrown in once in a while, and our ground handlers honoured that perfectly.
One of our favourite hotels in Sri Lanka © Toby Jermyn
I won't list the places where we stayed as I don't want any unscrupulous travel agent to steal our curated route and turn it into their own itinerary, but if you are keen to visit Sri Lanka, then I will be happy to put you in touch with the company that we used, as I feel confident that they will make sure that you are very well taken care of not just during the reservation process but also when you are "in country".
Conclusion: Is Sri Lanka good for safaris?
I would heartily recommend visiting Sri Lanka sooner rather than later. As with all destinations around the world, things are only getting busier, and with Sri Lanka emerging from its economic woes, it's really going to pick up in the next decade. It's an amazing destination if you're looking for a holiday full of variety and would certainly suit individuals, couples, or small groups of friends or family.
I wouldn't say that it's a great group destination. You don't want to be on a bus being ferried from place to place. Having a private car and a naturalist guide like Wicky makes all the difference. Although we had a very busy itinerary, we always had a bit of wiggle room to take a diversion or pull over for an unscheduled roadside stop and a refreshing king coconut juice!
Looking to take your own Sri Lanka safari?

Fill in the form below and we will refer you to our trusted ground handler