The Canon EOS R7 for wildlife photography
Sabines' first impressions of this great new mirrorless aps c camera from The Chobe.
Sabine with the Canon EOS R7 Body
After a much-anticipated wait, Canon South Africa brought Pangolin Photo Safaris their new mirrorless duo, the Canon new EOS R7 and EOS R10, to test from a wildlife photography perspective. Here's a look at what Pangolin Photo Host, Sabine Stols, had to say about the new powerhouse from Canon.
Sabine only had a few days to test out this pre-production model in the Chobe but overall, she can happily say that she's impressed with its key features. Watch her in action from the Chobe National Park in the below video:
Canon EOS R7 first impressions by Pangolin Photo Host Sabine Stols. 
All important specifications for wildlife photographers
Together with its baby brother, the EOS R10, the Canon EOS R7 belongs to Canon's mirrorless APC crop stacked sensor cameras. It is a high resolution, 32 million pixel APS C camera that can shoot up to 15 frames per second with an electronic shutter. Right on par with the Canon EOS R3 and its key features. The limitation is that in 30 frames per second, the raw files will be reduced to 12, but instead of 14 bit, it features a 1.6 million dot screen.  The Mechanical shutter will fire off at 15 frames per second.
On a side note, the Canon eos R7 features a mechanical shutter sensor cover that protects it when switching lenses in the field. Super handy for those moments in Africa in the dry season especially when its dusty,
It has in-body image stabilization, autofocus up to -5 EV and the maximum shutter speed is 1/8000 sec. The camera has identical dual SD card slots, and it can either take the regular SA cards or the faster UHS 2 SD cards. The in-body image stabilization is something that always adds just that extra security to each shot which is great!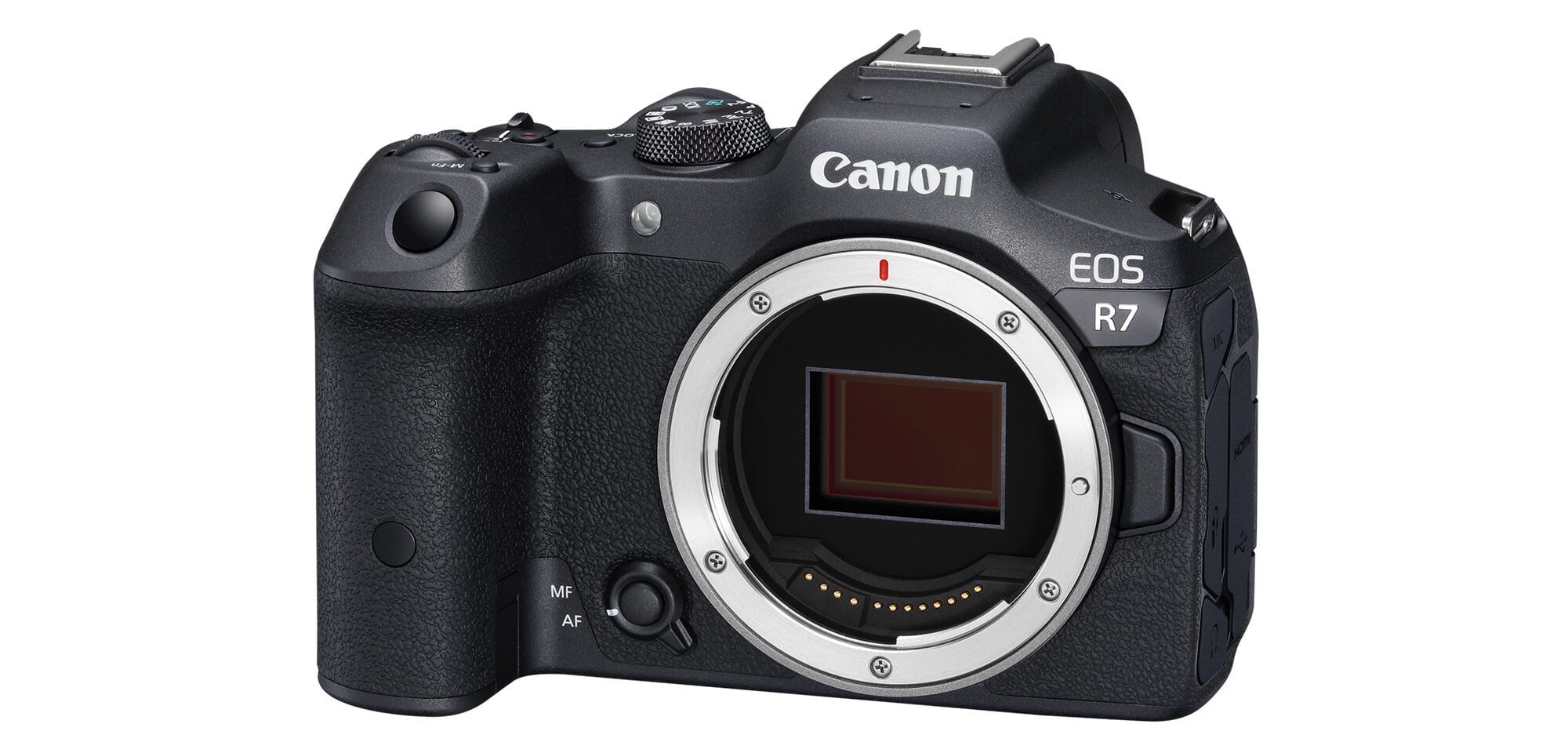 Canon EOS R7 side profile with card slots.
The battery is the same as in the full frame camera Canon EOS R5 and Canon EOS R6 and for video, the Canon EOS R7 shoots 4k 60 frames per second, 4K 30 frames per second, over-sampled from 7k as well as full HD 120 frames per second.
Enthusiasts will be happy to hear that C-Log 3 is available and that there is no 30-minute time limit which is great for wildlife shooters both filming and photographing wildlife.
How good is the build quality of the Canon R7?
Now to the handling and feel. The camera body weighs in at only 560 grams making it a great small and compact option. It still maintains the nice grip we are used to from Canon camera bodies and it has an articulated screen. These features in combination with the camera weight make for the perfect camera for those low angle shots and photographing wildlife in general. You also don't have to worry as the menu is still structured in the same intuitive way that Canon users adore.
It offers plenty of customisation options for the physical controls and dials on the camera, which Canon has made some design changes to. The quick control dial is now situated around the smart multi-controller, which might need to take some readjusting if you come from previous Canon cameras. This sleek design also boasts a dedicated video switch that comes together with the on and off button on the top of the camera.
If you are someone that likes to shoot with the back button focus function, you will also have to get used to the new design and slightly smaller back buttons on the camera, which helps to maintain the compact and small size of the camera body.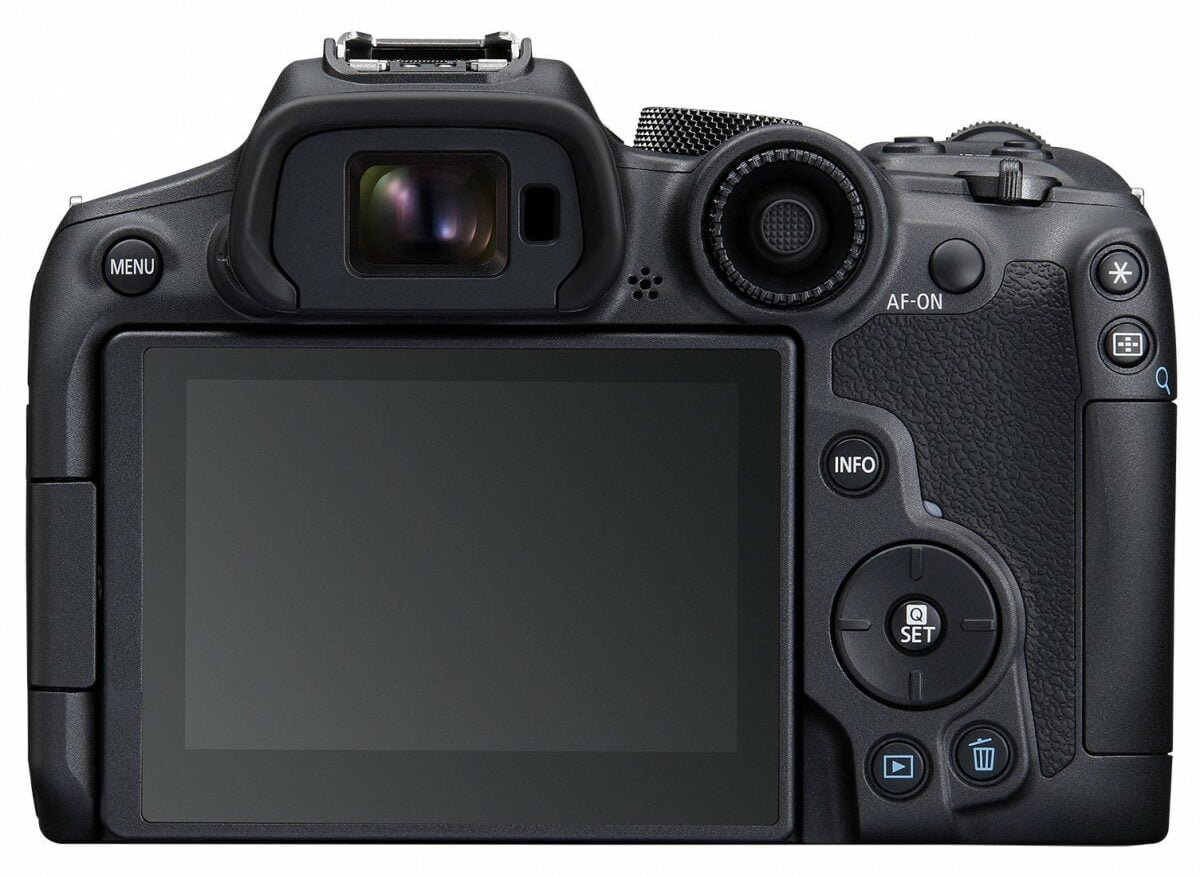 Updated modern sleek design of Canon EOS R7. 
Something to look forward to is the excellent quality of the viewfinder. It is clear and bright and Canon gives you the option to simulate an optical viewfinder. Other than that, you will have the usual benefits of an electronic viewfinder, like simulating the exposure, the colour and even viewing your image inside the viewfinder, when there is very bright, ambient light.
Canon also states that the Canon EOS R7 has a certain degree of weather sealing. How much moisture resistant it is hard to say at this point, but less than the Canon EOS R5 and Canon EOS R6 bodies have. When shooting in full raw, with the electronic rolling shutter, in high-speed continuous, the electronic shutter buffer fills quite quickly. During this test run of the rolling shutter, we only managed to get roughly 30 to 40 images. When compressed raw instead – about 50 images and in JPEG and about 70 images before the buffer hits.
Check the specs below:
[+- 30- 40 RAW at 30fps]
[+- 50 CRAW at 30fps]
[+- 70 JPEG at 30fps]
How does the autofocus system on the R7 work?
Next up, let's take a look at the autofocus system. Sabine tested the Canon EOS R7 with quite a few different RF mount lenses, but her favourite would be the 100 – 500mm to go with this aps c camera. The auto-focus works extremely well and fast for the Canon EOS R7. The Canon EOS R7 has got all the autofocus area modes that we know from the other mirrorless systems, the Canon EOS R5 and the Canon EOS R6. The Canon EOS R7 has subject detection tracking, it has animal eye-tracking, people eye-tracking, vehicle tracking, and animal eye-tracking seemed. Upon reflection, Sabine likens the eye-tracking capabilities to that of the Canon EOS R5 and Canon EOS R6.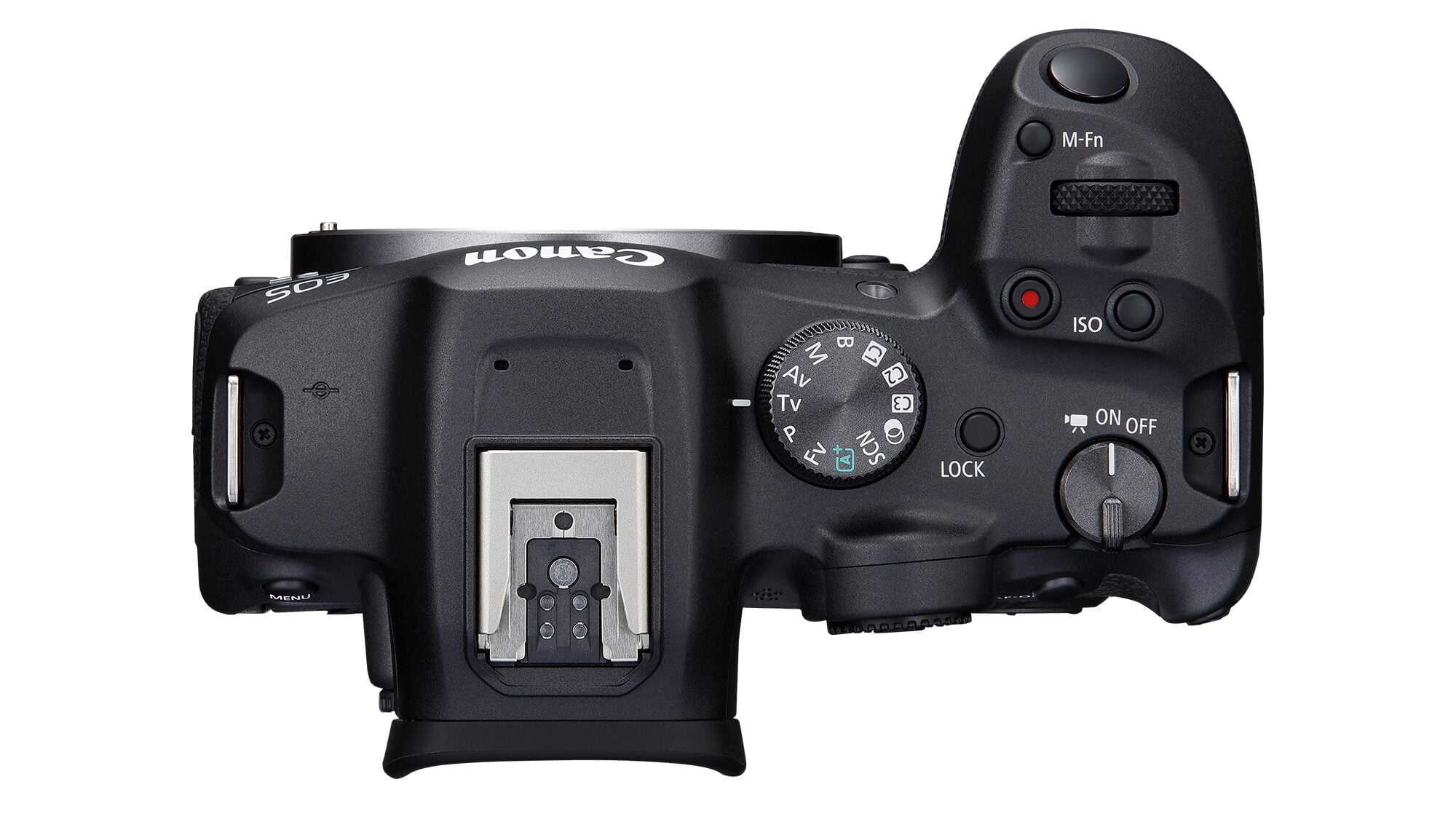 Top view of the Canon EOS R7 camera body.
For fans of back button focus, another great function for the Canon EOS R7 is that you can set two back buttons for different focus options. For example, on the Canon EOS R7, one could be set with animal eye-tracking and the other for regular single spot focus. The joystick works smoothly to shift the focus point around something very important so that we have a better chance of capturing the subject in perfect focus. It is important to note that auto-focus is possible until a -5 EV.
What is the image quality of the Canon R7?
It is needless to say that the 32 million pixels offer a lot of detail for the Canon EOS R7. Image quality is sharp with plenty of detail in the pixels. The colours are beautiful and in typical Canon colour science. There is a lot of colour depth and bright colours are easily seen straight from the camera, even in the JPEG files.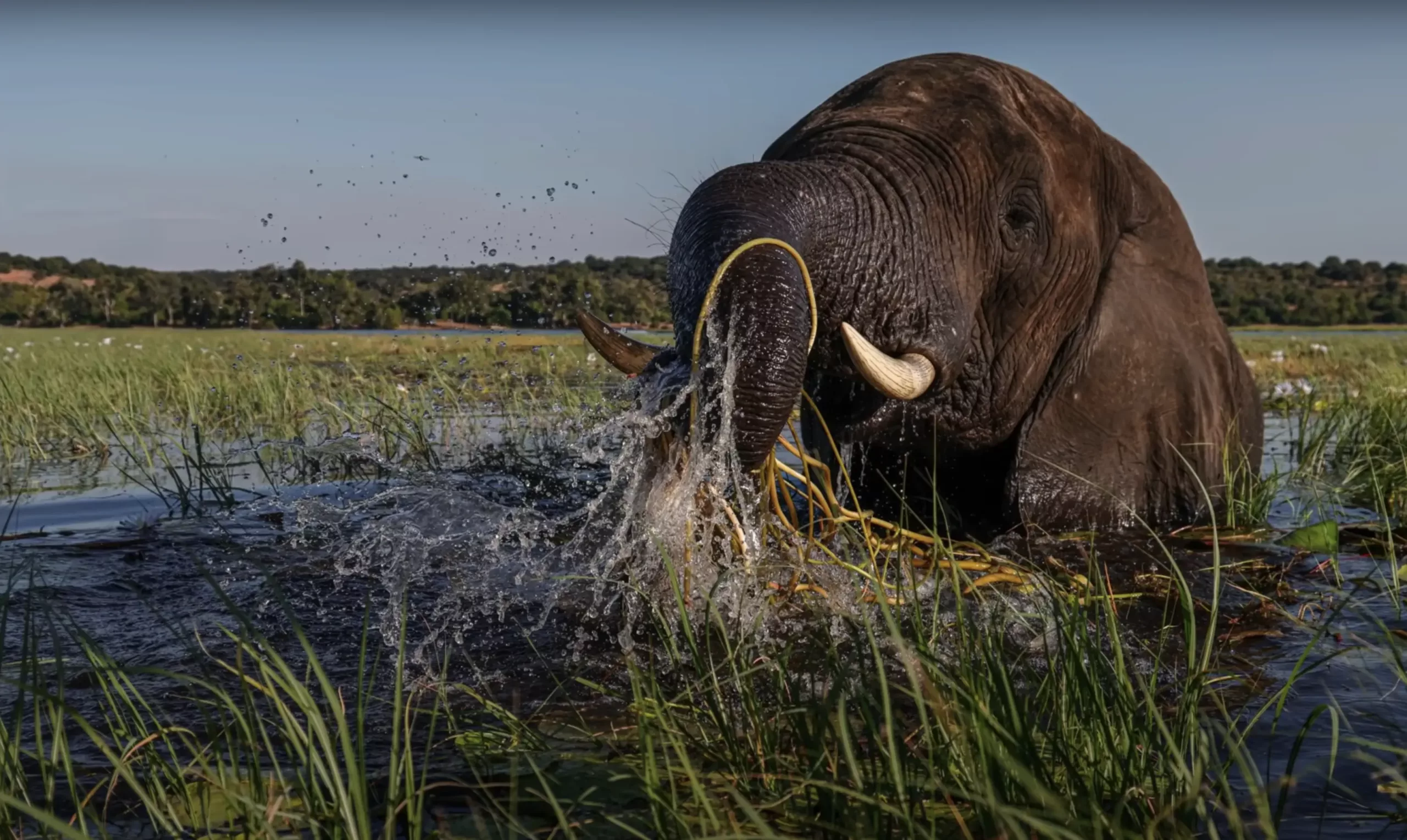 Chobe elephant photographed with Canon EOS R7.
As it is a pre-production model, the raw files could not yet be opened. That being said, we were all blown away by the quality of the JPEGS. Stay tuned for the full review where we will discuss the noise in more detail once we test on the Canon EOS R7 again for a longer period.
Final thoughts from Sabine
Sabine's final thoughts on this camera are that if you're looking to change from an 80D, 90D or even a 70 MK 11 to a mirrorless system then the Canon EOS R7 falls within an attractive price range to do so. The confirmed price is €1500 and with tax and exchange rate, that will probably roughly be somewhere between $1700 and $1800. The Canon EOS R7 will make wildlife photography much more accessible to a bigger audience of people which is exciting.
Pair this Canon camera with either a 100 – 400mm RF or a 100 – 500mm RF lens (or even some of the rf s lenses) and you've got a winning combination. With its image stabilization, this duo will be lighter and more compact with everything you need for fast focus and super sharpness. So for us, it gets a thumbs up and "add to cart"!
Have questions about the Canon EOS R7? Let us know in the comments below and we'll tell you more about this great camera. Don't forget to tell us what you think of these gear reviews too.

Get the most out of your new Canon EOS R7 on safari
The Best of Chobe
The Best of Chobe 7 day photo safaris are scheduled throughout the year. You will spend 3 nights on our houseboat, The Pangolin Voyager, and then cross over to the Pangolin Chobe Hotel. The Best of Chobe Photo safaris are hosted by our Pangolin Photo Hosts throughout. By the end of the photographic safari in Africa's wildest national park, you should be able to shoot on full manual mode. Prices start at $2,450pp