An Okavango Delta safari camp on the Selinda Reserve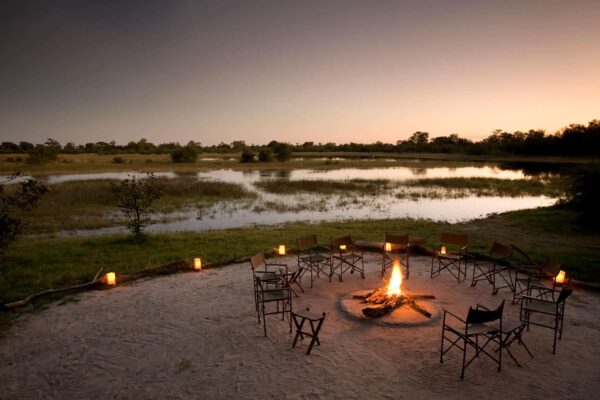 Nothing beats an African bonfire dining experience.
Accommodation at The Okavango Explorers camp
The Okavango Explorers Camp is situated on Botswana's Private Selinda Reserve and is owned and operated by Great Plains Conservation. It is situated in the South West corner of the concession and just north of the main flood plains of the Okavango Delta.
The naming of this camp as an "explorers" style camp brings it in line with other explorers camp offerings from Great Plains Conservation namely Duba Explorers Camp and the other camp on the concession – Selinda Explorers. The camp was formerly known as Motswiri camp and operated as a camp specialising in riding and walking safari.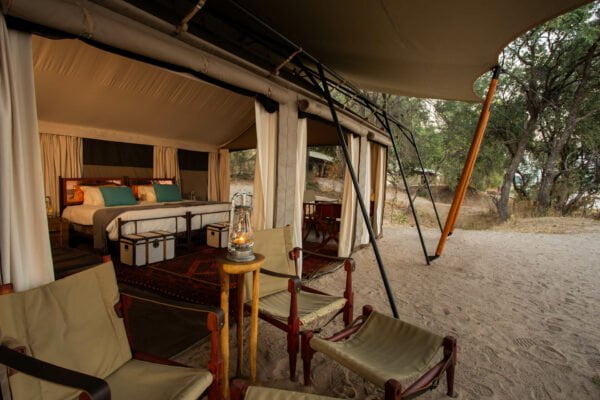 Sit back, relax and rejuvenate after your game drive.
The Okavango Explorers Camp offers six expedition-style tents with en suite facilities for a total of twelve guests plus a tent for tour leaders and/or pilots to stay in. There is a large communal area with open concept dining. The communal areas are on slightly raised decking affording great views out over the water nearby. Although it is a slightly bigger camp than some others in the northern Botswana region, Okavango Explorers camp should still be regarded as an intimate camp in nature.
Each room has a large bedroom with an adjacent indoor shower room and a private verandah at the front. As with all tented safari camp offerings from Great Plains Conservation, there is an excellent eye for detail and lovely furnishings – as you might see at the more established Selinda Explorers and Duba Explorers Camp. It is a safari experience reminiscent of years gone by.
Meals at the Okavango Explorers Camps are very wholesome and delicious. Explorers camp can cater for vegetarians and Vegans as well as other dietary restrictions. All drinks are included at The Okavango Explorers Camp and there is a lovely selection of wines and spirits on offer.
Activities at The Explorers Camp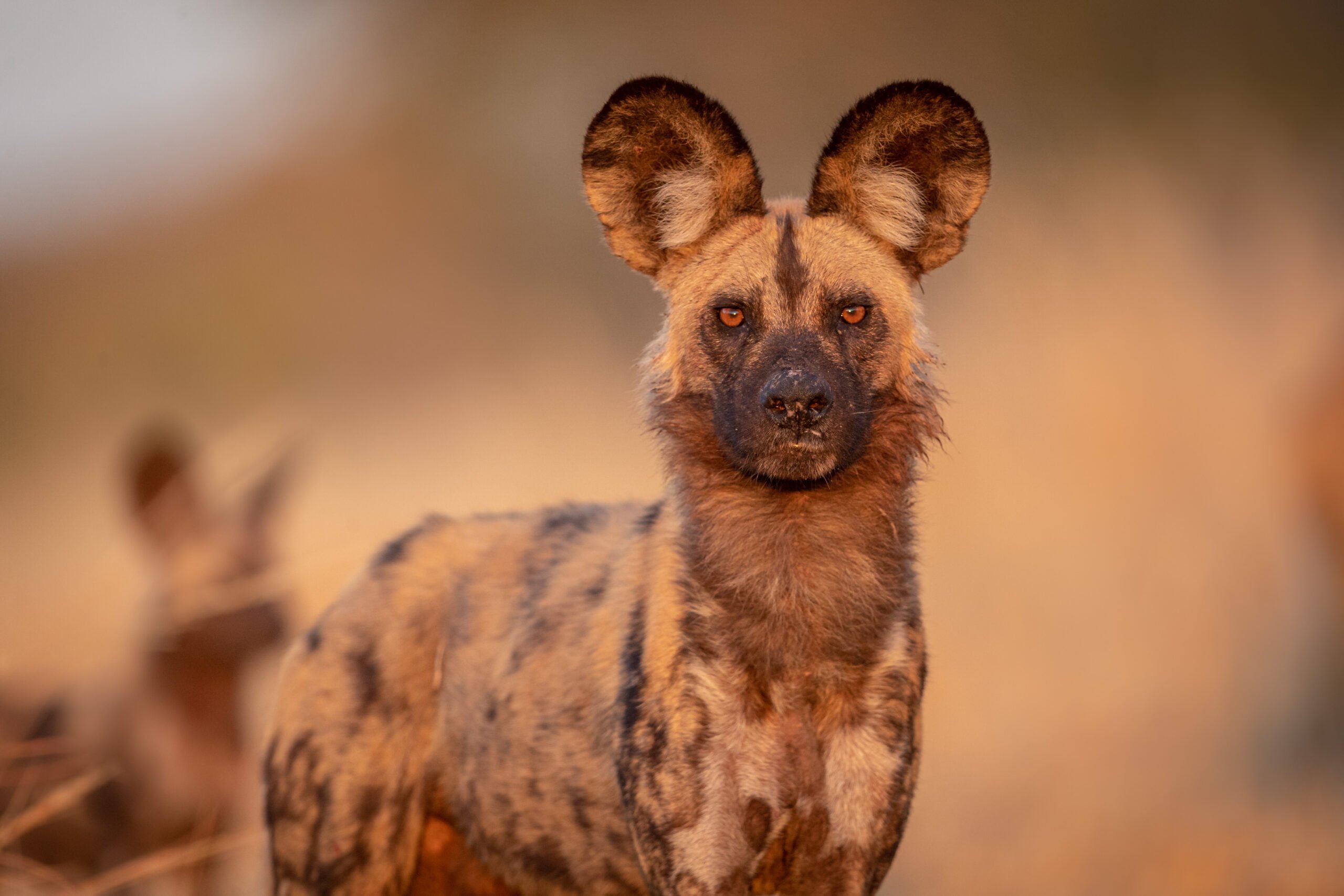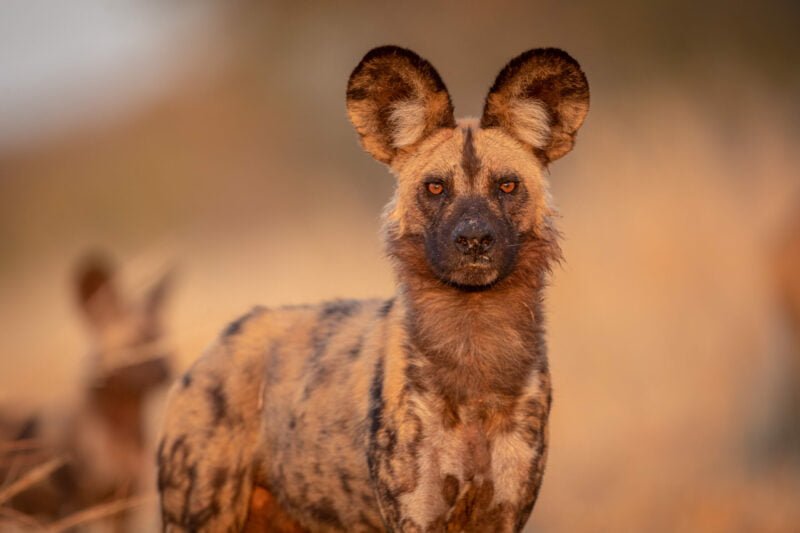 The Okavango Explorers camp offers both game drives and seasonal water activities such as mokoro trips. Explorers camp utilises specially adapted vehicles with beanbag mounts and no more than four guests per vehicle. The whole camp sleeps up to twelve guests so there are never more than three game viewers out on game drives which make for exclusive safari experiences out on this unknown African hinterland.
There is plenty of game to be found on the Selinda Reserve and it can, from time to time serve up some extraordinary wildlife experiences. The Selinda Reserve is bisected by the Selinda spillway which is a regular hunting ground for packs of wild dogs. In fact, this part of the Okavango Delta has some of the best chances to see a wild dog hunt.
It's not just about the wild dog though as there are plenty of other subjects to see and photograph. This is a very good elephant habitat as well as a diverse range of plains game such as Zebra, Kudu, Impala, Water Buck, Lechwe and of course giraffe. When the Okavango Delta is in full flood (around April and may) the areas of dry land become fewer and then you can sometimes find large patches of wildlife-filled plains for some excellent game viewing. The camp's location is at the joining point of two iconic ecosystems – The Okavango Delta and the famed Selinda Spillway.
The perfect safari camp for birding enthusiasts
The phenomenal birdlife on the Selinda Reserve and specifically around The Okavango Explorers camp can be exceptional. Along with the migratory birds and the many birds that are resident there is a good chance to see lifers like Pel's Fishing Owl.
Birding highlights in the Okavango Delta are numerous but special mention has to go to the larger species like the Saddle Billed Stork and the Wattled Cranes that are found in good numbers in Botswana's Private Selinda Reserve.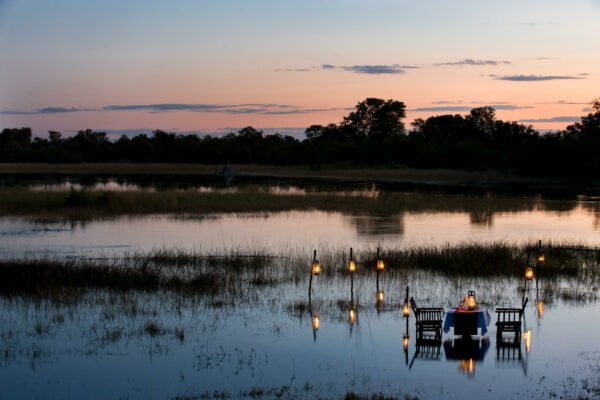 This outdoor dining experience is the perfect spot for watching evening waterbirds.
Big Cats and Wild Dogs at The Okavango Explorers camp
The prime predator species that you might expect to see at The Okavango Explorers Camp are lions, leopards, cheetah and sometimes even the smaller cats like serval. In the dry season when the wildlife congregates along the river system and the Selinda Spillway, you might have a better than average chance of seeing the big cats.
Thanks to the filming efforts of Dereck and Beverley Joubert from Great Plains Conservation you will probably be aware of their epic wildlife films focussing on the Duba Explorers camp prides of lions chasing buffalo through the waters of the Okavango Delta.
As with most wildlife, this sort of action can't really be relied upon in the long – as was seen when that specific lion pride broke up and no longer hunted the same prey. Duba Explorers lost some of its appeal in the eyes of many wildlife photographers after that.
Due to the camp's location being in between two iconic ecosystems there is the potential to see more dogs in this area than others – although nothing is ever guaranteed. Dogs tend to den between August and late September and if there is a den in the vicinity then sightings will be more frequent.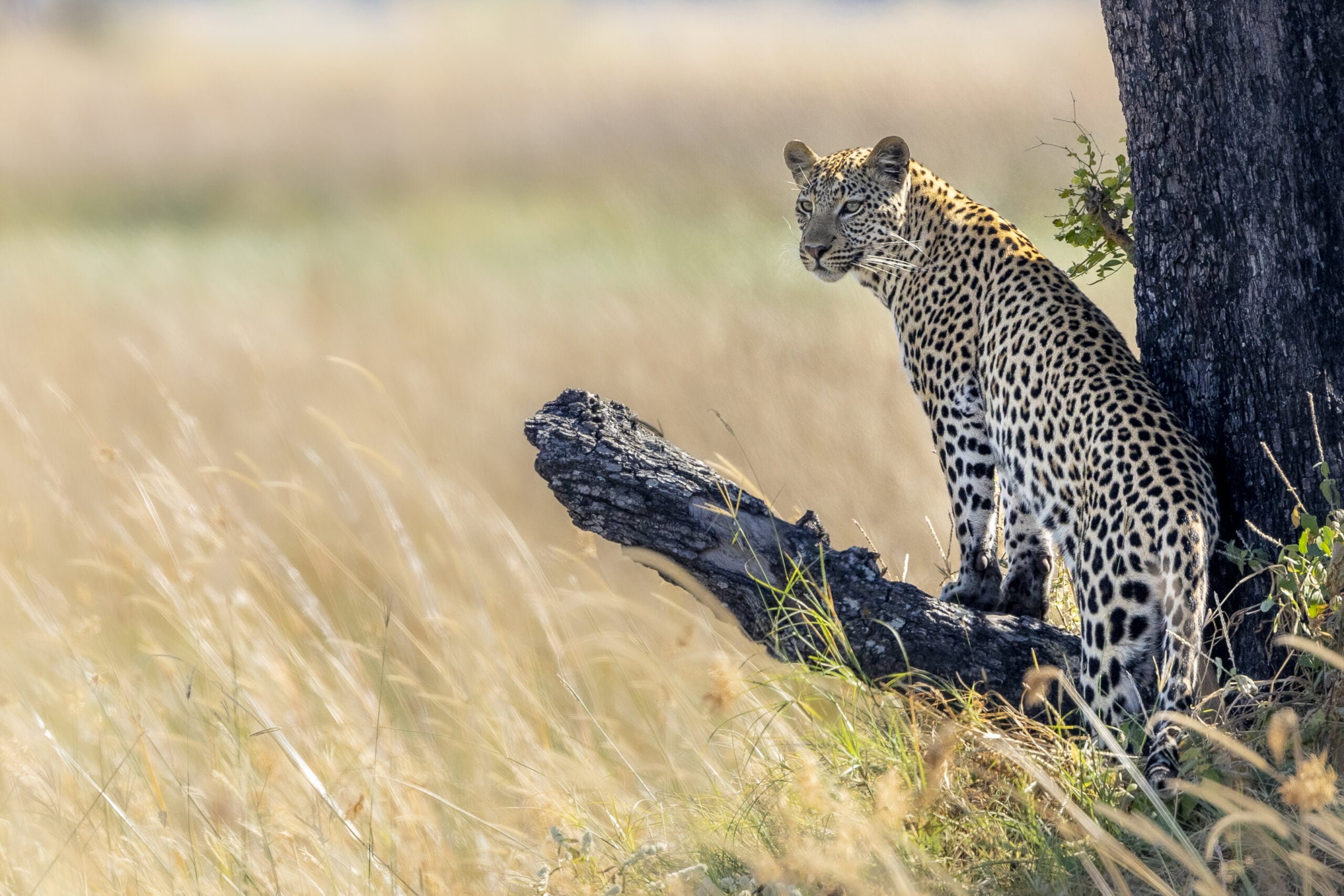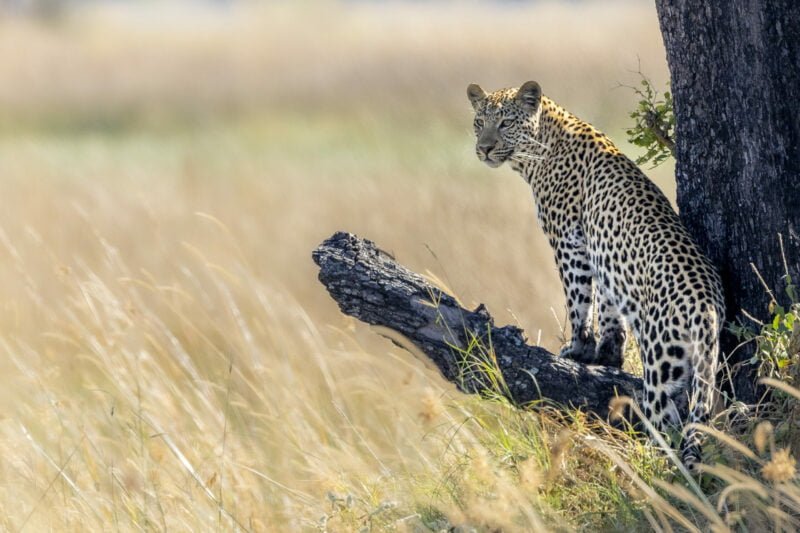 Leopard by Pangolin Photo Host, Janine Krayer.
Getting to the Okavango Explorers camp
The Motswiri airstrip is located very close to the Okavango Explorers camp and it is serviced by charter flights in and out on charter airlines such as Mack Air. the flight time from the Chobe is around 1.5 hours and then it's just over another hour onto Maun or approximately the same again to The Kalahari.
There is no option to drive to this particular Okavango Delta safari camp as it is simply too far with roads that are often impassable, let alone navigable! If you are in a large group looking to take over the whole camp then catering a plane is the best way to go. Great Plains Conservation is amenable to discounted rates for exclusive bookings making this the perfect safari camp for groups of friends, wildlife photographers and extended families wanting exclusivity.
Walking safaris at the Okavango Explorers camp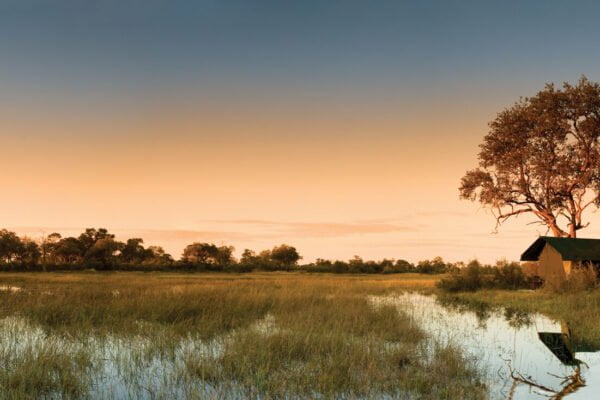 A beautiful piece of land to explore at Selinda.
As with other Okavango Delta safari camp offerings walking is available as an activity on this private reserve. the guided walks are conducted by an armed guide who will take you onto the surrounding floodplain. the idea of a guided walk is not to get too close to the wild animals but rather to experience them from a different game-viewing vantage.
Game walks under the African Sun are always exhilarating and educational at the same time and we would certainly recommend them as part of your stay at the Okavango Explorers camp. They are also a very good way to quietly approach some of the rare antelope species like sitatunga who are sometimes seen in the area.
Helicopter flights at Okavango Explorers from Duba Explorers Camp
Plans are underway to base a helicopter at either Selinda Explorers or Duba Explorers making scenic flights to and from the Motswiri Camp Airstrip in a helicopter a possibility. Flying over the wildlife-filled plains of Nothern Botswana with the doors off is a real treat and great for aerial photography. Some might say it's a bucket list safari experience! The Camp's location at the tip of the Selinda spillway makes getting your bearings very easy.
Room rates at The Okavango Explorers camp
Rates at this camp, in 2022, vary from $965 (low season) right up to $1,675 per person (high season). During the low and shoulder seasons, there is no single supplement for solo travellers. When you consider that Zarafa – their flagship Northern Botswana camp – sits on the same private reserve and is almost twice the price then the Okavango Explorers Camp starts to look like a bargain especially if you get to see the same wild dogs hunt as they do!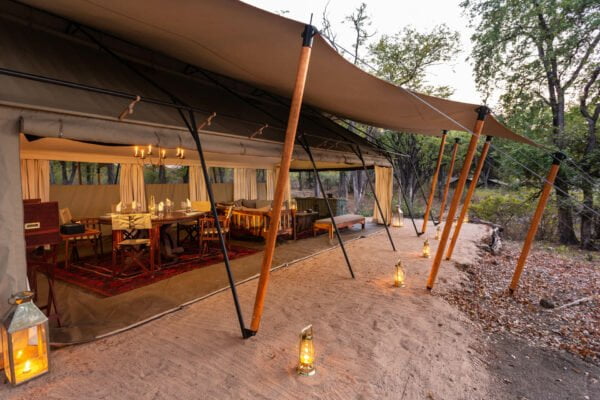 Main camp at the Okavango Explorers Camp.
Ready to explore the Okavango Explorers camp? 
Fill out the form below and we'll be in touch about your Botswana adventure.
Have a specific question in mind? Drop us an email by clicking the mailbox.