Photography Safaris for Beginners
How to choose the right African photo safaris for your skill level.
When there are so many photography safaris to chose from it's sometimes difficult to choose the right photo safari that matches your skill level. In this article, we will detail what you should be looking for when choosing an African photo safari if you are a beginner wildlife photographer.
At Pangolin Photo Safaris we welcome photographers of all levels of experience from complete novices to seasoned professional wildlife photographers. Everybody started as a novice and there is no better classroom to improve your wildlife photography than on an African Photo Safari.
Here are some of the more common questions we are asked by wildlife photography beginners:
Do I need to have expensive camera gear to go on African Photographic Safaris?
The simple answer to this is based on which photo safari operator you chose to travel with. Sometimes the photo tours will give you access to some gear that is shared among the group. Others will refer you to a camera rental company. This option really only works in South Africa though.
As long as you have a relatively new DSLR or Mirrorless camera with a telephoto lens over 300mm you will be fine. If you are looking to learn more creative photographic techniques and image control then your camera should have the option for full manual control of the settings. Not just Aperture or Shutter Speed controls. Look for an M button on your camera (normally on the top dial) to see if you have this.
At Pangolin Photo Safaris we supply camera gear and tuition free of charge at The Pangolin Chobe Hotel and Pangolin Photo Camp. We are not sponsored by any particular brand and chose the best cameras and lenses available on the market that balance ease of use with ability.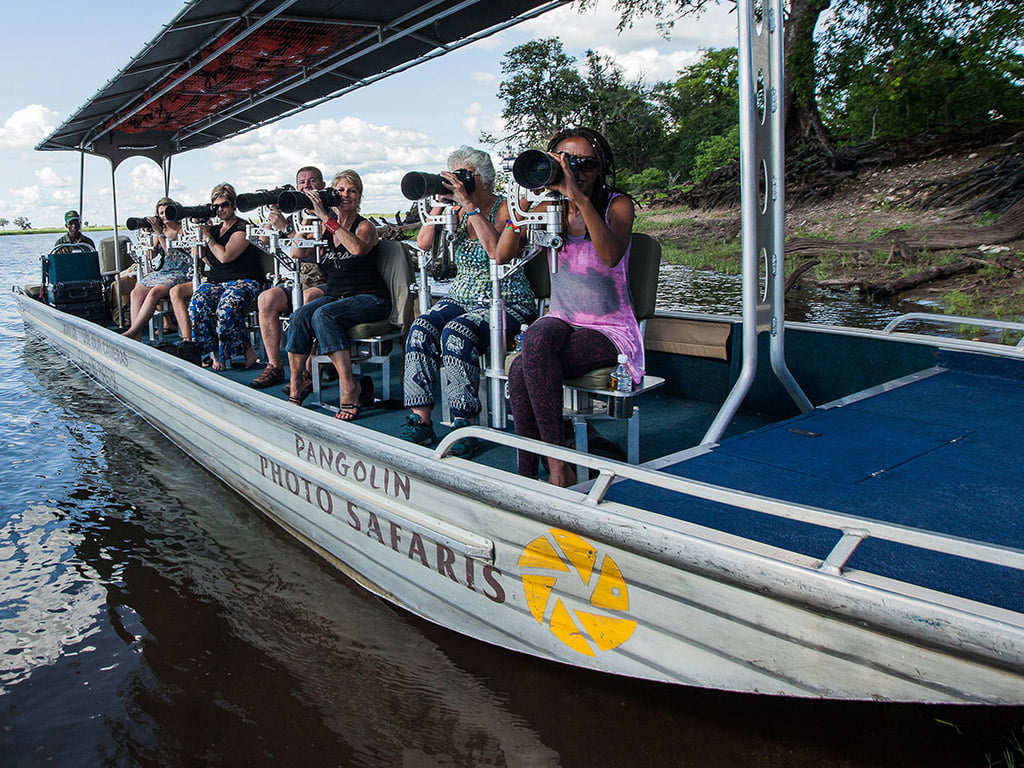 How long are Photo Safari Tours normally?
We always recommend being on photo safaris for a minimum of 7-10 nights as standard. Sometimes the first couple of days on photographic safaris can be overwhelming and it can take a bit of time to "get your eye in".
There are all new sights and sounds to absorb, especially if this is your first photo safari and you are also trying to learn new photographic skills at the same time. This is why we don't recommend a photographic safari shorter than a week.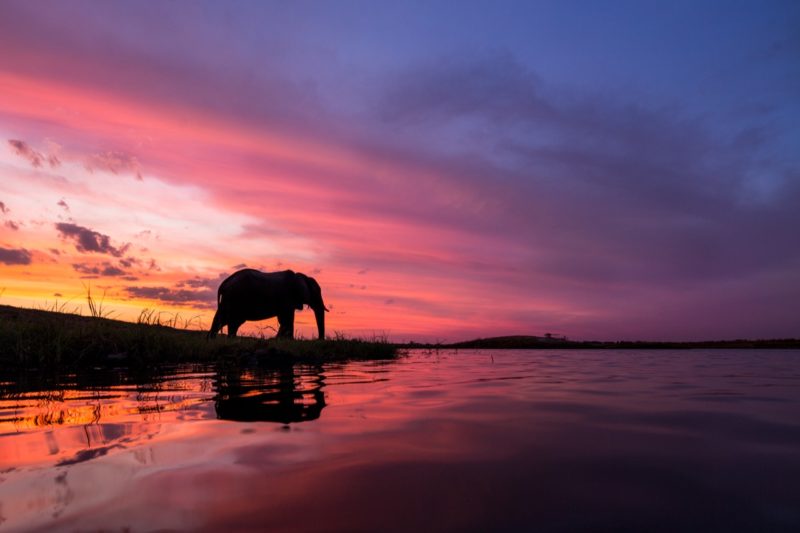 How many people will be on a photographic safari with me?
Again, this is dependent on the photo safari operator. As a rule, we limit the number of people on our photo safaris to eight guests plus a photographic host. In places like The Chobe National Park where we are able to do boat safaris our boats seat eight people comfortably. The photo boats are a great place to learn at the start of a photo safari, on the Chobe River. The photo host can get to each and every guest in the group. He or she can then easily offer one on one advice during the morning and afternoon photographic safaris.
In The Chobe National Park, we also have specialised game viewers that seat all eight people in one safari vehicle in four rows. This allows one window seat per person.
When we do vehicle-based photographic safaris in places like The Okavango, Kalahari and East African destinations, like the Masai Mara to see the wildebeest migration, we use two safari vehicles with four guests in each.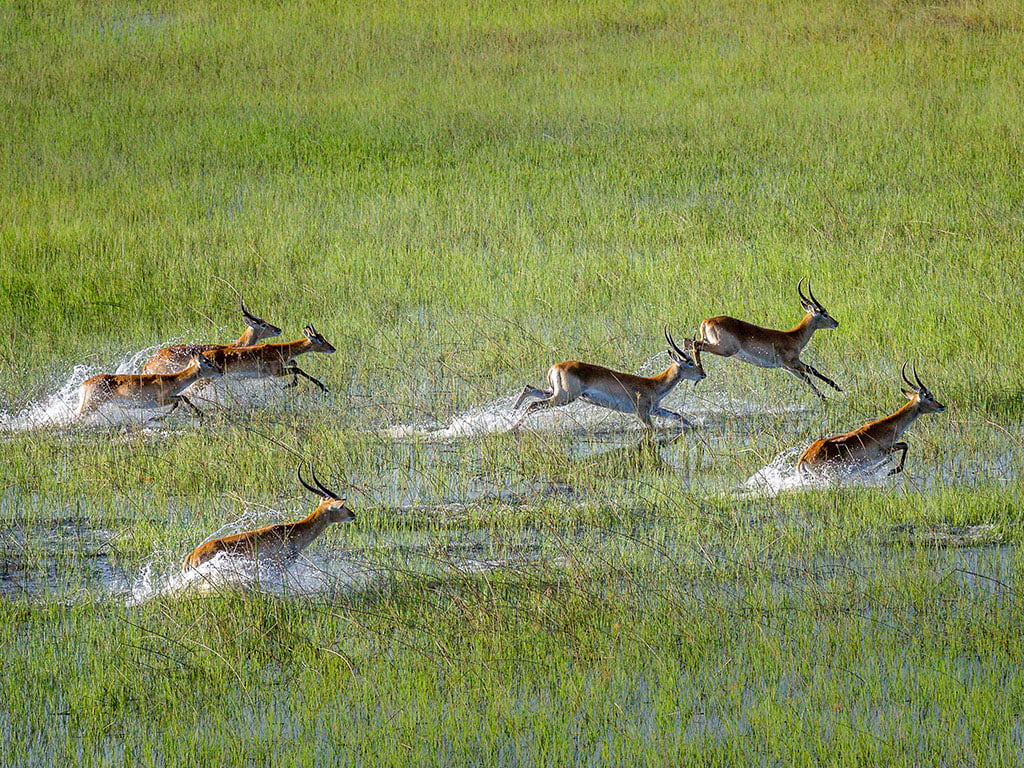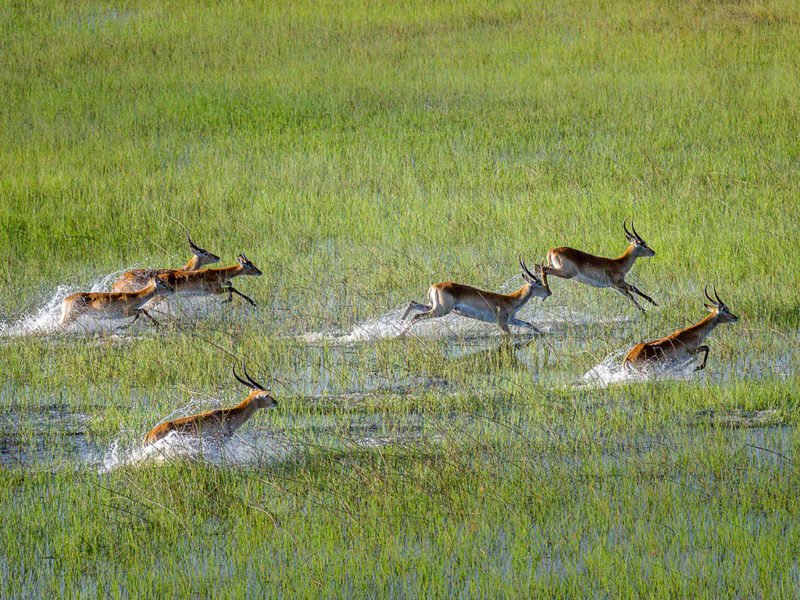 Which are the Best Photographic Safari destinations for beginners?
The Chobe
We may be a little biased here but the reason we chose to start Pangolin Photo Safaris in the Chobe is that we believe it is the best year-round photo safari destination in Africa. There is always something to photograph in the Chobe! Added to that is the relaxed nature of the animals in the national park as well as the ease of access on The Chobe River.
We offer a 7 day Best of Chobe Photo Safari based at the Pangolin Chobe Hotel as well as the Pangolin Voyager Houseboat for under $3,000 per person.
The Okavango Delta
The Okavango Delta has to be on everyone's photographic safaris bucket list. As a Unesco World Heritage site, it is one of the most unspoilt wildernesses left in Africa. The Okavango is made up of Community Game Reserve areas, private concessions and National Parks like Moremi. To really make the most of your time in the Okavango you want to be on a private concession where you can off-road in your safari vehicle for better photographic opportunities and angles.
Madikwe Game Reserve, South Africa
Madikwe, in Northern South Africa, is a fantastic photo safari destination and one of our firm favourites. It is also one of the best safari destinations for good rhino sightings which is an animal we rarely see in Botswana.
The game reserve is very well managed with some exceptional wildlife sightings and off-roading is allowed. Our favourite place to stay in Madikwe is Jaci's Tree Lodge where we have built the Terrapin Hide right in the middle of a waterhole. There are other photographic safari destinations in South Africa. We think that Madikwe offers the best bang for your buck!
Getting from Botswana to SA is relatively easy and there are several flight options available.
The Masai Mara during The Great Migration
If you intend to dive in at the deep end then seeing the wildebeest migration in the Masai Mara is a great African photographic safari to take. It is action everywhere from the river crossings to the big cats hunting on the open plains. The photographic safaris rivalry between East Africa and Southern Africa for top African photo safari destinations is a close one with the Masai Mara probably the flagship East African National Park.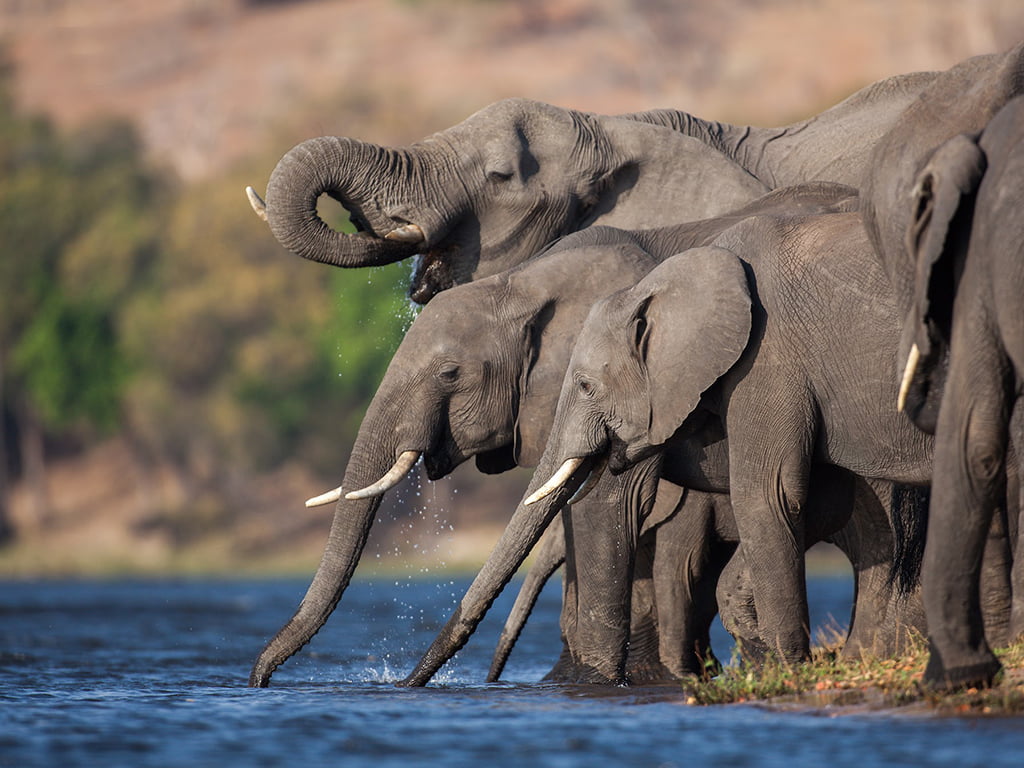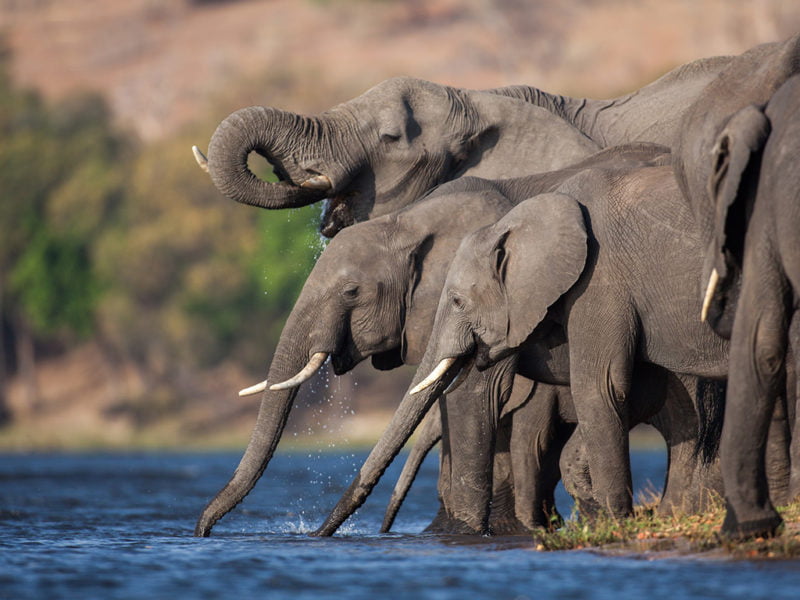 How much does a photo safari cost?
If you choose a reputable photo safari operator who is not targetting the well-heeled wildlife photographer set then a photographic safari does not need to cost the earth! Some operators specialise in building African Photo Safaris staying at the most exclusive lodges with helicopters on standby. Most wildlife photography beginners aren't in that niche market.
We find that most of our clients will forego frivolous luxuries in exchange for more time on their photo safaris.
Botswana is not a particularly inexpensive photo safari destination. Government Policy limits the number of people who can access some of the best African game viewing areas at any one time. This means that the price per person may be above average. You are paying for exclusivity and a more intimate experience with nature.
If you work on a budget of $1,000 per night (excluding the international flights) you will have a good idea of what a good photo safari should cost.
If you travel outside of the traditionally busier seasons of May to October there are plenty of deals to be found on short and long photo safari tours to suit the pocket of any wildlife photographer. The price per person in these seasons would average out at around $500-600 per person per night (excluding international flights.
To learn more about the Seasons in Botswana we have a blog on this subject here.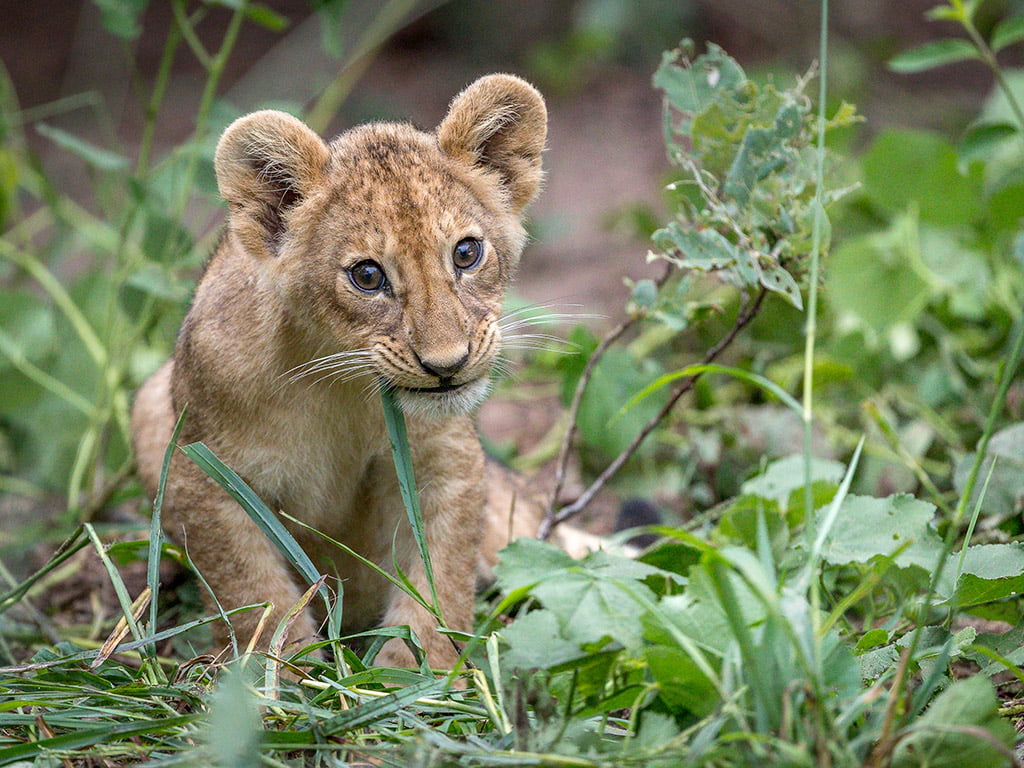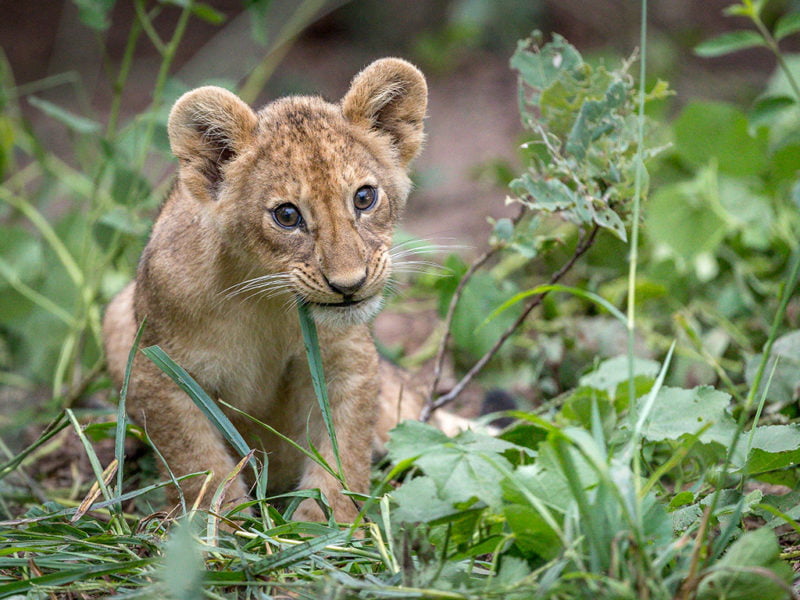 Will I learn to edit images on an African Photo Safari?
Trying to learn how to edit your images in between morning and afternoon photo safaris is challenging. Most guests opt to relax and edit when back at home. If you are not used to editing wildlife images then we suggest doing an online course before traveling. This will cut down the time you will spend actually editing as you will know what you are doing.
We offer a free beginner online Adobe Lightroom course which you can find here.
Which Pangolin African Photo Safaris are most suitable for beginners?
The Best of Chobe
The Best of Chobe 7 day photo safaris are scheduled throughout the year. You will spend 3 nights on our houseboat, The Pangolin Voyager, and then cross over to the Pangolin Chobe Hotel. The Best of Chobe Photo safaris are hosted by our Pangolin Photo Hosts throughout. By the end of the photographic safari you should be able to shoot on full manual mode. Prices start at $2,450pp
10 day Chobe, Delta and Kalahari Photographic Safari
The CDK photo safaris (as we call them) are scheduled from April through to November each year and coincide with a new Moon for some astrophotography sessions. This African safari is aimed at the beginner to intermediate level wildlife photographer and is accompanied by a Pangolin photo Host throughout. You will spend three nights on the Pangolin Voyager, 3 nights at the Pangolin Photo Camp and end with 3 nights in the Central Kalahari at Dinaka. This comprehensive photographic safari really does take in the best photographic hotspots in Botswana.